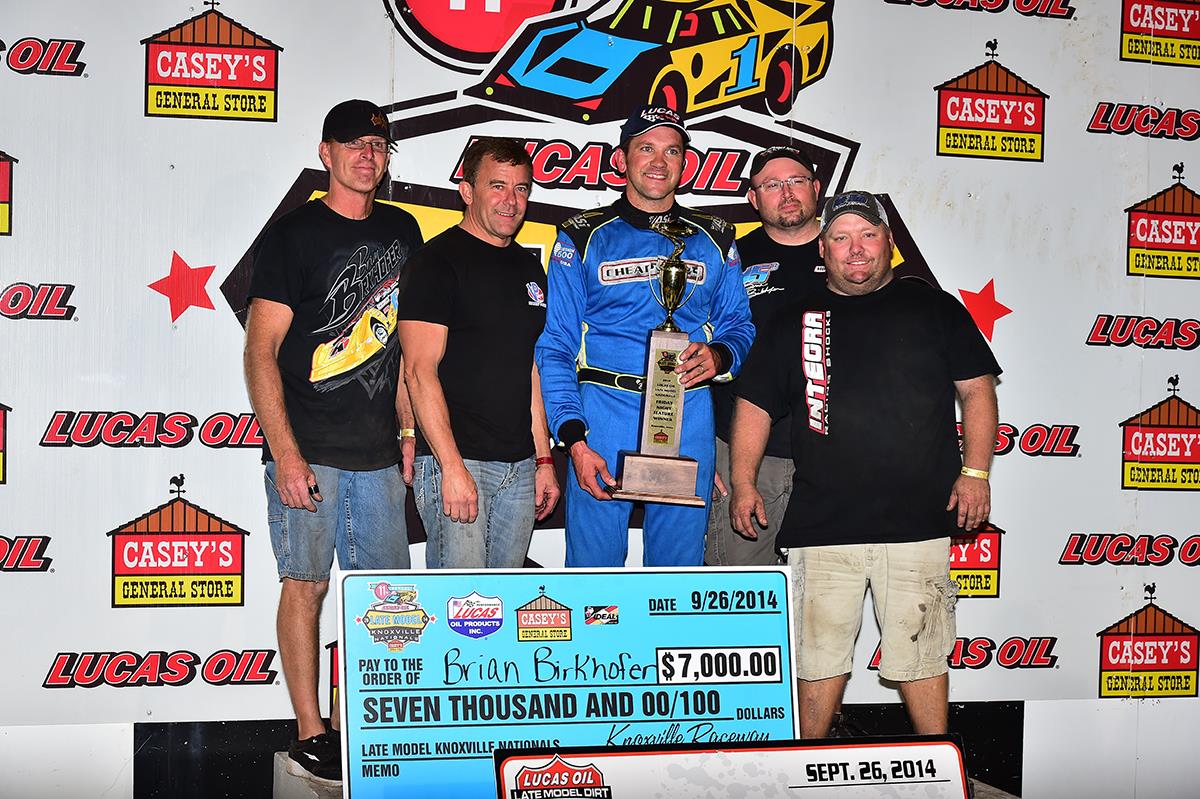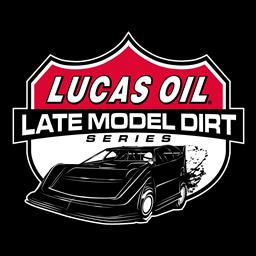 9/26/2014
Lucas Oil Late Model Dirt Series
---
Birkhofer Blasts to Victory on Friday Night at Knoxville Raceway
KNOXVILLE, IA (September 26, 2014) – Brian Birkhofer returned to victory lane at Knoxville Raceway during the Lucas Oil Late Model Knoxville Nationals. Birkhofer took the lead from Rodney Sanders on lap 14 and held off a charging Billy Moyer for the win in night number two of the crown jewel event. Trailing Birkhofer and Moyer across the finish line in the 25-lap, preliminary feature were Steve Francis, Brandon Sheppard and Ronnie Sanders.
"Man what a race, to win here at Knoxville is always special. We just got this Vic Hill Racing Engine this week, and this Rocket Chassis has just been spectacular so far. I have to thank all the fans for coming out, this race track never seems to disappoint. After the frustrating run we had here last year it's great to get back to victory lane."
"When you have Mr. Smooth (Billy Moyer) coming up through there you had better look out. He had a real good car tonight as well. That Sanders boy is a pretty good wheelman. I know he has won a lot in the Modifieds. He jumped the cushion a few times and that helped me out, then to battle through traffic like we did tonight, it was just a great night of racing."
With his solid performance on Friday Night, Birkhofer will start on the pole of Saturday Night's 100-lap, $40,000 to win finale in his ASi Racewear, Cheap Cars, Zens Flooring, Keyser MFG, Ideal Ready Mix, Holsteen Brothers and Quality Construction #15B.
Sanders, who entered the event with one career Late Model victory, sprinted out to a comfortable lead at the start of the caution-free event. Bouncing off the cushion in turn four a few times allowed Birkhofer to close rapidly on Sanders, and making the pass for the lead with 11 laps remaining.
Francis made his way into the battle, taking the second spot on lap 19 from Sanders. Moyer, who started 10th, made a run for the lead as he passed Francis and then set his sights on Birkhofer. Moyer pulled alongside of Birkhofer on a couple of occasions, but Birkhofer would hold on for the win.
"After last night we were buried in the points," said Moyer. "We went out and got a couple of Pro Power Engines, and we kept tuning on them tonight, and they really performed well. The track was excellent tonight. You could run anywhere on it," said the driver of the Garnant Family Farms, Henderson Motorsports, Moyer Xtreme by Longhorn entry.
Francis was pleased with his team's effort in getting him a podium finish. "Tommy (Grecco) and the whole Clint Bowyer Racing team did a fabulous job tonight on the car. In the heat race it was so good I really didn't want to change much. They went out there and graded off the top, and I was hoping they would burn that off in the consy races. It worked out for us tonight. I have to thankGeorgia Boot, Peak Antifreeze and Motor Oil, Barry Wright Race Cars and Clements Engines."
Completing the top ten were Scott Bloomquist, Dale McDowell, Shannon Babb, Frank Heckenast Jr., and Jonathan Davenport.
In preliminary action, Darrell Lanigan set the overall Miller Welders Fast Time (Group A) amongst the 74 entrants, with a lap of 17.865 seconds. Dale McDowell set the fastest time in Group B with a time of 18.121 seconds. Brandon Sheppard, Brian Shirley, Steve Francis, Frank Heckenast Jr., Jonathan Davenport and Rodney Sanders won their respective heat races. Denny Eckrich won the D-Main; Ray Guss Jr. won the C-Main and Darrell Lanigan won the B-Main.
For the latest breaking news on the Lucas Oil Late Model Dirt Series, log onto www.lucasdirt.com and follow the series on www.facebook.com/lucasdirt and www.twitter.com/lucasdirt.
Lucas Oil Late Model Dirt Series
Race Summary
Friday Night, September 26th, 2014
"Lucas Oil Late Model Knoxville Nationals"
Knoxville Raceway – Knoxville, IA
Miller Welders Fast Time Group A: Darrell Lanigan / 17.865 seconds
Miller Welders Fast Time Group B: Dale McDowell / 18.121 seconds
Fast Shafts Heat Race #1 Finish (10 Laps, Top 3 Transfer): Brandon Sheppard, Shannon Babb, Mark Dotson, Jimmy Mars, Darrell Lanigan, Gregg Satterlee, Mike Marlar, Jay Johnson, Todd Frank, Charlie McKenna, John Duty, Chris Speiker, Ryan Gustin
Eibach Springs Heat Race #2 Finish (10 Laps, Top 3 Transfer): Brian Shirley, AJ Diemel, Earl Pearson Jr., Wendell Wallace, Chase Junghans, Scott James, Ray Guss Jr., Jordan Yaggy, Justin Duty, Brian Harris, Mason Zeigler, Vic Coffey
Simpson Performance Products Heat Race #3 Finish (10 Laps, Top 3 Transfer): Steve Francis, Jason Feger, Will Vaught, Jason Papich, Jimmy Owens, Kent Robinson, John Blankenship, Chris Simpson, Tim Lance, Mike Fryer, Jordan Heiman, Jonathan Brauns-DNS
FK Rod Ends Heat Race #4 Finish (10 Laps, Top 3 Transfer): Frank Heckenast Jr., Billy Moyer, Dale McDowell, Eddie Carrier Jr., Rick Eckert, Dennis Erb Jr., Chris Simpson, Brandon Overton, Jason Hughes, Dave Eckrich, Steve Lance, Matt Furman, Rob Moss
Fast Shafts Heat Race #5 Finish (10 Laps, Top 3 Transfer): Jonathan Davenport, Brian Birkhofer, Scott Bloomquist, Tim McCreadie, Brady Smith, Jason Utter, Jason Rauen, Jake Meier, Greg Kimmons, Lyle Zanker, Denny Eckrich, Spencer Diercks
Eibach Springs Heat Race #6 Finish (10 Laps, Top 3 Transfer): Rodney Sanders, Terry Phillips, Morgan Bagley, Don O'Neal, Jared Landers, Rich Bell, Jesse Stovall, Tyler Bruening, Skip Frey, Dustin Walker, Roger Brickler, Billy Moyer Jr.
JRi Shocks D-Main (10 Laps, Top 4 Transfer): Denny Eckrich, Brian Harris, Chris Speiker, Mike Fryer, Billy Moyer Jr., John Duty, Charlie McKenna, Dave Eckrich, Rob Moss, Steve Lance, Roger Brickler, Lyle Zanker, Mason Zeigler-DNS, Vic Coffey-DNS, Matt Furman-DNS, Ryan Gustin-DNS, Spencer Diercks-DNS, Dustin Walker-DNS, Jordan Heiman-DNS, Jonathan Brauns-DNS
CV Products C-Main (12 Laps, Top 4 Transfer): Ray Guss Jr., Tyler Bruening, Chris Simpson, Chad Simpson, Jason Hughes, John Blankenship, Tim Lance, Denny Eckrich, Jordan Yaggy, Brian Harris, Brandon Overton, Jake Meier, Justin Duty, Jay Johnson, Greg Kimmons, Jason Rauen, Skip Frey, Chris Speiker, Todd Frank, Mike Fryer, Mike Marlar-DNS, Jesse Stovall-DNS
JRi Shocks B-Main (15 Laps, Top 6 Transfer): Darrell Lanigan, Jared Landers, Dennis Erb Jr., Kent Robinson, Rick Eckert, Jimmy Mars, Wendell Wallace, Eddie Carrier Jr., Jason Papich, Jason Utter, Don O'Neal, Tyler Bruening, Scott James, Chris Simpson, Jimmy Owens, Gregg Satterlee, Rich Bell, Ray Guss Jr., Chad Simpson, Chase Junghans, Tim McCreadie, Brady Smith-DNS
Feature Finish (25 Laps): 1. 15B-Brian Birkhofer; 2. 21-Todd Frank; 3. 15-Steve Francis; 4. B5-Brandon Sheppard; 5. 20S-Rodney Sanders; 6. 0-Scott Bloomquist; 7. 17M-Dale McDowell; 8. 18-Shannon Babb; 9. 99JR-Frank Heckenast Jr; 10. 6-Jonathan Davenport; 11. 58-AJ Diemel; 12. 25F-Jason Feger; 13. 44-Earl Pearson Jr; 14. 81-Brian Shirley; 15. 29-Darrell Lanigan; 16. 777-Jared Landers; 17. 14M-Morgan Bagley; 18. 7R-Kent Robinson; 19. 28M-Jimmy Mars; 20. 1-Rick Eckert; 21. 75P-Terry Phillips; 22. 1V-Will Vaught; 23. 28E-Dennis Erb Jr; 24. 85D-Mark Dotson
Race Statistics
Entrants: 74
Lap Leaders: Rodney Sanders (Laps 1 – 13); Brian Brikhofer (Laps 14 – 25)
Cautions: n/a
Lucas Oil Late Model Dirt Series Provisionals: n/a
Lucas Oil Late Model Dirt Series Emergency Provisionals: n/a
Miller Welders Fast Time Provisionals: n/a
Wrisco Feature Winner: Brian Birkhofer
Optima Batteries Hard Charger of the Race: Billy Moyer (Started: 10th; Finished: 2nd; Advanced 8 Positions)
Keyser Mfg Spoiler Challenge Point Leader: Don O'Neal
Allstar Performer of the Race: Steve Francis
Sunoco Race for Gas Highest Finisher: Billy Moyer
Dunn Benson Ford Rookie of the Race: n/a
Midwest Sheet Metal Highest Finishing Rookie: n/a
COMP Cams Engine Builder of the Race: Vic Hill Racing Engines
Ohlins Shocks Chassis Builder of the Race: Rocket Chassis
Outerwears Crew Chief of the Race: Tommy Grecco (Steve Francis)
HAWK Performance Fastest Lap of the Race: Rodney Sanders (Lap # 2 – 19.338 seconds)
Time of Race: 8 minutes 34 seconds
---
Submitted By: Jeremy Shields
Back to News