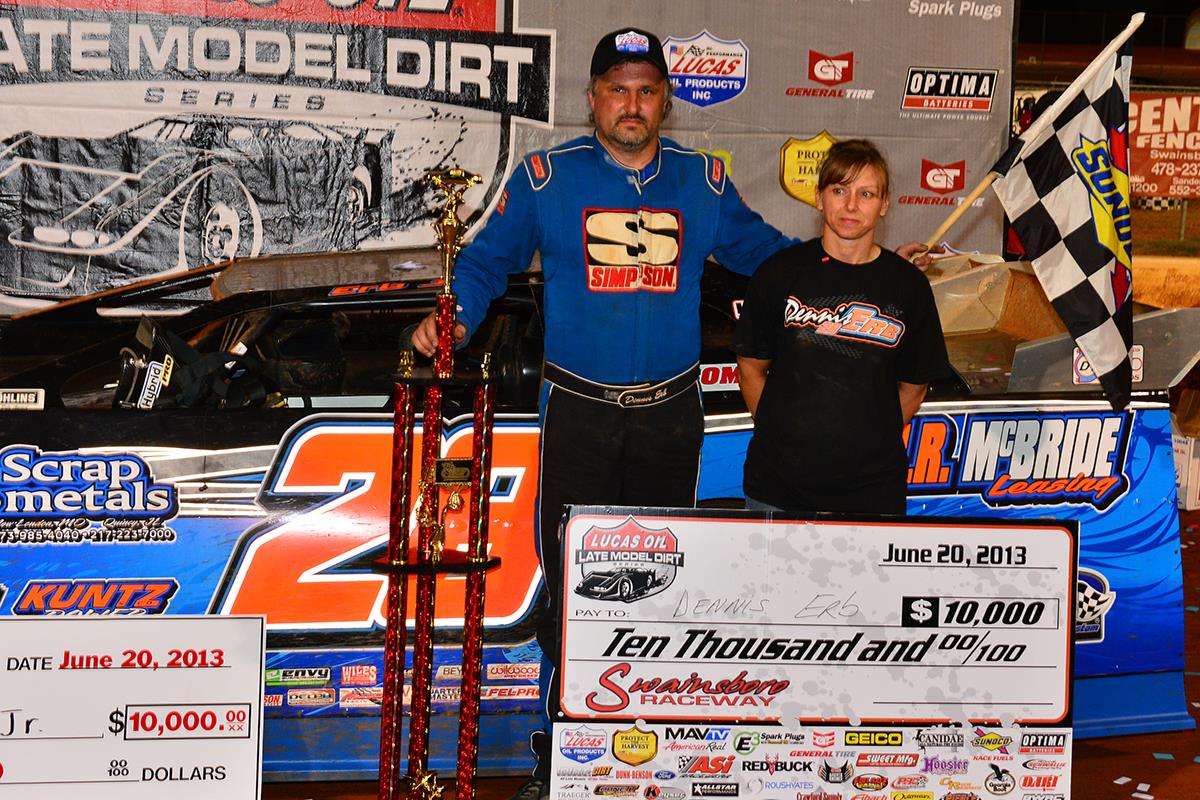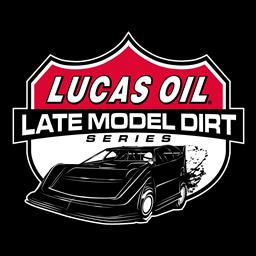 6/20/2013
Lucas Oil Late Model Dirt Series
---
Erb Earns Win at Swainsboro in Lucas Oil Late Model Dirt Series Action
SWAINSBORO, GA (June 20, 2013) – Dennis Erb Jr. led the final 17 laps, and went on to win the Lucas Oil Late Model Dirt Series event on Thursday night at Swainsboro Raceway. Erb's fourth win of the season was worth $10,000. Earl Pearson Jr. led the first 32 laps until Erb passed him on the high-side. Pearson finished second followed by Jared Landers, Don O'Neal, and Steve Francis.
"It's our first time here; the car was good whether we ran low or high. I was setting him (Pearson) up for four or five laps and finally went into turn three and the car stuck, enabling me to finally get by Earl. It's been a great year for us so far, this if our fourth Lucas Oil win! We aren't worried about the points right now, we just want to win races," said Erb, who was joined by Crew Chief, Heather Lyne, in Lucas Oil Victory Lane.
"It was a really good race for the lead there early on between us, Earl, and Jared. The track was really good after they worked on it during the break. I have to thank my sponsors: J&L Scrap Metal Metals, JR McBride Leasing, Bloomquist Race Cars, and Kuntz and Company Motors".
Pearson, who was looking for his second series win of the year, said afterwards, "We really wanted to win this race; we had a lot of friends and family here tonight. The car was strong all night long; we will take this finish in the Lucas Oil Products, MAVTV Longhorn."
Landers was looking for a clean sweep of the evening's racing activities after setting fast time and winning his heat. Landers was in hunt for most of the race. "We are knocking on the door for a win, last week we ran strong in Mississippi, so we are going to move onto Cherokee tomorrow night. We've won there before, so we should feel real comfortable racing there."
Completing the top ten were Eddie Carrier Jr., Casey Roberts, Jimmy Owens, Jeff Smith, and John Blankenship.
In preliminary action, Jared Landers set the overall time (Group B) amongst the 19 entrants, with a lap of 14.069 seconds. Earl Pearson Jr. set the fastest time in Group A with a time of 14.072 seconds. Jared Landers, Earl Pearson Jr., and Steve Francis won their respective heat races.
The Lucas Oil Late Model Dirt Series will get back underway tomorrow night. On Friday, June 21st, the series will make its only stop in the Carolinas at Cherokee Speedway in Gaffney, SC. Rounding out the weekend, the series heads into the Blue Ridge Mountains to Wythe Raceway in Rural Retreat, VA on Saturday, June 22nd. Both events will feature RED BUCK Time Trials, Heat Races, B-Mains, and 50-Lap $10,000-to-win main events. For more information on these speedways, check out: www.cherokeespeedwaysc.com, and www.wytheraceway.com.
For the latest breaking news on the Lucas Oil Late Model Dirt Series, log onto www.lucasdirt.com and follow the series on www.facebook.com/lucasdirt and www.twitter.com/#!/lucasdirt.
Lucas Oil Late Model Dirt Series
Race Summary
Thursday Night, June 20th, 2013
Swainsboro Raceway – Swainsboro, GA
RED BUCK Fast Time Group A: Earl Pearson Jr. / 14.072 seconds
RED BUCK Fast Time Group B: Jared Landers/ 14.069 seconds
Wiles Drive Shafts Heat Race #1 (10 Laps, Everyone Transfers): Jared Landers, Dennis Erb Jr., Jeff Smith, Casey Roberts, Jimmy Owens, Phil Pittman, Henry Carter
Eibach Springs Heat Race #2 (10 Laps, Everyone Transfers): Earl Pearson Jr., Don O'Neal, Brent Dixon, Billy Moyer Jr., Joe Ramey, Chesley Dixon
Simpson Performance Products Heat Race #3 (Everyone Transfers): Steve Francis, Eddie Carrier Jr., John Blankenship, Brandon Overton, Albert Cosnahan, Jerry Lierly
Feature Finish (50 Laps): 1. 28E-Dennis Erb Jr; 2. 44-Earl Pearson Jr; 3. 5-Jared Landers; 4. 71-Don O'Neal; 5. 15-Steve Francis; 6. 28-Eddie Carrier Jr; 7. 101-Casey Roberts; 8. 20-Jimmy Owens; 9. 70-Jeff Smith; 10. 23-John Blankenship; 11. 1D-Brent Dixon; 12. 2R-Joe Ramey; 13. 7L-Jerry Lierly; 14. 3P-Phil Pittman; 15. 20C-Henry Carter; 16. 76-Brandon Overton; 17. 21JR-Billy Moyer Jr; 18. 4U2-Albert Cosnahan; 19. 3-Chesley Dixon
Race Statistics
Entrants: 19
Lap Leaders: Earl Pearson Jr. (Laps 1 – 32); Dennis Erb Jr. (Laps 33-50)
Caution Flags: Brandon Overton (Lap 17); Phil Pittman (Lap 46)
Lucas Oil Late Model Dirt Series Provisionals: none
Lucas Oil Late Model Dirt Series Emergency Provisionals: none
RED BUCK Fast Time Provisionals: none
Optima Batteries Hard Charger of the Race: Jimmy Owens (Started: 13th, Finished: 8th, Advanced: 5 positions)
Allstar Performer of the Race: Dennis Erb Jr.
Sunoco Race for Gas Highest Finisher: Earl Pearson Jr.
JRi Shocks/Dunn Benson Ford Rookie of the Race: Billy Moyer Jr
COMP Cams Engine Builder of the Race: Kuntz Race Engines
Ohlins Shocks Chassis Builder of the Race: Bloomquist Race Cars
Outerwears Crew Chief of the Race: Heather Lyne (Dennis Erb Jr.)
HAWK Performance Fastest Lap of the Race: Earl Pearson Jr. (Lap# 1; 14.890 seconds)
Time of Race: 30 minutes 48 seconds
---
Submitted By: Jeremy Shields
Back to News