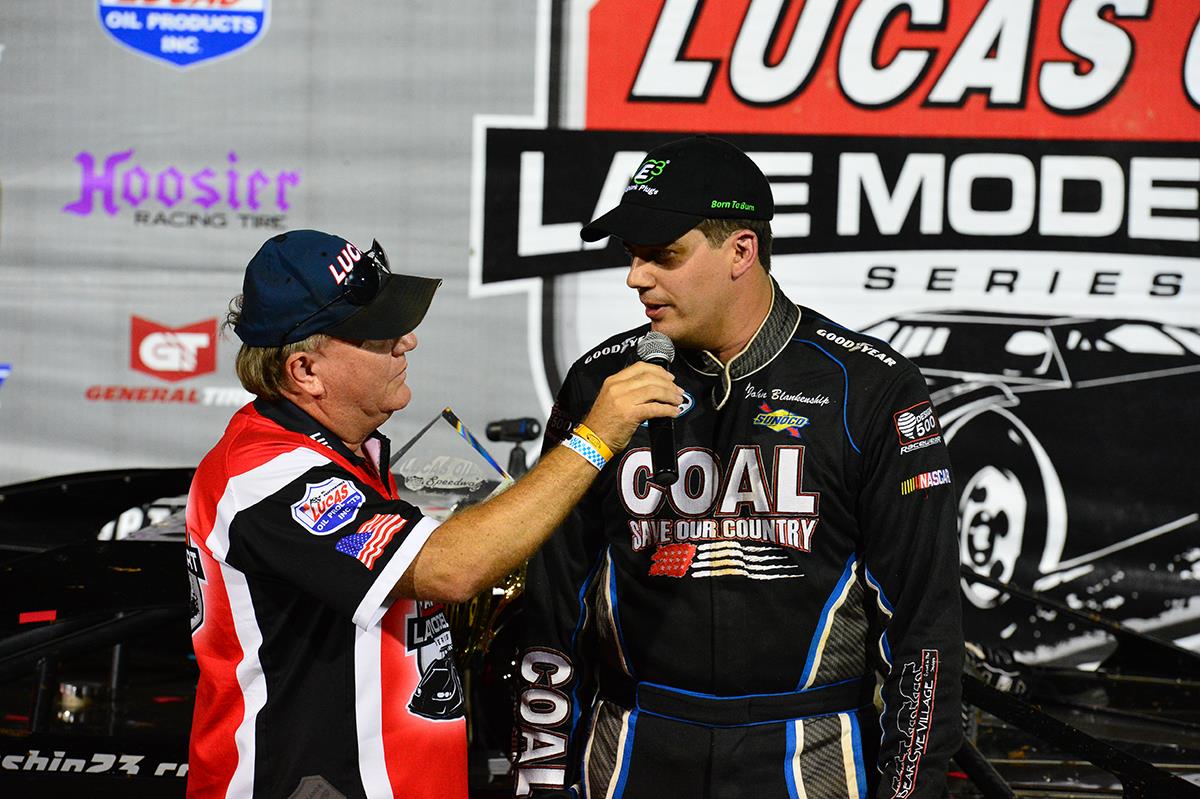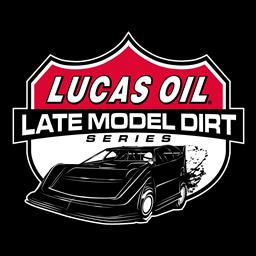 7/13/2013
Lucas Oil Late Model Dirt Series
---
John Blankenship Dazzles at Lucas Oil Speedway's CMH Diamond Nationals
WHEATLAND, MO (July 13, 2013) – John Blankenship dazzled the impressive crowd on-hand at Lucas Oil Speedway in Wheatland, MO tonight in the 7th Annual CMH "Diamond Nationals" co-sanctioned by the Lucas Oil MLRA. Blankenship took the point's lead from Jimmy Owens last night, and came into tonight's event a-top the points standings for the first time in his career. He and Owens had a fierce battle for the lead, until lap 28, when Blankenship finally put some distance between himself and the "Newport Nightmare". Blankenship went unchallenged the rest of the way in the race that had no cautions.
Blankenship's third LOLMDS victory of the season also marked his first-ever at the track. He took home $10,000 for the win and put an end to Owens' reign over the facility. Owens entered the event having won six out of the last seven LOLMDS races at Lucas Oil Speedway, including 3 Show-Me 100's.
Trailing Blankenship and Owens to the finish line were Tony Jackson, Jr., Earl Pearson Jr., and Steve Francis. "I don't know what to say," said the winner in Lucas Oil Victory Lane. "To beat Jimmy here is just unbelievable! He has been so strong here; I didn't think anyone was ever going to beat him here. Our car tonight, once we got going really was fast, to catch Jimmy and then to pass him says a lot about our team and this Rocket Chassis. We have come so close to winning here before, and to finally do it tonight in front of this big crowd, is just tremendous!"
Blankenship started fifth and wrestled the second position away from Dennis Erb Jr. by lap 8. "Dennis and I had a good race going early on. Once we broke free from him, I was finally able to get Jimmy in my vision, he must have had a straightaway lead or better on us by the time we got to second, we slowly tracked him down, and once we got into traffic that was our chance."
"What a way to bring a new sponsor into the sport! GeneratorWorld.com has come on board with us, and along with all of our other great sponsors: Todd Case Trucking, Coal, Bear Cove Village, VP, and Integra. We have also been alternating back-and-forth between the Cornett and Jay Dickens Engines. Tonight we had the Cornett in the car and both engines have been really strong!" Blankenship forged ahead of Owens for the lead the first time on lap 23. But Owens came back and led the next three circuits, until Blankenship shot by him for good on lap 28 and was never able to seriously challenge the 32-year-old racer for the remainder of the race.
"Congrats to John on the win! I am just as excited for him as he is," said Owens afterwards. "We have been struggling over the last month, and with last night's parts failure, we didn't even get to turn a lap in the feature, but his team works hard! John has gotten so much better as a driver over the last few years, it's scary for the rest of the competition what he could become," said the driver of the Reece Monument Company, Cornett Racing Engines, Bloomquist Ford.
Jackson had his best career LOLMDS finish with a third place finish. Jackson was outside of the top five for the first half of the race, but got going late in the 50-lapper. "I wish we had as good of a car early in the race as we had later on! To have a podium finish against these guys lets us know how far our race team has come in the last year," said the driver of the RLB Financial, Rocket Chassis, Chevrolet. Jackson came into the race as winner in seven events since Memorial Day Weekend.
Completing the top ten were Dennis Erb Jr., Wendell Wallace, Don O'Neal, Jesse Stovall, and Terry Phillips.
In preliminary action, Ryan Gustin set the overall time (Group A) amongst the 38 entrants, with a lap of 16.347 seconds. Jimmy Owens set the fastest time in Group B with a time of 16.398 seconds. Eric Turner, Will Vaught, Jimmy Owens, and Dennis Erb Jr. won their respective heat races. Mark Dotson and Eddie Carrier Jr. won their respective B-Mains.
The Lucas Oil Late Model Dirt Series will continue its July Midwest swing next week. On Tuesday, July 16th, the series will make its first appearance at Lakeside Speedway in Kansas City, KS. Hamilton County Speedway will host its first-ever LOLMDS event on Wednesday, July 17th. Both events will include RED BUCK Time Trials, Heat Races, B-Mains, and the 50-Lap, $10,000-to-win main events. For more information, log onto www.lakesidespeedway.net and www.hamiltoncospeedway.com.
The series will round out its July Midwest swing with the Silver Dollar Nationals at I-80 Speedway in Greenwood, NE. The event will include a practice session on Thursday, July 18th. There will be two rounds of heats on Friday night, July 19th. Capping off the trip to I-80 on Saturday, July 20th, there will be B-Mains and the 80-lap feature event. For more information, visit www.I80speedway.com.
For the latest breaking news on the Lucas Oil Late Model Dirt Series, log onto www.lucasdirt.com and follow the series on www.facebook.com/lucasdirt and www.twitter.com/#!/lucasdirt.
Lucas Oil Late Model Dirt Series
Race Summary
Saturday Night, July 13th, 2013
"CMH Diamond Nationals"
Lucas Oil Speedway – Wheatland, MO
RED BUCK Fast Time Group A: Ryan Gustin/ 16.347 seconds
RED BUCK Fast Time Group B: Jimmy Owens/ 16.398 seconds
Wiles Drive Shafts Heat Race #1 (10 Laps, Top 4 Transfer): Eric Turner, John Blankenship, Steve Francis, Craig Vosbergen, Mark Dotson, Mark Banal, Patrick Johnson, Jay Brunson, Ryan Gustin, Brantlee Gotschall
Eibach Springs Heat Race #2 (10 Laps, Top 4 Transfer): Will Vaught, Jesse Stovall, Wendell Wallace, Jared Landers, Jack Sullivan, Billy Moyer, Timothy Culp, Brandon McCormick, Brad Looney
Simpson Performance Products Heat Race #3 (10 Laps, Top 4 Transfer): Jimmy Owens, Tony Jackson, Jr., John Anderson, Terry Phillips, Eddie Carrier Jr., Jerry Lierly, Chase Junghaus, Jason Bodenhamer, Travis Dickes, Reid Millard
FK Rod Ends Heat Race #4 (10 Laps, Top 4 Transfer): Dennis Erb Jr., Tyler Reddick, Earl Pearson Jr., Jason Feger, Billy Moyer Jr., Don O'Neal, Tommy Weder, Jason Papich, Larry Jones
CV Products B-Main #1 (12 Laps, Top 3 Transfer): Mark Dotson, Jack Sullivan, Billy Moyer, Timothy Culp, Ryan Gustin, Brandon McCormick, Jay Brunson, Patrick Johnson, Mark Banal
Wrisco Aluminum B-Main #2 (12 Laps, Top 3 Transfer): Eddie Carrier Jr., Billy Moyer Jr., Don O'Neal, Jerry Lierly, Tommy Weder, Chase Junghaus, Jason Bodenhamer, Travis Dickes, Jason Papich, Reid Millard, Larry Jones
Feature Finish (50 Laps): 1. 23-John Blankenship; 2. 20-Jimmy Owens; 3. 56-Tony Jackson Jr; 4. 44-Earl Pearson Jr; 5. 15-Steve Francis; 6. 28E-Dennis Erb Jr; 7. 6M-Wendell Wallace; 8. 71-Don O'Neal; 9. 00S-Jesse Stovall; 10. 75-Terry Phillips; 11. 1V-Will Vaught; 12. 2A-John Anderson; 13. 11T-Tyler Reddick; 14. 33X-Eric Turner; 15. 28-Eddie Carrier Jr; 16. 1X-Jack Sullivan; 17. 85D-Mark Dotson; 18. 21JR-Billy Moyer Jr; 19. 5-Jared Landers; 20. 21T-Travis Dickes; 21. 8-Craig Vosbergen; 22. 7L-Jerry Lierly; 23. 19R-Ryan Gustin; 24. 25F-Jason Feger; 25. 14L-Brad Looney; 26. 21-Billy Moyer Sr
Race Statistics
Entrants: 38
Lap Leaders: Jimmy Owens (Laps 1 – 22); John Blankenship (Lap 23); Jimmy Owens (Laps 24 – 27); John Blankenship (Laps 28 – 50)
Caution Flags: none
Lucas Oil Late Model Dirt Series Provisionals: Jerry Lierly
Lucas Oil Late Model Dirt Series Emergency Provisionals: none
RED BUCK Fast Time Provisionals: Ryan Gustin
Lucas Oil Midwest Latemodel Racing Association Provisionals: Brad Looney; Travis Dickes
Optima Batteries Hard Charger of the Race: Don O'Neal (Started: 22nd, Finished: 8th, Advanced: 14 positions)
Allstar Performer of the Race: John Blankenship
Sunoco Race for Gas Highest Finisher: Jimmy Owens
JRi Shocks/Dunn Benson Ford Rookie of the Race: Billy Moyer Jr.
COMP Cams Engine Builder of the Race: Cornett Racing Engines
Ohlins Shocks Chassis Builder of the Race: Rocket Chassis
Outerwears Crew Chief of the Race: Tom Buckingham (John Blankenship)
HAWK Performance Fastest Lap of the Race: Jimmy Owens (Lap # 2; 17.106 seconds)
Time of Race: 20 minutes 41 seconds
---
Submitted By: Jeremy Shields
Back to News