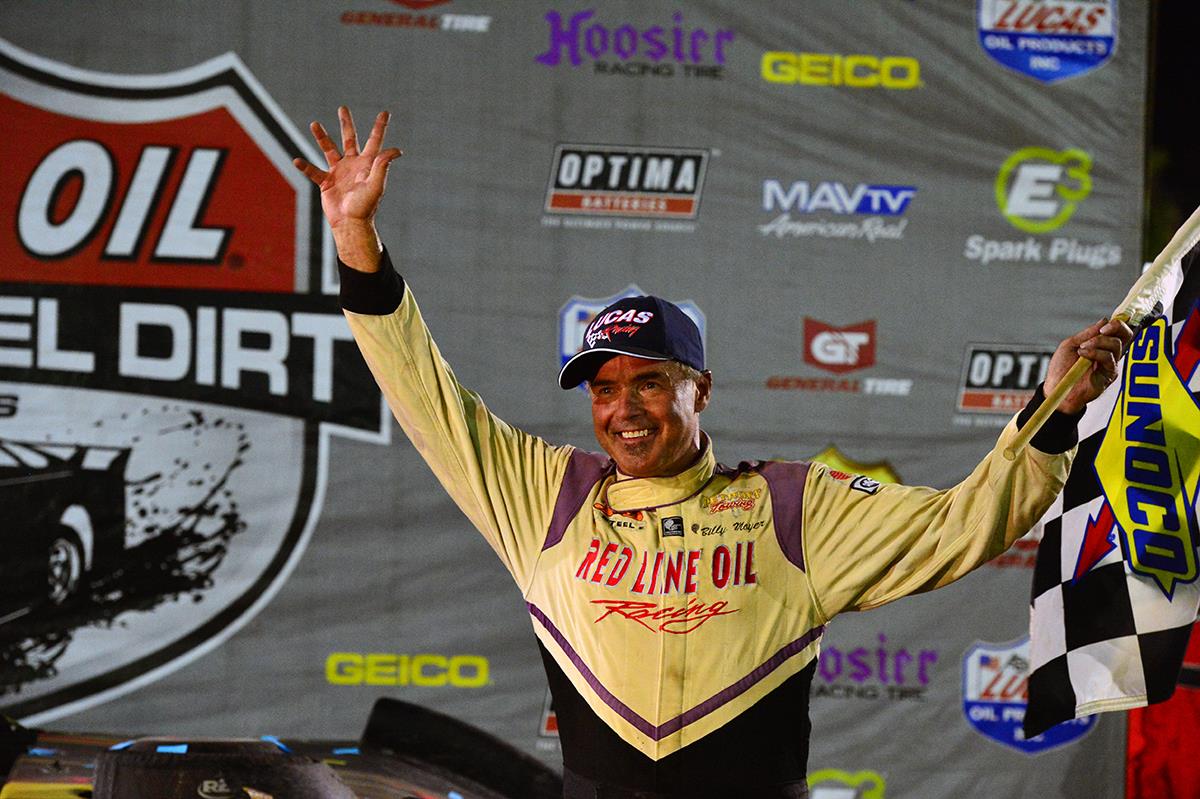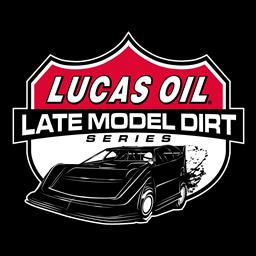 7/16/2013
Lucas Oil Late Model Dirt Series
---
Billy Moyer Takes Lucas Oil Late Model Dirt Series Win at Lakeside
KANSAS CITY, KS (July 16, 2013) – Hall-of-Famer, Billy Moyer, took over the lead on lap 19 and went on to win the first-ever Lucas Oil Late Model Dirt Model Series event on Tuesday Night at Lakeside Speedway. Moyer pocketed $10,000, in scoring his first LOLMDS win of the season. He also became the 13th different winner this year.
Steve Francis started 18th, and came roaring through the field to finish second. He was followed by Don O'Neal, Jared Landers, and John Blankenship, who started 15th.
Landers grabbed the lead at the start of the 50-lap race and held the point until Moyer passed him with 19 laps scored. Landers remained in second until his Clint Bowyer teammate, Francis, took the spot away from him on lap 27. Moyer held a sizable lead over Francis until a caution came out with 20 laps to go. Francis tried to overhaul Moyer, closing to within a car-length with five laps left. Moyer was able to use lap-traffic to his advantage and was able to hold off Francis at the checkers.
"This has been a rough year for us so far," said Moyer, who registered his fifth overall win of the year. "We had a rough weekend at Wheatland, so we went home and worked our rear ends off to get this car ready for tonight! I have to give a special thanks to Sparks Racing, as well."
"I have to thank all my sponsors. There are several that have been with me for a long time. I'd also like to thank all my product sponsors as well, without any of them we couldn't do this," said the driver of the Henderson Motorsports, Banner Valley Hauling, Midwest Sheet Metal, L&D Trucking, Clements Racing Engines, Moyer Circle Chevrolet.
Francis, who was coming off his first series win of the season last Friday Night at Tri-City (IL) Speedway nearly, came home with the victory again tonight. "We wanted to win so badly for Clint here tonight, especially with it being his home track. We had to dig deep after qualifying. I didn't think we could ever recover from that. I have to thank Barry and Lance Wright, they had to work on two cars tonight and I hope Clint is pleased with our efforts," said the driver of the Georgia Boot, Barry Wright Race Cars #15.
O'Neal ran second, for the first 15 laps of the race, brought his Optima Batteries, MasterSbilt house-car home in third. "We had a good car all night, we switched to the bigger Jay Dickens engine and it really performed well. We hung in there with Landers early on, and then the car started to push a little, but in the last few laps, we got back going and was catching Francis."
Completing the top ten were Tyler Reddick, Mike Marlar, Ryan Gustin, Terry Phillips, and Eddie Carrier Jr.
In preliminary action, Jared Landers set the overall time (Group B) amongst the 34 entrants, with a lap of 17.011 seconds. Tyler Reddick set the fastest time in Group A with a time of 17.356 seconds. Tony Jackson Jr., Tommy Weder, Jared Landers, and Don O'Neal won their respective heat races. Eddie Carrier Jr. and Steve Francis won their respective B-Mains.
The Lucas Oil Late Model Dirt Series will continue its July Midwest swing this week. Hamilton County Speedway will host its first-ever LOLMDS event on Wednesday, July 17. The event at Hamilton County will include RED BUCK Time Trials, Heat Races, B-Mains, and the 50-Lap, $10,000-to-win main events. For more information, log onto www.hamiltoncospeedway.com. The series will round out its July Midwest swing with the Silver Dollar Nationals at I-80 Speedway in Greenwood, NE. The event will include a practice session on Thursday, July 18. There will be two rounds of heats on Friday night, July 19. Capping off the trip to I-80 on Saturday, July 20, there will be B-Mains and the 80-lap main event. For more information, visit www.i-80speedway.com.
For the latest breaking news on the Lucas Oil Late Model Dirt Series, log onto www.lucasdirt.com and follow the series on www.facebook.com/lucasdirt and www.twitter.com/#!/lucasdirt.
Lucas Oil Late Model Dirt Series
Race Summary
Tuesday Night, July 16th, 2013
Lakeside Speedway – Kansas City, KS
RED BUCK Fast Time Group A: Tyler Reddick/ 17.365 seconds
RED BUCK Fast Time Group B: Jared Landers/ 17.011 seconds
Wiles Drive Shafts Heat Race #1 (10 Laps, Top 4 Transfer): Tony Jackson, Jr., Tyler Reddick, Jimmy Owens, John Anderson, Ryan Gustin, Eddie Carrier Jr. Eric Turner, Dustin Walker
Eibach Springs Heat Race #2 (10 Laps, Top 4 Transfer): Tommy Weder, Terry Phillips, Wendell Wallace, John Blankenship, Jerry Lierly, Craig Vosbergen, Chase Junghans, Greg Clemons
Simpson Performance Products Heat Race #3 (10 Laps, Top 4 Transfer): Jared Landers, Billy Moyer, Jack Sullivan, Mike Marlar, Steve Francis, Jason Feger, Clint Bowyer, Earl Pearson Jr.
FK Rod Ends Heat Race #4 (10 Laps, Top 4 Transfer): Don O'Neal, Will Vaught, Jason Bodenhamer, Dennis Erb Jr., Billy Moyer Jr., Spencer Diercks, Jay Brunson, Mark Dotson
CV Products B-Main #1 (12 Laps, Top 3 Transfer): Eddie Carrier Jr., Ryan Gustin, Craig Vosbergen, Eric Turner, Chase Junghans, Dustin Walker, Greg Clemons, Jerry Lierly
Wrisco Aluminum B-Main #2 (12 Laps, Top 3 Transfer): Steve Francis, Jason Feger, Billy Moyer Jr., Spencer Diercks, Clint Bowyer, Mark Dotson, Earl Pearson Jr., Jay Brunson
Feature Finish (50 Laps): 1. 21-Billy Moyer Sr; 2. 15-Steve Francis; 3. 71-Don O'Neal; 4. 5-Jared Landers; 5. 23-John Blankenship; 6. 11T-Tyler Reddick; 7. 5B-Mike Marlar; 8. 19R-Ryan Gustin; 9. 75-Terry Phillips; 10. 28-Eddie Carrier Jr; 11. 20-Jimmy Owens; 12. 2B-Jason Bodenhamer; 13. 25F-Jason Feger; 14. 28E-Dennis Erb Jr; 15. 21JR-Billy Moyer Jr; 16. 44-Earl Pearson Jr; 17. 8-Craig Vosbergen; 18. 02-Tommy Weder Jr; 19. 7L-Jerry Lierly; 20. 2A-John Anderson; 21. 1X-Jack Sullivan; 22. 1V-Will Vaught; 23. 56-Tony Jackson Jr; 24. 6M-Wendell Wallace
Race Statistics
Entrants: 34
Lap Leaders: Jared Landers (Laps 1 – 18); Billy Moyer (Laps 19 – 50)
Caution Flags: Wendell Wallace (Lap 3); Jason Feger (Lap 30)
Lucas Oil Late Model Dirt Series Provisionals: Earl Pearson Jr.; Jerry Lierly
Lucas Oil Late Model Dirt Series Emergency Provisionals: none
RED BUCK Fast Time Provisionals: none
Optima Batteries Hard Charger of the Race: Steve Francis (Started: 18th, Finished: 2nd, Advanced: 16 positions)
Allstar Performer of the Race: John Blankenship
Sunoco Race for Gas Highest Finisher: Billy Moyer
JRi Shocks/Dunn Benson Ford Rookie of the Race: Billy Moyer Jr.
COMP Cams Engine Builder of the Race: Jay Dickens Racing Engines
Ohlins Shocks Chassis Builder of the Race: Barry Wright Race Cars
Outerwears Crew Chief of the Race: Tommy Grecco (Steve Francis)
HAWK Performance Fastest Lap of the Race: Jared Landers (Lap # 1; 17.894 seconds)
Time of Race: 22 minutes 56 seconds
---
Submitted By: Jeremy Shields
Back to News