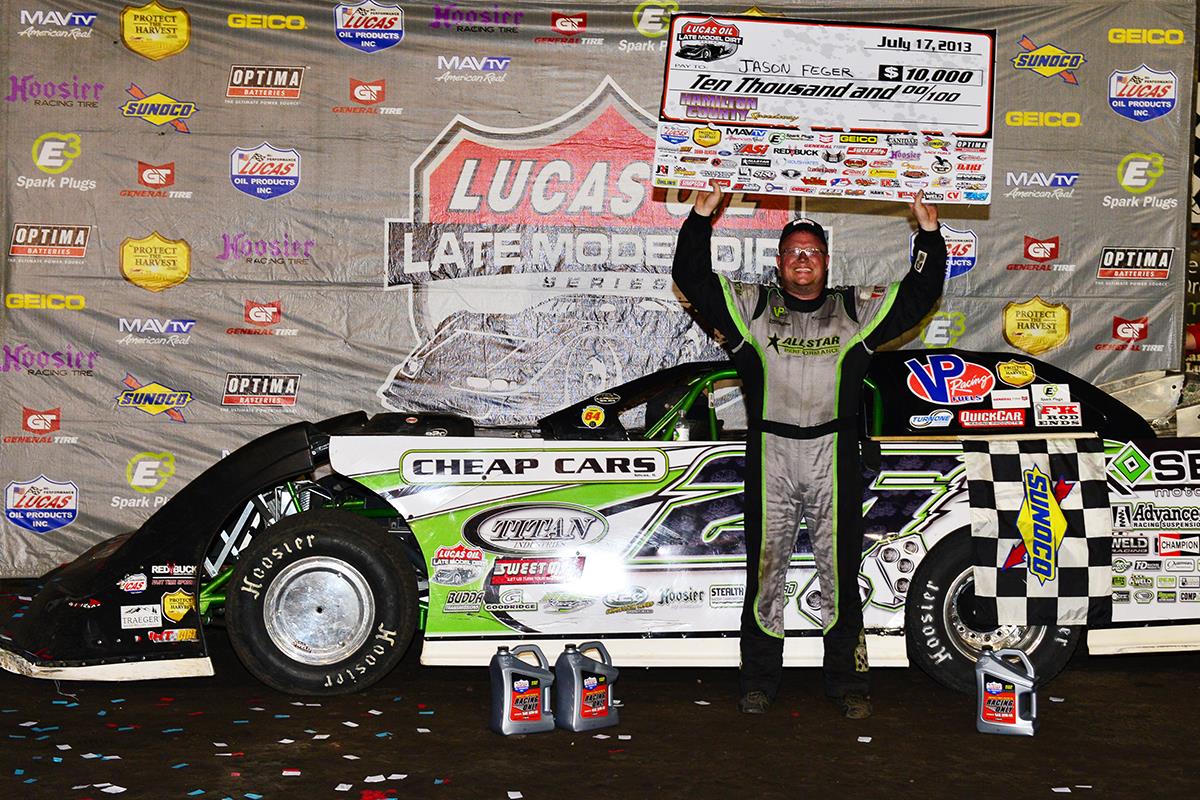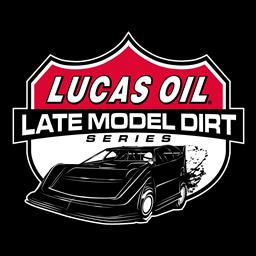 7/17/2013
Lucas Oil Late Model Dirt Series
---
Jason Feger Wins First Career Lucas Oil Late Model Dirt Series Event at Hamilton County
WEBSTER CITY, IA (July 17, 2013) – In his inaugural appearance at the historic Hamilton County Speedway, Jason Feger wins his first Lucas Oil Late Model Dirt Series event.
In front of a capacity crowd, Feger cruised to the victory after passing Steve Francis on lap 15 and pulled away in the final laps to become this season's 14th different winner on the LOLMDS tour. Francis finished second, followed by Earl Pearson Jr., Don O'Neal, and Brian Birkhofer.
"It feels great to finally get a Lucas Oil Series win. We have won in a lot of different series, but to get this one is really special. To beat such a talented field of drivers like Francis, [Don] O'Neal, [Billy] Moyer, and [Scott] Bloomquist, we couldn't ask for a better night as a team. After having a little bad luck recently, we were due for a good finish. We have been getting on each other's nerves recently, but the crew has worked their tails off, and this win should take the pressure off of us," stated Feger in Lucas Oil Victory Lane.
"When I saw them watering the topside of the track before the feature, I was really salivating at the chance to run up there! The car was fast all night, starting from the time we unloaded it. I had confidence that we could get to the front early and stay there. Steve [Francis] and I diced through traffic, I tried a couple of different lines, and was finally able to get by him on the outside," continued a jubilant Feger. He is driver of the Cheap Cars, Box Seat Productions, Rhyne Competition Engines, Bob Pierce Race Cars entry.
Francis was at the helm of the Bowyer Dirt Motorsports, Georgia Boot-sponsored Barry Wright Race Cars #15. He scored his second runner-up finish in a row and narrowed the series points lead to a mere 20 points behind John Blankenship.
"Congratulations to Jason on the win! I was hoping the track would stay racy all night. The first part of the race we could run anywhere on the track, then it started taking some rubber, and we couldn't make up any ground on Feger after that. Thanks to everyone on both Bowyer Dirt Motorsports teams for working so well together," stated Francis.
Earl Pearson Jr. finished a solid third place finish on Wednesday Night. His Longhorn Chassis Chevrolet is owned by Bobby Labonte Racing, and is sponsored by Lucas Oil Products and MAVTV American Real. "We got here late tonight, but we were able to set fast time in Group A and win our heat. The car was strong for the entire night. Feger and Francis had a good race in front of me and we were just a tick off from them, but we will certainly take this finish and head to Nebraska!"
Completing the top ten were Scott Bloomquist, Chad Simpson, John Blankenship, Jimmy Owens, and Billy Moyer.
In preliminary action, Steve Francis set the overall fast time (Group B) amongst the 29 entrants, with a lap of 19.459 seconds. Earl Pearson Jr. set the fastest time in Group A with a time of 19.655 seconds. Earl Pearson Jr., Brian Birkhofer, Steve Francis, and Jason Feger won their respective heat races. Wendell Wallace won the B-Main.
The Lucas Oil Late Model Dirt Series will round out its July Midwest swing with the Silver Dollar Nationals at I-80 Speedway in Greenwood, NE. The event will include a practice session on Thursday, July 18. There will be two rounds of heats on Friday night, July 19. Capping off the trip to I-80 on Saturday, July 20, there will be B-Mains and the 80-lap main event. For more information, visitwww.i-80speedway.com.
For the latest breaking news on the Lucas Oil Late Model Dirt Series, log ontowww.lucasdirt.com and follow the series onwww.facebook.com/lucasdirt andwww.twitter.com/#!/lucasdirt.
Lucas Oil Late Model Dirt Series
Race Summary
Tuesday Night, July 17th, 2013
Hamilton County Speedway – Webster City, IA
RED BUCK Fast Time Group A: Earl Pearson Jr./ 19.655 seconds
RED BUCK Fast Time Group B: Steve Francis/ 19.459 seconds
Wiles Drive Shafts Heat Race #1 (8 Laps, Top 4 Transfer): Earl Pearson Jr., Jared Landers, Chris Simpson, Tyler Reddick, Mark Dotson, Rick Wendling, Jerry Lierly, Jimmy Mars
Eibach Springs Heat Race #2 (8 Laps, Top 4 Transfer): Brian Birkhofer, Billy Moyer, Eddie Carrier Jr., Billy Moyer Jr., Denny Eckrich, Spencer Diercks, Curt Schroeder
Simpson Performance Products Heat Race #3 (8 Laps, Top 4 Transfer): Steve Francis, Don O'Neal, Chad Simpson, Jack Sullivan, Wendell Wallace, Craig Vosbergen, Tommy Weder
FK Rod Ends Heat Race #4 (8 Laps, Top 4 Transfer): Jason Feger, Jimmy Owens, Scott Bloomquist, John Blankenship, Dennis Erb Jr., Ryan Gustin, Kevin Sather
CV Products B-Main #1 (10 Laps, Top 6 Transfer): Wendell Wallace, Mark Dotson, Ryan Gustin, Denny Eckrich, Dennis Erb Jr., Tommy Weder, Jerry Lierly, Craig Vosbergen, Kevin Sather, Spencer Diercks, Rick Wendling, Curt Schroeder, Jimmy Mars-DNS
Feature Finish (50 Laps): 1. 25F-Jason Feger; 2. 15-Steve Francis; 3. 44-Earl Pearson Jr; 4. 71-Don O'Neal; 5. 15B-Brian Birkhofer; 6. 0-Scott Bloomquist; 7. 25C-Chad Simpson; 8. 23-John Blankenship; 9. 20-Jimmy Owens; 10. 21-Billy Moyer Sr; 11. 32X-Chris Simpson; 12. 28-Eddie Carrier Jr; 13. 28E-Dennis Erb Jr; 14. 21JR-Billy Moyer Jr; 15. 8-Craig Vosbergen; 16. 7L-Jerry Lierly; 17. 5-Jared Landers; 18. 1X-Jack Sullivan; 19. 85D-Mark Dotson; 20. 02-Tommy Weder Jr; 21. 19R-Ryan Gustin; 22. 11T-Tyler Reddick; 23. 6M-Wendell Wallace; 24. 50-Denny Eckrich
Race Statistics
Entrants: 29
Lap Leaders: Steve Francis (Laps 16 – 50)
Caution Flags: Jack Sullivan (Lap 28); Jared Landers (Lap 30)
Lucas Oil Late Model Dirt Series Provisionals: Jerry Lierly; Craig Vosbergen
Lucas Oil Late Model Dirt Series Emergency Provisionals: none
RED BUCK Fast Time Provisionals: none
Optima Batteries Hard Charger of the Race: John Blankenship (Started: 16th, Finished: 8th, Advanced: 8 positions)
Allstar Performer of the Race: Jason Feger
Sunoco Race for Gas Highest Finisher: Jimmy Owens
JRi Shocks/Dunn Benson Ford Rookie of the Race: Billy Moyer Jr.
COMP Cams Engine Builder of the Race: Cornett Racing Engines
Ohlins Shocks Chassis Builder of the Race: Pierce Race Cars
Outerwears Crew Chief of the Race: Tommy Grecco (Steve Francis)
HAWK Performance Fastest Lap of the Race: Craig Vosbergen (Lap # 49; 19.329 seconds)
Time of Race: 22 minutes 53 seconds
---
Submitted By: Jeremy Shields
Back to News