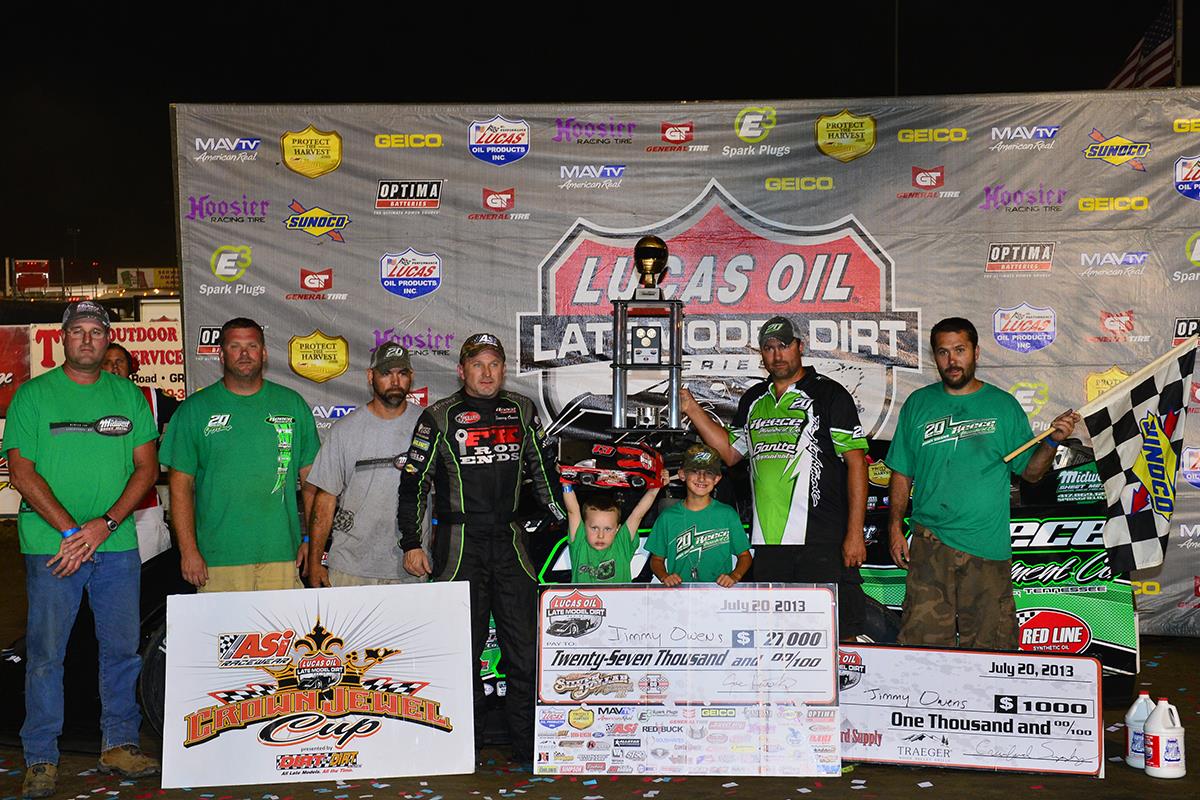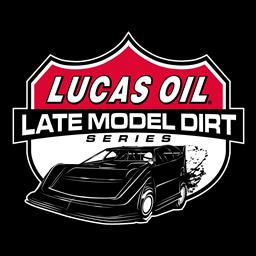 7/20/2013
Lucas Oil Late Model Dirt Series
---
Owens Wins Barnburner at I-80 Speedway's Silver Dollar Nationals
GREENWOOD, NE (July 20, 2013) – In what will go down as one of the best races of 2013, Jimmy Owens wins the Third Annual Silver Dollar Nationals at I-80 Speedway tonight. Owens fought hard for the $27,000 pay day, battling several drivers throughout the race. He took the lead for the final time on lap 56 when race leader Ryan Gustin fell out after hitting the turn one wall following a restart. Gustin had charged all the way from his 34th starting spot, to grab the lead on lap 47. The event was co-sanctioned by the Lucas Oil Late Model Dirt Series and the Lucas Oil MLRA.
Tony Jackson, Jr. started 14th, and charged to a second place finish. Current LOLMDS point's leader, John Blankenship came from 12th to take third ahead of Jason Feger and Billy Moyer.
"I don't know what to say," said Owens afterwards as he took several deep breathes on a hot night in Nebraska. "The car was awesome all weekend! The track slicked off from top to bottom and we could run anywhere on it. Gustin had the car to beat. Once he passed me, I thought he was going to win it. I have seen what he can do in a modified, but to do it against these guys tonight, speaks highly of the talent he has."
Feger started on the pole and led the first nine circuits until Owens forged ahead. Owens and Feger swapped the lead numerous times, as they raced their way through traffic. Gustin climbed to third behind Owens and Feger and on the lap 45 restart he bolted past Feger and take over second. A lap later Gustin took the lead from Owens.
Gustin held on to the lead until misfortune struck on lap 55. He got into the back of Kyle Berck's car, causing significant damage to his car and bringing out the caution flag for Berck. Gustin fired into turn number one on the restart, but his ill-handling car rammed into the concrete wall causing even more damage, which ended his night after a magnificent run.
Gustin was dejected in the pit area as he let a golden opportunity slip away. "I followed him (Berck) for a lap or two and he came down the track and I got into him. When you have Jimmy Owens behind you, you have to go."
"I have to thank Mike Reece, Reece Monument Company, Gantte Appraisals, Cornett Racing Engines, and Bloomquist Race Cars," said Owens, who recorded the 41st win of his LOLMDS career.
Jackson had his best career finish in LOLMDS competition and thought he had a shot at the end on Owens. "I thought I could catch him late in the race when he got into traffic a little bit. I was gaining on him, but he was just too fast. If we keep running like this, hopefully we can get out and run some more national shows with these Lucas Oil drivers. They are great to race with."
Blankenship maintains his points lead in the series after taking home third. "We went out and hot lapped and broke an oil line. Thank you to my amazing crew for all of their hard work. We had a new Jay Dickens engine in and it ran really well here tonight. Congratulations to Jimmy and Tony."
Completing the top ten were Billy Moyer, Will Vaught, Steve Francis, Brian Shirley, Dennis Erb Jr., and Travis Dickes.Chris Simpson, Will Vaught, Tim Isenberg, Steve Francis, and Jason Feger won their respective 1st-round heat races. Don O'Neal, Brian Birkhofer, Tony Jackson Jr., Mike Marlar, and Jimmy Owens won their respective 2nd-round heat races.
The Lucas Oil Late Model Dirt Series will round out the month of July, starting on Friday night, July 26th, at Roaring Knob Motorsports Complex in Markleysburg, PA. The series will then head over to Hagerstown Speedway in Hagerstown, MD for the annual Conococheague 50. Both events will include RED BUCK Time Trials, Heat Races, B-Mains, and 50-Lap, $10,000-to-win main events. For more information, log onto: www.roaringknob.com and www.hagerstownspeedway.com.
For the latest breaking news on the Lucas Oil Late Model Dirt Series, log onto www.lucasdirt.com and follow the series on www.facebook.com/lucasdirt and www.twitter.com/#!/lucasdirt.
Lucas Oil Late Model Dirt Series
Race Summary
Saturday Night, July 20th, 2013
Silver Dollar Nationals
I-80 Speedway – Greenwood, NE
Round 1: Wiles Drive Shafts Heat Race #1 (13 Laps): Chris Simpson, Dennis Erb Jr., Denny Eckrich, Tyler Reddick, Bill Leighton, Jr., Jason Krohn, Brian Kenkel, Chase Junghans, Craig Vosbergen, Jack Sullivan, Jason O'Brien
Round 1: Eibach Springs Heat Race #2 (13 Laps): Will Vaught, Jared Landers, Wendell Wallace, Brian Birkhofer, Justin Asplin, Tony Jackson, Jr., John Anderson, Billy Moyer Jr., Al Humphrey, Corey Zeitner, Robbie Andersen
Round 1: Simpson Performance Products Heat Race #3 (13 Laps): Tim Isenberg, Travis Dickes, Eddie Carrier Jr., Justin Gregg, Billy Moyer, Terry Phillips, Kevin Sather, Alonzo Grosse, Billy Murphy, Jerry Lierly, Steven Kempt
Round 1: FK Rod Ends Heat Race #4 (13 Laps): Steve Francis, Chad Simpson, Jimmy Owens, Don O'Neal, Ryan Gustin, Justin Zeitner, Jimmy Mars, Rodney Sanders, Jay Brunson, Scott Lewis, Bill Koons
Round 1: RED BUCK Heat Race #5 (13 Laps): Jason Feger, Brian Shirley, Kyle Berck, Scott Bloomquist, John Blankenship, Mark Dotson, Mike Marlar, Tommy Weder, Tad Pospisil, Earl Pearson Jr., Mike Collins
Round 2: Wiles Drive Shafts Heat Race #1 (13 Laps): Don O'Neal, John Blankenship, Billy Moyer, Scott Bloomquist, Eddie Carrier Jr., Jason Krohn, Wendell Wallace, Al Humphrey, Jay Brunson, Tad Pospisil, Bill Leighton, Jr.-DNS
Round 2: Eibach Springs Heat Race #2 (13 Laps): Brian Birkhofer, Terry Phillips, Steve Francis, Tyler Reddick, Mark Dotson, Rodney Sanders, Kyle Berck, Bill Koons, Corey Zeitner, Jerry Lierly, Jason O'Brien-DNS
Round 2: Simpson Performance Products Heat Race #3 (13 Laps): Tony Jackson, Jr., Jason Feger, Jared Landers, Tommy Weder, Tim Isenberg, Denny Eckrich, Steven Kempt, Ryan Gustin, Jack Sullivan, Justin Zeitner, Kevin Sather
Round 2: FK Rod Ends Heat Race #4 (13 Laps): Mike Marlar, Jimmy Mars, Brian Shirley, Travis Dickes, Chad Simpson, Craig Vosbergen, Will Vaught, John Anderson, Brian Kenkel, Robbie Andersen, Alonzo Grosse
Round 2: RED BUCK Heat Race #5 (13 Laps): Jimmy Owens, Dennis Erb Jr., Chase Junghans, Chris Simpson, Justin Gregg, Billy Moyer Jr., Justin Asplin, Scott Lewis, Mike Collins, Billy Murphy, Earl Pearson Jr.
CV Products B-Main #1 Finish (Top 3 Transfer): Denny Eckrich, Justin Gregg, Mark Dotson, Jason Krohn, John Anderson, Jay Brunson, Tad Pospisil, Jerry Lierly, Robbie Andersen, Billy Murphy, Billy Moyer Jr., Bill Leighton, Jr., Bill Koons, Ryan Gustin, Wendell Wallace, Earl Pearson Jr.-DNS, Al Humphrey-DNS
Wrisco Aluminum B-Main #2 Finish (Top 3 Transfer): Jimmy Mars, Kyle Berck, Rodney Sanders, Tommy Weder, Justin Asplin, Chase Junghans, Jack Sullivan, Scott Lewis, Jason O'Brien, Craig Vosbergen, Mike Collins, Steven Kempt, Brian Kenkel, Alonzo Grosse-DNS, Corey Zeitner-DNS, Kevin Sather-DNS, Justin Zeitner-DNS
Belt Non-Qualifiers Bash Finish (16 Laps): Jason Krohn, Tommy Weder, Jerry Lierly, Jay Brunson, Mike Collins, Bill Koons, Jason O'Brien, Scott Lewis, Brian Kenkel, Jack Sullivan, Billy Murphy, Justin Asplin, Craig Vosbergen, Steven Kempt
Silver Dollar Nationals Feature Finish (80 Laps): 1. 20-Jimmy Owens; 2. 56-Tony Jackson Jr; 3. 23-John Blankenship; 4. 25F-Jason Feger; 5. 21-Billy Moyer Sr; 6. 1V-Will Vaught; 7. 15-Steve Francis; 8. 3S-Brian Shirley; 9. 28E-Dennis Erb Jr; 10. 21T-Travis Dickes; 11. 71-Don O'Neal; 12. 50-Denny Eckrich; 13. 0-Scott Bloomquist; 14. 9T-Tim Isenberg; 15. 28-Eddie Carrier Jr; 16. 11T-Tyler Reddick; 17. 5-Jared Landers; 18. 44-Earl Pearson Jr; 19. 18J-Chase Junghans; 20. 19R-Ryan Gustin; 21. 32X-Chris Simpson; 22. 14-Kyle Berck; 23. 2A-John Anderson; 24. 21JR-Billy Moyer Jr; 25. 25C-Chad Simpson; 26. 28M-Jimmy Mars; 27. 15B-Brian Birkhofer; 28. 75-Terry Phillips; 29. 85D-Mark Dotson; 30. 1-Justin Gregg; 31. 04-Tad Pospisil; 32. 5B-Mike Marlar; 33. 20R-Rodney Sanders; 34. 24-Bill Leighton; 35. 82-Robbie Andersen
Race Statistics
Entrants: 55
Lap Leaders: Jason Feger (Laps 1 – 9); Jimmy Owens (Laps 10 – 21); Jason Feger (Laps 22 – 42); Jimmy Owens (Laps 43 – 46); Ryan Gustin (Laps 47 – 55); Jimmy Owens (Laps 56 – 80)
Caution Flags: John Anderson (Laps 21); Chris Simpson (Lap 32); Brian Birkhofer (Lap 33); Chad Simpson (Lap 38); Jared Landers (Lap 44); Kyle Berck (Lap 55)
Lucas Oil Late Model Dirt Series Provisionals: Earl Pearson Jr., Billy Moyer Jr.
Lucas Oil Late Model Dirt Series Emergency Provisionals: none
Lucas Oil Midwest Latemodel Racing Association Provisionals: John Anderson, Chase Jungans
Super Late Model Racing Association Provisionals: Tad Posipisil, Robbie Andersen
I-80 Speedway Track Provisionals: Ryan Gustin, Bill Leighton Jr.
RED BUCK Fast Time Provisionals: none
Optima Batteries Hard Charger of the Race: Billy Moyer (Started: 19th, Finished: 5th, Advanced: 14 positions)
Allstar Performer of the Race: Jimmy Owens
Sunoco Race for Gas Highest Finisher: Jimmy Owens
JRi Shocks/Dunn Benson Ford Rookie of the Race: Billy Moyer Jr.
COMP Cams Engine Builder of the Race: Cornett Racing Engines
Ohlins Shocks Chassis Builder of the Race: Bloomquist Race Cars
Outerwears Crew Chief of the Race: Tom Buckingham (John Blankenship)
HAWK Performance Fastest Lap of the Race: John Blankenship (Lap # 12; 18.862 seconds)
Time of Race: 59 minutes 01 seconds
---
Submitted By: Jeremy Shields
Back to News