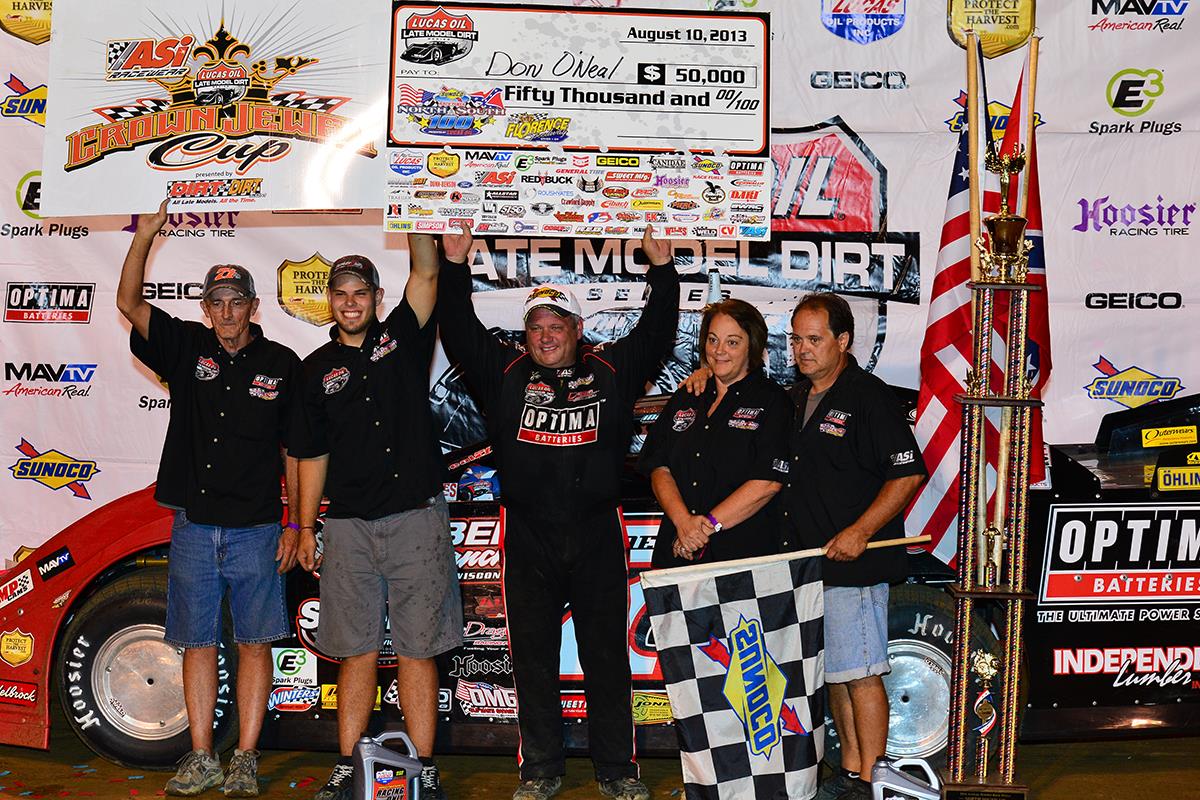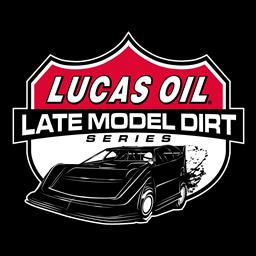 8/10/2013
Lucas Oil Late Model Dirt Series
---
O'Neal Owns Sunoco North/South 100 Presented by Lucas Oil at Florence Speedway
UNON, KY (August 10, 2013) – Don O'Neal became the third driver in the history of the Sunoco North/South 100 Presented by Lucas Oil to win the event twice, back-to-back. O'Neal led the main event, flag-to-flag, in Florence Speedway's $50,000 signature event. Following O'Neal were Tim McCreadie, Dale McDowell, Darrell Lanigan, and Jimmy Owens at the finish.
"I have to thank the fans for staying around tonight. I hope we put on a great show for everybody! Our car was better up near the wall than in the black. The track was fantastic all night long," said the winner.
O'Neal fought off the challenges from John Blankenship and Steve Francis early on as several caution flags kept the field bunched up. Blankenship was O'Neal's only real competition for the first part of the race. Later in the race, McCreadie tried to run down O'Neal but it went to no avail.
On lap 96, Blankenship was running third and slowed dramatically with a broken rear end. Greg Johnson was just outside the top five and crashed into Blankenship; ending a sold run. On the restart, O'Neal pulled away from McCreadie to take his 32nd career LOLMDS victory.
"I have to thank Optima Batteries, Seubert Calf Ranches, Superior Cleaning, Tarpy Trucking, Independence Lumber, and Ohlins. Of course I also have to thank Jay Dickens Racing Engines, I have been with Jay a long time and this engine was strong all night!"
McCreadie was complimentary of O'Neal afterwards. "To run against Don and the rest of these guys is awesome. I mean they race you hard, but they race you clean! I had a heck of a race with Blankenship and he never gave up! I want to thank the fans for coming out this weekend! This is the best we've run here, and we will definitely be back," said the driver of the Sweeteners Plus, Warrior Race Cars #39.
McDowell charged through the field after starting 16th to finish third. "Man that was a great race! Our car was strong early on, and then we kind of leveled out. To run in the top three against these guys in a car we don't normally drive says a lot about our team."
Completing the top ten were: Steve Francis, Eddie Carrier Jr., Randy Weaver, Jared Landers, and Duane Chamberlain. In preliminary action, RJ Conley set the overall time (Group B) amongst the 67 entrants, with a lap of 17.033 seconds. Greg Johnson set the fastest time in Group A with a time of 17.134 seconds. John Blankenship, Eric Wells, Darrell Lanigan, Don O'Neal, Eddie Carrier Jr., and Steve Francis won their respective heat races. Steve Casebolt and Jared Landers won their respective B-Mains.
The Lucas Oil Late Model Dirt Series will return to action next weekend with the COMP Cams Topless 100 at Batesville Motor Speedway in Batesville, AR. On Thursday, August 15th, there will be an open practice session for competitors. On Friday night, August 16th, there will be RED BUCK Time Trials and full heat races. On Saturday, August 17th, there will be B-Mains and the 100-Lap main event. For more information, log onto www.batesvillemotorspeedway.net.
For the latest breaking news on the Lucas Oil Late Model Dirt Series, log onto www.lucasdirt.com and follow the series on www.facebook.com/lucasdirt and www.twitter.com/#!/lucasdirt.
Lucas Oil Late Model Dirt Series
Race Summary
Saturday Night, August 10th, 2013
Sunoco North/South 100 presented by Lucas Oil
Florence Speedway – Union, KY
RED BUCK Fast Time Group A: Greg Johnson / 17.134 seconds
RED BUCK Fast Time Group B: RJ Conley/ 17.033 seconds
RED BUCK Fast Dash Finish: Jimmy Owens, Dale McDowell, RJ Conley, Dustin Linville, Greg Johnson, Steve Casebolt
Wiles Drive Shafts Heat Race #1 (12 Laps, Top 3 Transfer): John Blankenship, Tim McCreadie, Greg Johnson, Michael Chilton, Dennis Erb Jr., Earl Pearson Jr., Tyler Reddick, Kent Robinson, Wayne Chinn, Kyle Bronson, Tommy Weder
Eibach Springs Heat Race #2 (12 Laps, Top 3 Transfer): Eric Wells, Brad Neat, Gregg Satterlee, Steve Casebolt , Davey Johnson, Chad Stapleton, James Rice, Jeff Babcock, Jeremy Hines, Jeff Raisor, Brett Wyatt
Simpson Performance Products Heat Race #3 (12 Laps, Top 3 Transfer): Darrell Lanigan, Randy Weaver, Walker Arthur, Mike Jewell, Bill Blair, Jr., Scott James, Justin Rattliff, Dylan Ames, Jimmy Owens ,Tim Prince, D.J. Wells-DNS
FK Rod Ends Heat Race #4 (12 Laps, Top 3 Transfer): Don O'Neal, Duane Chamberlain, RJ Conley, Jared Landers, Brady Smith, Jimmy Mars, Chad Smith, John Gill, Dennis Roberson, Brian Gray, Tommy Bailey, Michael Asberry
ASi Racewear Heat Race #5 (12 Laps, Top 3 Transfer): Eddie Carrier Jr., Steve Shaver, Dale McDowell, Billy Moyer Jr., Stephen Breeding, Skylar Marlar, Jesse Lay, Victor Lee, Josh Williams, Mason Zeigler, Steve Landrum DirtOnDirt.com
Heat Race #6 (12 Laps, Top 3 Transfer): Steve Francis, Mike Marlar, Dustin Linville, Scott Bloomquist, Cody Mahoney, Dustin Neat, Chris Combs, Robby Hensley, Nick Latham, Mick Sansom, Chris Stotts-DNS
CV Products B-Main #1 (15 Laps, Top 2 Transfer): Steve Casebolt, Earl Pearson Jr., Tyler Reddick, Kent Robinson, Dennis Erb Jr., Chad Stapleton, Tommy Weder, Justin Rattliff, Jeff Babcock, Bill Blair, Jr., Wayne Chinn, Michael Chilton, Scott James , Kyle Bronson, Jeff Raisor, Jimmy Owens, James Rice, Mike Jewell, Jeremy Hines
Wrisco Aluminum B-Main #2 (15 Laps, Top 2 Transfer): Jared Landers, Scott Bloomquist, Brady Smith, Billy Moyer Jr., Dustin Neat, Jimmy Mars, Stephen Breeding, Skylar Marlar, Chad Smith, John Gill, Robby Hensley, Dennis Roberson, Brian Gray, Jesse Lay, Josh Williams, Steve Landrum, Cody Mahoney
Feature Finish (100 Laps): 1. 71-Don O'Neal; 2. 39-Tim McCreadie; 3. 41-Dale McDowell; 4. 29-Darrell Lanigan; 5. 20-Jimmy Owens; 6. 15-Steve Francis; 7. 28-Eddie Carrier Jr; 8. 116-Randy Weaver; 9. 5-Jared Landers; 10. 20C-Duane Chamberlain; 11. 28E-Dennis Erb Jr; 12. 0-Scott Bloomquist; 13. 71C-RJ Conley; 14. 23-John Blankenship; 15. 15J-Greg Johnson; 16. 6S-Steve Shaver; 17. 44-Earl Pearson Jr; 18. 18E-Eric Wells; 19. D8-Dustin Linville; 20. P1-Tim Prince; 21. 87-Walker Arthur; 22. 11-Brad Neat; 23. 22S-Gregg Satterlee; 24. 5B-Mike Marlar; 25. C9-Steve Casebolt; 26. 21JR-Billy Moyer Jr
Race Statistics
Entrants: 67
Lap Leaders: Don O'Neal
Caution Flags: Steve Casebolt (Lap 6); Brad Neat (Lap 11); Dustin Linville (Lap 17); Duane Chamberlain (Lap 21); Earl Pearson Jr. (Lap 56); Steve Shaver (Lap 60); Eddie Carrier Jr. (Lap 78); Jared Landers (Lap 87); Debris (Lap 89); Greg Johnson, John Blankenship (Lap 96)
Lucas Oil Late Model Dirt Series Provisionals: Jimmy Owens, Dennis Erb Jr.
Lucas Oil Late Model Dirt Series Emergency Provisionals: Billy Moyer Jr.
Florence Speedway Track Provisionals: Tim Prince
Optima Batteries Hard Charger of the Race: Jimmy Owens (Started: 23rd, Finished: 5th, Advanced: 18 positions)
Keyser Mfg Spoiler Challenge Point Leader: Jimmy Owens
Allstar Performer of the Race: Don O'Neal
Sunoco Race for Gas Highest Finisher: Jimmy Owens
JRi Shocks/Dunn Benson Ford Rookie of the Race: Billy Moyer Jr.
COMP Cams Engine Builder of the Race: Jay Dickens Racing Engines
Ohlins Shocks Chassis Builder of the Race: MasterSbilt Race Cars
Outerwears Crew Chief of the Race: Tader Masters (Don O'Neal)
HAWK Performance Fastest Lap of the Race: Don O'Neal (Lap # 1; 16.548 seconds)
Time of Race: 92 minutes 16 second
---
Submitted By: Jeremy Shields
Back to News