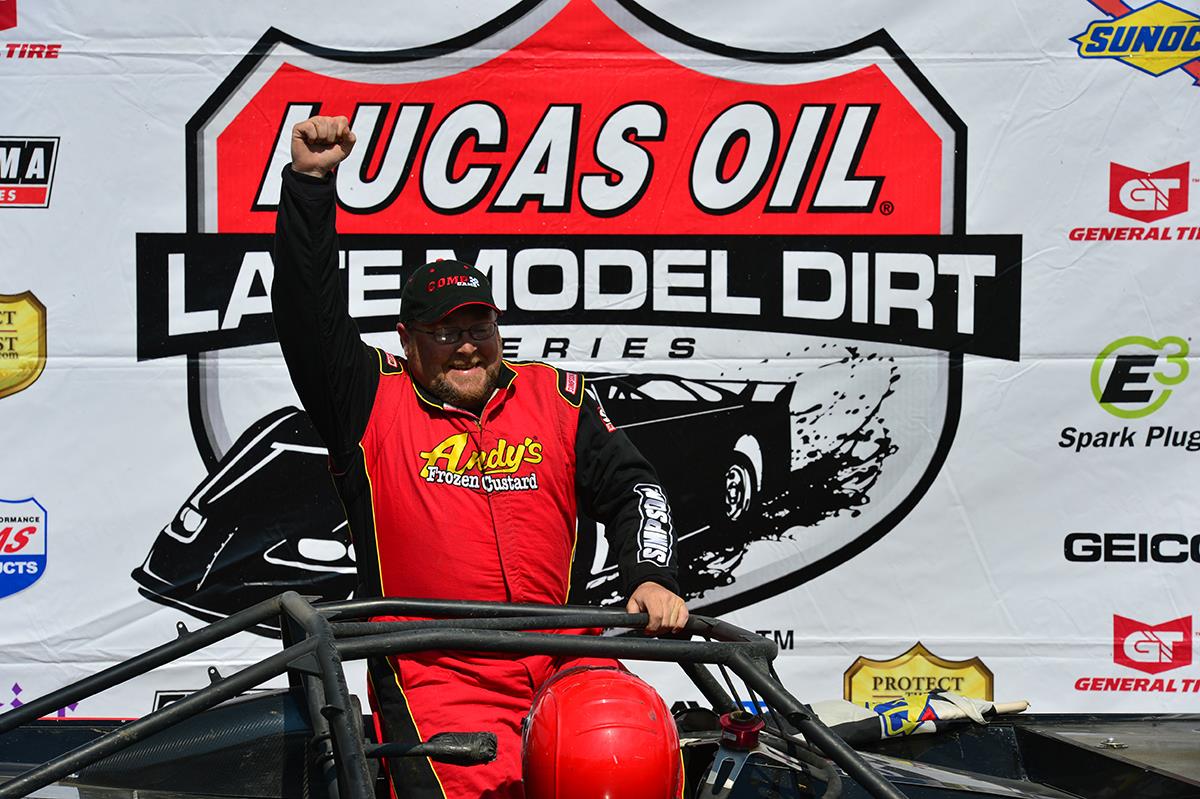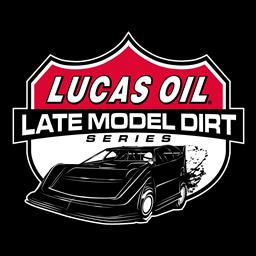 8/18/2013
Lucas Oil Late Model Dirt Series
---
Terry Phillips Captures Biggest Late Model Win in COMP Cams Topless 100 at Batesville
LOCUST GROVE, AR (August 18, 2013) – Terry Phillips captured the biggest win of his Late Model racing career on Sunday Afternoon at Batesville Motor Speedway. Phillips pocketed $40,000 for winning the Lucas Oil Late Model Dirt Series-sanctioned 21st Annual COMP Cams Topless 100 presented by Crop Production Services. The event was delayed till today at 1PM after heavy rains saturated the track last night and track officials couldn't get the track to dry out enough to race on.
Terry Phillips, the second-generation Missouri native and son of legendary racer Larry Phillips took the lead on lap 79 from Jimmy Owens after starting 7th. Owens made a last lap charge to try and retake the lead but finished one-car length behind Phillips. Following Phillips and Owens were: Dale McDowell, Chris Madden, and Earl Pearson Jr. who rounded out the top five finishers.
In Lucas Oil Victory Lane, Phillips was elated to win this crown jewel cup event. "Before today, I've led this race with two laps to go and not won it. That time was probably the biggest heartbreak of my career, but to win this today was the biggest win of my career!! I want to say thank you to all my fans and sponsors that were here today! I just love this place!" said the 47-year-old veteran driver.
"I have to thank Andy's Frozen Custard, Don Babb, Mesilla Valley Transportation, Schoenfeld Headers, and all the fans for coming back today. The car worked so well on the bottom. I also want to thank Roush-Yates Engines and Bloomquist Race Cars for all of their help. It was truly a team win", stated Phillips.
Mike Marlar led the first 30 laps of the race before being passed by Owens. Owens then held a steady lead, which became increasingly closer as Dale McDowell and Billy Moyer pressured Owens in the middle stages of the race. Phillips reached the third spot on lap 66, and then rocketed to second by lap 78. Just a lap later, he got around Owens for the lead.
Owens led the most laps during the 100-event and finished second to extend his series points lead. "I was racing for the win," said the 2-time series champion. "He (Phillips) drove a heck of a race. We bumped a little bit, but that's racing! Congrats to Terry! I want to thank all the fans for coming back today, it was a very good race for daytime! We had an awesome car the whole race, and we just wanted a top five finish, so we are thrilled with this finish!"
In Lucas Oil Victory Lane, McDowell stated: "Our car was good the entire race and we could roll through the turns better than everyone else, it seemed. I just couldn't clear Jimmy a couple times when I got beside him. Then Terry got by me on that restart and just motored away from all of us there at the end", stated McDowell.
Sixth through tenth in the finishing order were: Jimmy Mars, Don O'Neal, Mike Marlar, Scott Bloomquist, and Steve Francis.
In preliminary action, Mike Marlar set the overall time (Group A) amongst the 55 entrants, with a lap of 13.899 seconds. Billy Moyer set the fastest time in Group B with a time of 14.146 seconds. Mike Marlar, Jimmy Owens, Scott Bloomquist, Dale McDowell, Jesse Stovall, and Tyler Reddick won their respective heat races. Don O'Neal, Steve Francis, and David Breazeale won their respective B-Mains.
The Lucas Oil Late Model Dirt Series will return to action on Thursday, August 22nd at Volunteer Speedway in Bulls Gap, TN and then on Saturday, August 24th the series will travel to Lawrenceburg Speedway in Lawrenceburg, IN. Both events will feature RED BUCK Time Trials, Heat Races, B-Mains, and 50-Lap, $10,000-to-win main events. For more information, log on to www.volunteerspeedway.com and www.lawrenceburgspeedway.com.
For the latest breaking news on the Lucas Oil Late Model Dirt Series, log onto www.lucasdirt.com and follow the series on www.facebook.com/lucasdirt and www.twitter.com/#!/lucasdirt.
Lucas Oil Late Model Dirt Series
Race Summary
COMP Cams Topless 100 presented by Crop Production Services
Batesville Motor Speedway – Batesville, AR
RED BUCK Fast Time Group A: Mike Marlar/ 13.899 seconds
RED BUCK Fast Time Group B: Billy Moyer/ 14.146 seconds
Wiles Drive Shafts Heat Race #1 (12 Laps, Top 3 Transfer): Mike Marlar, Terry Phillips, Billy Moyer Jr., Jack Sullivan, Michael Asberry, Don O'Neal, Garrett Alberson, AJ Diemel, Odie Green, Eric Jacobsen
Eibach Springs Heat Race #2 (12 Laps, Top 3 Transfer): Jimmy Owens, Chris Madden, Wendell Wallace, Robert Baker, Robbie Stuart, Eddie Carrier Jr., Sean Jones, Jon Kirby, Jeff Floyd
Simpson Performance Products Heat Race #3 (12 Laps, Top 3 Transfer): Scott Bloomquist, Earl Pearson Jr., Chris Wall, Stacy Taylor, Gary Christian, Gavin Landers, Justin Asplin, Raymond Merrill, David Deetz
FK Rod Ends Heat Race #4 (12 Laps, Top 3 Transfer): Dale McDowell, Billy Moyer, Dennis Erb Jr., Steve Francis, Brandon Smith, Rob Litton, Tyler Erb, Jay Brunson, Mike Harris
ASi Racewear Heat Race #5 (12 Laps, Top 3 Transfer): Jesse Stovall, Jimmy Mars, Brian Shirley, Mark Dotson, Timothy Culp, Jared Landers, Leon Henderson, George Jackson, Keith Craft
DirtOnDirt.com Heat Race #6 (12 Laps, Top 3 Transfer): Tyler Reddick, John Blankenship, Kyle Beard, David Breazeale, Tommy Weder, Kyle Bronson, BJ Robinson, Shane Harris-DNS, Eric Turner-DNS
CV Products B-Main #1 (10 Laps, Top 2 Transfer): Don O'Neal, Robbie Stuart, Robert Baker, Michael Asberry, Eddie Carrier Jr., Odie Green, Jon Kirby, Garrett Alberson, Jeff Floyd, Jack Sullivan, AJ Diemel, Sean Jones-DNS, Eric Jacobsen-DNS
Wrisco Aluminum B-Main #2 (10 Laps, Top 2 Transfer): Steve Francis, Brandon Smith, Justin Asplin, Gary Christian, Tyler Erb, Mike Harris, David Deetz, Gavin Landers, Jay Brunson, Stacy Taylor, Raymond Merrill-DNS, Rob Litton-DNS
COMP Cams B-Main #3 (10 Laps, Top 2 Transfer): David Breazeale, Jared Landers, Tommy Weder, BJ Robinson, Kyle Bronson, Shane Harris, Timothy Culp, Mark Dotson, Leon Henderson-DNS, George Jackson-DNS, Keith Craft-DNS, Eric Turner-DNS
Feature Finish (100 Laps): 1. 75-Terry Phillips; 2. 20-Jimmy Owens; 3. 41-Dale McDowell; 4. 44M-Chris Madden; 5. 44-Earl Pearson Jr; 6. 28M-Jimmy Mars; 7. 71-Don O'Neal; 8. 5B-Mike Marlar; 9. 0-Scott Bloomquist; 10. 15-Steve Francis; 11. 23-John Blankenship; 12. 6R-Robbie Stuart; 13. 00S-Jesse Stovall; 14. 28E-Dennis Erb Jr; 15. 71W-Chris Wall; 16. 21JR-Billy Moyer Jr; 17. 115-Brandon Smith; 18. 28-Eddie Carrier Jr; 19. 86-Kyle Beard; 20. 6M-Wendell Wallace; 21. 11T-Tyler Reddick; 22. 21-Billy Moyer Sr; 23. 54-David Breazeale; 24. 5-Jared Landers; 25. 27T-Stacy Taylor; 26. 3S-Brian Shirley
Race Statistics
Entrants: 55
Lap Leaders: Mike Marlar (Laps 1 – 31); Jimmy Owens (Laps 32 – 79); Terry Phillips (Laps 80 – 100)
Caution Flags: Scott Bloomquist (Lap 9); Jared Landers (Lap 13); Dennis Erb Jr. (Lap 47); Tyler Reddick (Lap 63); John Blankenship (Lap 66); Billy Moyer Jr. (Lap 69); Wendell Wallace (Lap 77)
Lucas Oil Late Model Dirt Series Provisionals: Eddie Carrier Jr
Lucas Oil Late Model Dirt Series Emergency Provisionals: none
RED BUCK Fast Time Provisional: Stacy Taylor
Optima Batteries Hard Charger of the Race: Don O'Neal (Started: 19th, Finished: 7th, Advanced: 12 positions)
Keyser Mfg Spoiler Challenge Point Leader: Jimmy Owens
Allstar Performer of the Race: Terry Phillips
Sunoco Race for Gas Highest Finisher: Jimmy Owens
JRi Shocks/Dunn Benson Ford Rookie of the Race: Billy Moyer Jr.
COMP Cams Engine Builder of the Race: Roush-Yates Racing Engines
Ohlins Shocks Chassis Builder of the Race: Bloomquist Race Cars
Outerwears Crew Chief of the Race: Chris Fox (Jimmy Owens)
HAWK Performance Fastest Lap of the Race: Dale McDowell (Lap # 15; 15.822 seconds)
Time of Race: 55 minutes 58 seconds
---
Submitted By: Jeremy Shields
Back to News