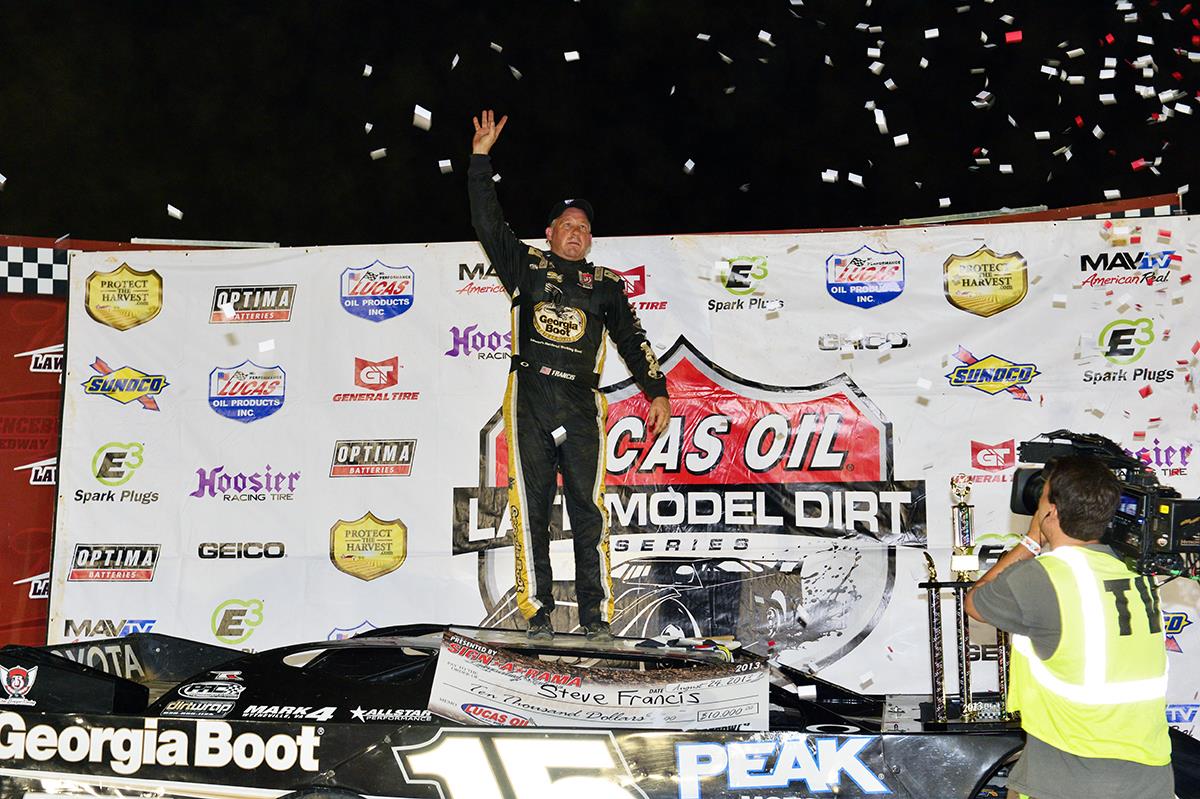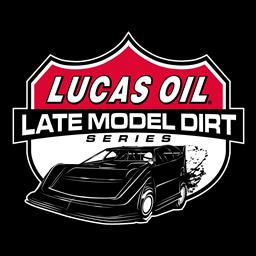 8/24/2013
Lucas Oil Late Model Dirt Series
---
Francis is Fantastic, Wins Whiskey City 50 at Lawrenceburg Speedway
LAWRENCEBURG, IN (August 24, 2013) – Steve Francis claimed his second Lucas Oil Late Model Dirt Series win of the season on Saturday Night at Lawrenceburg Speedway. Francis held off fellow Kentucky driver, Brad Neat for the win. Jimmy Owens finished third followed by Jared Landers and John Blankenship.
"They made us work hard for this win tonight. The car got a little hot and it was quite a battle! I had guys running on the inside of me, outside of me, and they were everywhere! The track was in great shape tonight," said Francis, who remains second in the LOLMDS Championship Points Standings.
Early on, Francis battled with Eddie Carrier Jr. Duane Chamberlain who caught up to the leaders, and a three-wide battle for the lead ensued. Chamberlain last led on lap 17 until Francis forged ahead. Neat ran second for three circuits early in the race before falling back but later charged back into the runner-up slot on lap 25. Owens, who started eighth, made his way into the top five near the end after battling side-by-side with Landers for third in the final laps.
Francis also thanked a multitude of sponsors and others in victory lane. "I have to thank Clint Bowyer for giving me this opportunity. I would also like to thank Barry, Lance, Tommy, and Brian. We all put our heads together and the car was just right! My daughter and wife couldn't be here tonight, so I guess they will have to watch it on television. We have a lot of great sponsors of course, Georgia Boot, Peak Motor Oil, Cometic Gasket, Toyota, VP, Allstar Performance, Clements Racing Engines, and Barry Wright Race Cars."
Neat had his best LOLMDS finish of the season, "Congrats to Steve on the win! We both run Barry Wright Race Cars, but his was just a bit better tonight. It's an honor to run against these guys, and they are the best in the business."
Owens settled for third. "We had a good race with Jared! We just couldn't get up to those first two guys. Only with a caution could we would have had a shot!"
Completing the top ten were Greg Johnson, Earl Pearson Jr., Scott James, Dustin Linville, and Tim Isenberg.
In preliminary action, Justin Rattliff set the overall time (Group B) amongst the 28 entrants, with a lap of 14.426 seconds. John Blankenship set the fastest time in Group A with a time of 14.525 seconds. Brad Neat, Steve Francis, and Jared Landers won their respective heat races. John Blankenship won the B-Main.
The Lucas Oil Late Model Dirt Series will return to action next weekend with a triple-header lined up for Labor Day Weekend. On Friday, August 30th, the series will make it's first-ever appearance at Attica Raceway Park in Attica, OH. Then, on Saturday, August 31st, the series heads over to Portsmouth Raceway Park in Portsmouth, OH for the River Days Rumble. Rounding out the weekend, on Sunday, September 1st, will be the Hillbilly Hundred at I-77 Raceway Park in Ripley, WV. For more information on these three tracks, please log on to: www.atticaracewaypark.com, www.portsraceway.com, and www.racei77.com.
For the latest breaking news on the Lucas Oil Late Model Dirt Series, log onto www.lucasdirt.com and follow the series on www.facebook.com/lucasdirt and www.twitter.com/#!/lucasdirt.
Lucas Oil Late Model Dirt Series
Race Summary
Saturday Night, August 24th, 2013
"Whiskey City 50"
Lawrenceburg Speedway – Lawrenceburg, IN
RED BUCK Fast Time Group A: John Blankenship / 14.525 seconds
RED BUCK Fast Time Group B: Justin Rattliff / 14.426 seconds
Wiles Drive Shafts Heat Race #1 (10 Laps, Top 6 Transfer): Brad Neat, Eddie Carrier Jr., Scott Bloomquist, Chad Stapleton, Dennis Erb Jr., RJ Conley, Tim Prince, Steve Isenberg, Mike Bechelli-DNS
Eibach Springs Heat Race #2 (10 Laps, Top 6 Transfer): Steve Francis, Duane Chamberlain, Jimmy Owens, Scott James , Dustin Linville, Billy Moyer Jr., Gary Christian, Jeff Raisor, Bill Sheets
Simpson Performance Products Heat Race #3 (10 Laps, Top 6 Transfer): Jared Landers, Brandon Kinzer, Eric Jacobsen, Greg Johnson, Earl Pearson Jr., Tim Isenberg, Bill Blair, Jr., Rick Slayback, John Blankenship
CV Products B-Main #1 (12 Laps, Top 4 Transfer): John Blankenship, Justin Rattliff, Bill Sheets, Gary Christian, Steve Isenberg, Bill Blair, Jr., Rick Slayback, Jeff Raisor, Mike Bechelli, Tim Prince-DNS
Feature Finish (50 Laps): 1. 15-Steve Francis; 2. 11-Brad Neat; 3. 20-Jimmy Owens; 4. 5-Jared Landers; 5. 23-John Blankenship; 6. 15J-Greg Johnson; 7. 44-Earl Pearson Jr; 8. 25S-Scott James; 9. D8-Dustin Linville; 10. 9T-Tim Isenberg; 11. 18K-Brandon Kinzer; 12. 28E-Dennis Erb Jr; 13. 0-Scott Bloomquist; 14. 5J-Eric Jacobsen; 15. 32S-Chad Stapleton; 16. 20C-Duane Chamberlain; 17. 9I-Steve Isenberg; 18. 16-Justin Rattliff; 19. 28-Eddie Carrier Jr; 20. 21JR-Billy Moyer Jr; 21. 71C-RJ Conley; 22. 58X-Gary Christian; 23. 84-Bill Blair Jr; 24. 99-Bill Sheets
Race Statistics
Entrants: 28
Lap Leaders: Steve Francis (Laps 1 – 11); Duane Chamberlain (Laps 12 – 15); Steve Francis (Lap 16); Duane Chamberlain (Lap 17); Steve Francis (Lap 18 – 50)
Caution Flags: Debris (Lap 4); Gary Christian (Lap 14); Scott Bloomquist (Lap 17); Justin Rattliff (Lap 34); Chad Stapleton (Lap 35)
Lucas Oil Late Model Dirt Series Provisionals: none
Lucas Oil Late Model Dirt Series Emergency Provisionals: none
RED BUCK Fast Time Provisionals: Bill Blair Jr.; Steve Isenberg
Optima Batteries Hard Charger of the Race: John Blankenship (Started: 19th, Finished: 5th, Advanced: 14 positions)
Keyser Mfg Spoiler Challenge Point Leader: Jimmy Owens
Allstar Performer of the Race: Steve Francis
Sunoco Race for Gas Highest Finisher: Jimmy Owens
JRi Shocks/Dunn Benson Ford Rookie of the Race: Billy Moyer Jr.
COMP Cams Engine Builder of the Race: Cornett Racing Engines
Ohlins Shocks Chassis Builder of the Race: Barry Wright Race Cars
Outerwears Crew Chief of the Race: Tommy Grecco (Steve Francis)
HAWK Performance Fastest Lap of the Race: Earl Pearson Jr. (Lap # 7; 15.669 seconds)
Time of Race: 27 minutes 35 seconds
---
Submitted By: Jeremy Shields
Back to News