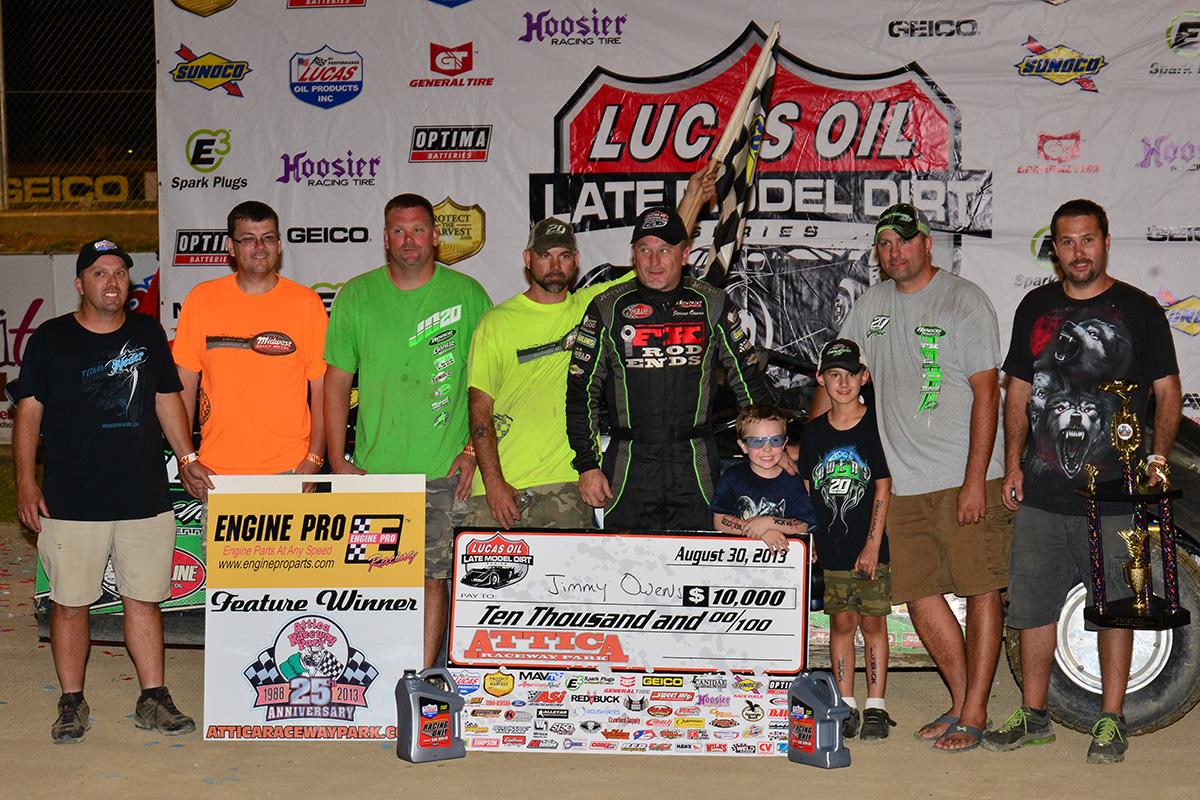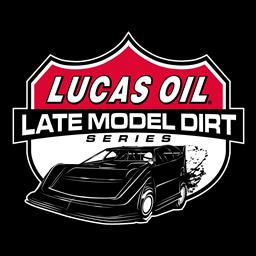 8/30/2013
Lucas Oil Late Model Dirt Series
---
Owens Outstanding in Lucas Oil Late Model Dirt Series Visit to Attica
ATTICA, OH (August 30, 2013) – Jimmy Owens continued his stronghold on the series with his 7th victory on Friday Night at Attica Raceway Park. He took the lead on lap six and led the rest of the way, pocketing $10,000 for the win.
Brian Birkhofer came home in second, followed by Earl Pearson Jr., John Blankenship, and Steve Francis.
"I have to thank all these great fans for coming out tonight! This is our first time here, and we really like this place," said Owens, who started third in the race. "We had a super car all night long! I think the first two finishers picked the same tire compound to run, and it paid off."
Owens made a daring move to the inside of the track on the opening lap to take the lead from Russ King and Birkhofer. King fought back and took the lead from Owens on lap three and led the race for three circuits until Owens got back by him. King then held the second spot, using the top groove on the racetrack. Birkhofer got by King for second on lap 12 and stayed there for the remainder of the race.
"I have to thank my car owner Mike Reece, Reece Monument Company, Sunoco Race Fuels, Red Line Oil, Gantte Appraisals, Midwest Sheet Metal, and all of my other sponsors for making this possible. It is a great way to start the weekend and hopefully we can go to Portsmouth and I-77 with the same results."
Birkhofer was in the ASi Racewear, MB Customs Chevrolet and was racing for the first time in three weeks after breaking his hand last month. "We didn't have anything for Jimmy tonight; he was too strong. To come here after being off for so long and to run well with these guys felt really good. I will probably sleep pretty well tonight. It's going to be a long weekend!"
Earl Pearson Jr had a solid run tonight after a couple tough races last week."It feels good to have a Top-3 finish here. We have only been here once before and that was nine years ago. The crew has worked hard over the last two weeks and we have had a lot of misfortune, so we needed a good run," said the driver of the Bobby Labonte, Lucas Oil Products, Longhorn Chevrolet.
Completing the top ten were Russ King, Dennis Erb Jr., Billy Moyer, Jeff Babcock, and Eddie Carrier Jr.
In preliminary action, Brian Birkhofer set the overall time (Group A) amongst the 31 entrants, with a lap of 14.750 seconds. Jeff Babcock set the fastest time in Group B with a time of 14.949 seconds. Brian Birkhofer, Jimmy Owens, Russ King, and Earl Pearson Jr. won their respective heat races. Jon Henry won the B-Main.
The Lucas Oil Late Model Dirt Series will continue its Labor Day Weekend triple-header on Saturday, August 31st, at Portsmouth Raceway Park in Portsmouth, OH for the Pepsi 50 River Days Rumble. Rounding out the weekend, on Sunday, September 1st, will be the Hillbilly Hundred at I-77 Raceway Park in Ripley, WV. For more information on these tracks, please log on to: www.portsraceway.com and www.racei77.com.
For the latest breaking news on the Lucas Oil Late Model Dirt Series, log onto www.lucasdirt.com and follow the series on www.facebook.com/lucasdirt and www.twitter.com/#!/lucasdirt.
Lucas Oil Late Model Dirt Series
Race Summary
Friday Night, August 30th, 2013
Attica Raceway Park – Attica, OH
RED BUCK Fast Time Group A: Brian Birkhofer/ 14.750 seconds
RED BUCK Fast Time Group B: Jeff Babcock / 14.949 seconds
Wiles Drive Shafts Heat Race #1 (10 Laps, Top 4 Transfer): Brian Birkhofer, Jason Jaggers, Dennis Erb Jr., Doug Drown, Mike Bores, Matt Irey, John Bores, Billy Moyer Jr.
Eibach Springs Heat Race #2 (10 Laps, Top 4 Transfer): Jimmy Owens, Steve Francis, Billy Moyer, Eddie Carrier Jr., Jon Henry, DJ Miller, Coby Bartram
Simpson Performance Products Heat Race #3 (10 Laps, Top 4 Transfer): Russ King, Jeff Babcock, Jared Landers, Casey Noonan, Jason Feger, Ryan Missler, Tim Sabo, Nate Potts
FK Rod Ends Heat Race #4 (10 Laps, Top 4 Transfer): Earl Pearson Jr., John Blankenship, Rusty Schlenk, Ryan Markham, Garrett Krummert, Dusty Moore, Josh Haynes, Cody Scott-DNS
CV Products B-Main #1 (12 Laps, Top 6 Transfer): Jon Henry, Jason Feger, Mike Bores, Matt Irey, Ryan Missler, Garrett Krummert, Dusty Moore, Tim Sabo, Billy Moyer Jr., Coby Bartram, Josh Haynes, John Bores, Nate Potts, DJ Miller, Cody Scott-DNS
Feature Finish (50 Laps): 1. 20-Jimmy Owens; 2. 15B-Brian Birkhofer; 3. 44-Earl Pearson Jr; 4. 23-John Blankenship; 5. 15-Steve Francis; 6. 56-Russ King; 7. 28E-Dennis Erb Jr; 8. 21-Billy Moyer Sr; 9. 1B-Jeff Babcock; 10. 28-Eddie Carrier Jr; 11. 91-Rusty Schlenk; 12. 63-Doug Drown; 13. 21JR-Billy Moyer Jr; 14. 5-Jared Landers; 15. 36-Matt Irey; 16. 1N-Casey Noonan; 17. 32J-Jason Jaggers; 18. 15H-Jon Henry; 19. 5M-Ryan Markham; 20. 25F-Jason Feger; 21. 15BX-Mike Bores; 22. 29-Garrett Krummert; 23. 50Y-Ryan Missler; 24. 1DJ-DJ Miller
Race Statistics
Entrants: 31
Lap Leaders: Jimmy Owens (Laps 1 – 2); Russ King (Laps 3 – 5); Jimmy Owens (Laps 6 – 50)
Caution Flags: Jason Jaggers (Lap 35)
Lucas Oil Late Model Dirt Series Provisionals: Billy Moyer Jr.
Lucas Oil Late Model Dirt Series Emergency Provisionals: none
RED BUCK Fast Time Provisionals: DJ Miller
Optima Batteries Hard Charger of the Race: Eddie Carrier Jr. (Started: 15th, Finished: 10th, Advanced: 5 positions)
Keyser Mfg Spoiler Challenge Point Leader: Jimmy Owens
Allstar Performer of the Race: Earl Pearson Jr.
Sunoco Race for Gas Highest Finisher: Jimmy Owens
JRi Shocks/Dunn Benson Ford Rookie of the Race: Billy Moyer Jr.
COMP Cams Engine Builder of the Race: Cornett Racing Engines
Ohlins Shocks Chassis Builder of the Race: Bloomquist Race Cars
Outerwears Crew Chief of the Race: Chris Fox (Earl Pearson Jr.)
HAWK Performance Fastest Lap of the Race: Russ King (Lap #4; 15.404 seconds)
Time of Race: 17 minutes 02 seconds
---
Submitted By: Jeremy Shields
Back to News