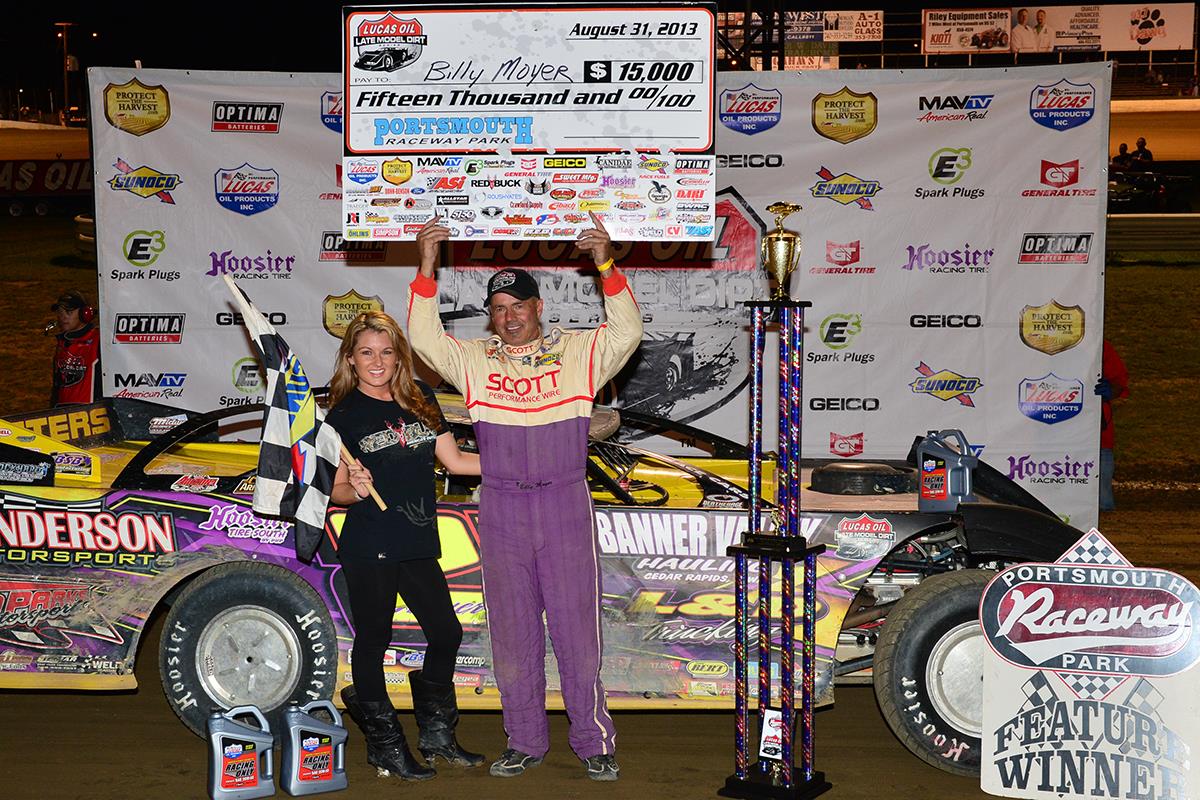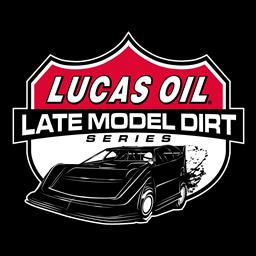 8/31/2013
Lucas Oil Late Model Dirt Series
---
Moyer the Man in Pepsi 50 River Days Rumble at Portsmouth
PORTSMOUTH, OH (August 31, 2013) – It has been several years since Hall-of-Famer Billy Moyer last visited Portsmouth Raceway Park. After Saturday night, he can put his name in the hat as a contender for the Dirt Track World Championship at PRP in October. He led all the way as he captured the Pepsi 50 River Days Rumble sanctioned by the Lucas Oil Late Model Dirt Series. Moyer collected $15,000 for his win tonight.
Moyer's second LOLMDS win of the season came before a packed house despite threating weather all night. Jimmy Owens; the current LOLMDS point's leader; finished second, followed by 12th starting Dennis Erb Jr., 18thstarting Scott Bloomquist and Jason Feger.
"You have to give a big thanks to the track and Lucas Oil crew for getting this race in! They had some heavy rain this morning. The track was great all night and it had three grooves. To beat the rain, you have to take your hats off to everyone involved! We have not run here for several years, and I would say it was probably back in the GVS days that I was here. I certainly hope to be back here in October, going for that $50,000!"
The 55-year-old Moyer received pressure from Owens for several laps in the first half of the race. Despite a string of caution flags, Moyer was able to hold an advantage over Owens for the last half of the race.
"To beat that 20 car says a lot! He has been on a roll lately! I want to thank all of my sponsors including Henderson Motorsports, Banner Valley Hauling, L&D Trucking, Midwest Sheet Metal, and Clements Racing Engines." Moyer's win was the 773rd of his illustrious career and came in his own Moyer Victory Circle ride.
Owens; in the Mike Reece, Reece Monument Company, Bloomquist Race Cars Ford; lengthened his points lead over Francis with his second place finish. "Well everybody knows Billy Moyer is one of the all-time greats, even with the caution flags that kept us bunched up, I had nothing for him! Congratulations to him and his crew, they deserved the win!"
Erb made a late-race rally to pass Bloomquist late in the race to nail down the third spot; his best ever finish at PRP. "Our car was really good at the end, we started passing cars in the last 15 or so laps! I just wish the race would have been 75 laps, we might have had something for Billy and Jimmy! This is the best finish we have ever had here, and we look forward to coming back here in October for the DTWC," said the driver of the JL Scrap Metals, Bloomquist Race Cars Chevrolet.
Completing the top ten were Steve Francis, Doug Drown, Rod Conley, Steve Shaver and Billy Moyer Jr.
In preliminary action, Jackie Boggs set the overall RED BUCK Fast time (Group A) amongst the 37 entrants, with a lap of 14.801 seconds. Mike Marlar set the fastest time in Group B with a time of 15.007 seconds. Doug Drown, Josh McGuire, Billy Moyer, and Jimmy Owens won their respective heat races. Zack Dohm and Scott Bloomquist won their respective B-Mains.
The Lucas Oil Late Model Dirt Series will continue its Labor Day Weekend triple-header on Sunday, September 1st, with the Hillbilly Hundred at I-77 Raceway Park in Ripley, WV. The Hillbilly Hundred is also part of the ASi Crown Jewel Cup presented by DirtonDirt.com. For more information, please log on to www.racei77.com.
For the latest breaking news on the Lucas Oil Late Model Dirt Series, log onto www.lucasdirt.com and follow the series on www.facebook.com/lucasdirt and www.twitter.com/#!/lucasdirt.
Lucas Oil Late Model Dirt Series
Race Summary
Saturday Night, August 30th, 2013
Pepsi "River Days Rumble 50"
Portsmouth Raceway Park – Portsmouth, OH
RED BUCK Fast Time Group A: Jackie Boggs / 14.801 seconds
RED BUCK Fast Time Group B: Mike Marlar / 15.007 seconds
Wiles Drive Shafts Heat Race #1 (10 Laps, Top 4 Transfer): Doug Drown, Jackie Boggs, Steve Francis, Donnie Moran, Jared Landers, Billy Moyer Jr., JT Conley, Joe Ramey, Kenneth Howell, Mick Sansom
Eibach Springs Heat Race #2 (10 Laps, Top 4 Transfer): Josh McGuire, Rod Conley, Steve Shaver, Eddie Carrier Jr., Zack Dohm, John Blankenship, Josh Bocook, Paul Davis, Brett Kennard
Simpson Performance Products Heat Race #3 (10 Laps, Top 4 Transfer): Billy Moyer, Mike Marlar, Earl Pearson Jr., Mark Frazier, Scott Bloomquist, Nick Bocook, Ben Adkins, Devin Moran, Delmas Conley
FK Rod Ends Heat Race #4 (10 Laps, Top 4 Transfer): Jimmy Owens, Jason Feger, Dennis Erb Jr., Brian Birkhofer, Russ King, RJ Conley, Jason Montgomery , Justin Rattliff, Doug Kenworthy
CV Products B-Main #1 (12 Laps, Top 3 Transfer): Zack Dohm, John Blankenship, Billy Moyer Jr., JT Conley, Joe Ramey, Brett Kennard, Josh Bocook, Mick Sansom
Wrisco Aluminum B-Main #2 (12 Laps, Top 3 Transfer): Scott Bloomquist, Nick Bocook, Ben Adkins, Devin Moran, Delmas Conley, Jason Montgomery , Justin Rattliff, Doug Kenworthy, RJ Conley, Russ King
Feature Finish (50 Laps): 1. 21-Billy Moyer Sr; 2. 20-Jimmy Owens; 3. 28E-Dennis Erb Jr; 4. 0-Scott Bloomquist; 5. 25F-Jason Feger; 6. 15-Steve Francis; 7. 63-Doug Drown; 8. 71R-Rod Conley; 9. 6S-Steve Shaver; 10. 21JR-Billy Moyer Jr; 11. 28-Eddie Carrier Jr; 12. 1B-Nick Bocook; 13. 17D-Zack Dohm; 14. 44-Earl Pearson Jr; 15. 2R-Joe Ramey; 16. 5-Jared Landers; 17. 5B-Mike Marlar; 18. 99-Donnie Moran; 19. 41-Josh McGuire; 20. 23-John Blankenship; 21. 4B-Jackie Boggs; 22. B7-Ben Adkins; 23. 71C-RJ Conley; 24. 15B-Brian Birkhofer; 25. 9F-Mark Frazier
Race Statistics
Entrants: 37
Lap Leaders: Billy Moyer (Laps 1 – 50)
Caution Flags: Billy Moyer Jr. (Lap 7); Ben Adkins (Lap 12); John Blankenship (Lap 15); Joe Ramey (Lap 30); Mike Marlar, Joe Ramey (Lap 30); Jared Landers (Lap 34)
Lucas Oil Late Model Dirt Series Provisionals: Jared Landers
Lucas Oil Late Model Dirt Series Emergency Provisionals: none
RED BUCK Fast Time Provisionals: Joe Ramey
Portsmouth Raceway Park Track Provisional: RJ Conley
Optima Batteries Hard Charger of the Race: Scott Bloomquist (Started: 18th, Finished: 4th, Advanced: 14 positions)
Keyser Mfg Spoiler Challenge Point Leader: Jimmy Owens
Allstar Performer of the Race: Dennis Erb Jr.
Sunoco Race for Gas Highest Finisher: Billy Moyer
JRi Shocks/Dunn Benson Ford Rookie of the Race: Billy Moyer Jr.
COMP Cams Engine Builder of the Race: Cornett Racing Engines
Ohlins Shocks Chassis Builder of the Race: Bloomquist Race Cars
Outerwears Crew Chief of the Race: Chris Fox (Jimmy Owens)
HAWK Performance Fastest Lap of the Race: Jimmy Owens (Lap # 23; 15.238 seconds)
Time of Race: 30 minutes 57 seconds
---
Submitted By: Jeremy Shields
Back to News