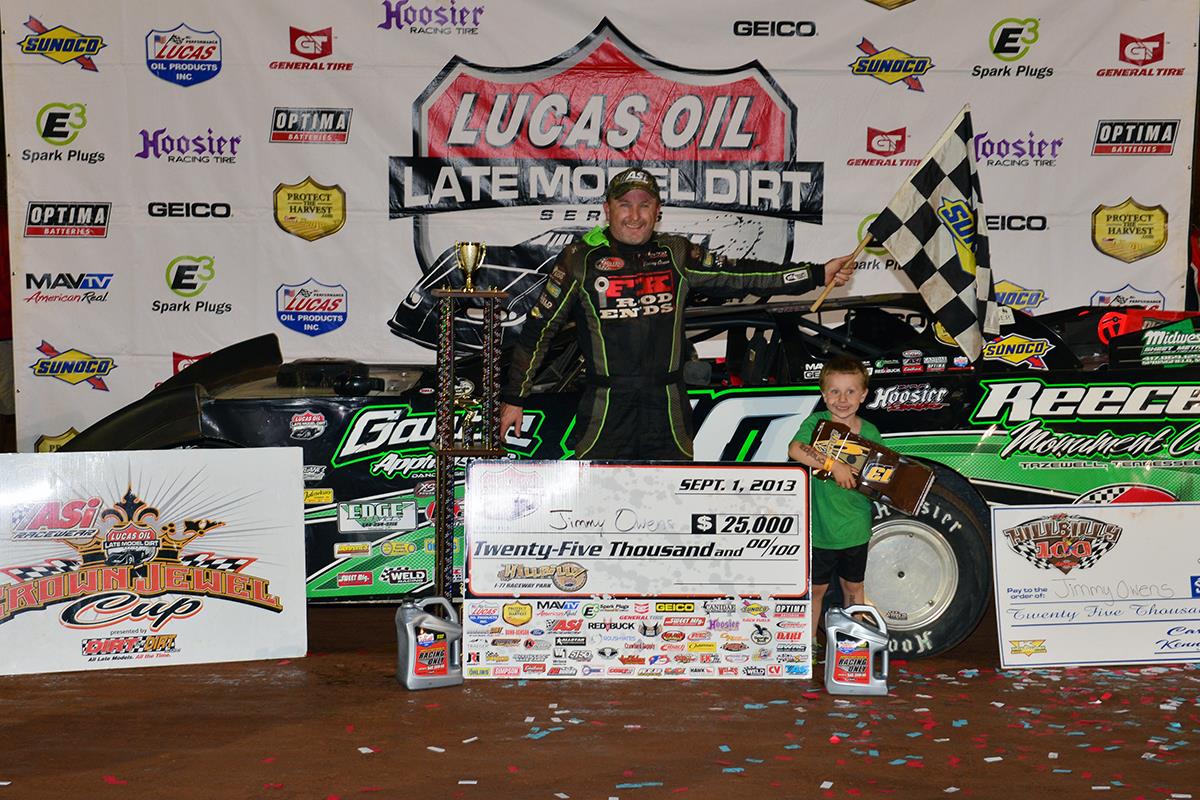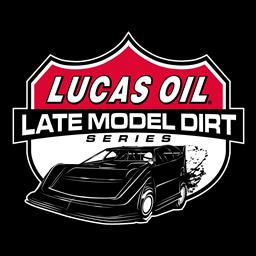 9/1/2013
Lucas Oil Late Model Dirt Series
---
Owens Wins Second Career Hillbilly 100 with Victory at I-77
RIPLEY, WV (September 1, 2013) Current Lucas Oil Late Model Dirt Series points leader, Jimmy Owens, won his second career Hillbilly 100 on Sunday Night at I-77 Raceway Park. Owens took the lead on lap 61 and went on to win his 8th series event in 2013 and $25,000 for winning the Lucas Oil Late Model Dirt Series-sanctioned crown jewel event. The massive crowd also saw Owens increase his points lead in the chase for the ASi Crown Jewel Cup-Presented by Dirtondirt.com and the $10,000 bonus.
Steve Francis charged from his eighth starting spot to finish second. Earl Pearson, Jr., who started 10th, finished third, followed by 19th starting Billy Moyer, and Steve Shaver rounded out the top five finishers.
Dennis Erb Jr. led the first 60 laps of the race and appeared to have one of the strongest cars in the race from the start. But Erb's machine began smoking heavy during the middle stages of the race allowing Owens to close the gap. Owens then passed Erb for the lead coming off of turn number two on Lap 61. Erb finally slowed in turn four on lap 62 bringing out a caution as his night ended abruptly with mechanical failure.
"I saw Dennis smoking for a long time. I wanted to pull up beside him and tell him to save the motor and not damage it. I feel bad for them, they work so hard, and they had a good car. I am not sure if I could have ever gotten around him. He has led so many of these crown jewel races and he is going to get one soon," said the Owens in victory lane.
"I really like this place, its racy and the fans get to see a great show. I want to thank Carl Short for putting this race on! We have been on a roll this weekend; let's hope this continues," said Owens.
"I also have to thank my car owner, Mike Reece. Winning another crown jewel event for him and my crew is just remarkable. My sponsors, Reece Monument Company, Gantte Appraisals, Red Line Oil, Sunoco Fuels, Ohlins Shocks, Midwest Sheet Metals, Cornett Engines, and Bloomquist Race Cars give us a ton of support, thanks to them all!"
Francis passed Scott Bloomquist for second after a restart and stayed close to Owens for a while. Owens eventually pulled away for the win. "I tried my hardest to stay with him. Congrats to Jimmy and his crew! We had a good car to come from where we started , we are pleased with second. We have tried for a long time to win this race; ever since the Pennsboro days to be exact; we hope to get one of these someday," said the driver of the Clint Bowyer, Georgia Boot-sponsored Barry Wright Race Cars #15 machine.
Pearson driving the Bobby Labonte, Lucas Oil, and Longhorn Chassis hung tough as he battled several other drivers to a podium finish. "I can't believe we finished that race! I thought maybe I had a damaged radiator or something after that tangle with Owens and Shaver early in the race.The car wouldn't turn very well in the corners like I wanted it to after that. But we will take a solid third place and head to the next race", stated Pearson.
Completing the top ten were Eddie Carrier Jr., John Blankenship, Billy Moyer Jr., Zack Dohm, and Donnie Moran.In preliminary action, Walker Arthur set the overall RED BUCK fast time (Group A) amongst the 61 entrants, with a lap of 13.268 seconds. Randy Armes set the fastest time in Group B with a time of 13.293 seconds. Dennis Erb Jr., Steve Shaver, Billy Moyer Jr., Jimmy Owens, Chris Garnes, and Scott Bloomquist won their respective heat races. Billy Moyer and Jared Landers won their respective B-Mains.
The Lucas Oil Late Model Dirt Series will return to action with a double-header weekend of racing on Friday, September 20th, with the Ralph Latham Memorial at Florence Speedway in Union, KY and the Jackson 100 at Brownstown Speedway in Brownstown, IN on Saturday, September 21st. For more information on these two tracks, log on to www.florencespeedway.com and www.brownstownspeedway.com.
For the latest breaking news on the Lucas Oil Late Model Dirt Series, log onto www.lucasdirt.com and follow the series on www.facebook.com/lucasdirt and www.twitter.com/#!/lucasdirt.
Lucas Oil Late Model Dirt Series
Race Summary
Sunday Night, September 1st, 2013
45th Annual "Hillbilly Hundred"
I-77 Raceway Park – Ripley, WV
RED BUCK Fast Time Group A: Walker Arthur / 13.268 seconds
RED BUCK Fast Time Group B: Randy Armes / 13.293 seconds
Wiles Drive Shafts Heat Race #1 (15 Laps, Top 3 Transfer): Dennis Erb Jr., Mike Marlar, Donnie Moran, Jacob Hawkins, K.C. Burdette, Freddie Carpenter, Brad Jarrell, David Gibson, Jr., Walker Arthur, Joe Ramey
Eibach Springs Heat Race #2 (15 Laps, Top 3 Transfer): Steve Shaver, Eddie Carrier Jr., Zack Dohm, Derek Doll, Russ King, Harold Redman, Jr., Scott Peltz, Rick Williams, Frankie Hall, Anthony Huber
Simpson Performance Products Heat Race #3 (15 Laps, Top 3 Transfer): Billy Moyer Jr., Brian Birkhofer, Chris Carpenter, John Blankenship, Billy Moyer, Steve Lucas, Mike Benedum, Brock Morris, Nick Dohm, Chuck Harper
FK Rod Ends Heat Race #4 (15 Laps, Top 3 Transfer): Jimmy Owens, Steve Francis, Paul Wilmoth, Jr., Jared Landers, Randy Armes, Paul Davis, Kevin Layne, John Vandale, John Church, Kenneth Howell, Tim Dohm-DNS
DirtonDirt.com Heat Race #5 (15 Laps – Top 3 Transfer): Chris Garnes, Earl Pearson Jr. ,Doug Drown ,Justin Rattliff, Jared Miley, Rodney Gibson, Rickey Strattis, Ryan Casto, Josh McGuire, Tyler Carpenter
RED BUCK Heat #6 (15 Laps – Top 3 Transfer): Scott Bloomquist, Jason Feger, Jared Hawkins, Gregory Roberson, Billy Beachler, Buddy Brogan III, Robbie Jewell, Kenny Newhouse, Rick Lucas, Randy Meador-DNS
CV Products B-Main #1 (15 Laps, Top 2 Transfer): Billy Moyer, Jacob Hawkins, John Blankenship, Steve Lucas, Harold Redman, Jr., Russ King, Derek Doll, Mike Benedum, Anthony Huber, Nick Dohm, Chuck Harper, Freddie Carpenter, K.C. Burdette, Walker Arthur ,Scott Peltz, David Gibson, Jr., Brock Morris, Rick Williams, Frankie Hall, Brad Jarrell, Joe Ramey-DNS
Wrisco Aluminum B-Main #2 (15 Laps, Top 2 Transfer): Jared Landers, Jared Miley, Justin Rattliff, Gregory Roberson, Paul Davis, Randy Armes, Kevin Layne, Kenny Newhouse, Billy Beachler, Buddy Brogan III, Ryan Casto, John Church, Robbie Jewell, John Vandale, Tyler Carpenter, Rick Lucas, Kenneth Howell, Rickey Strattis, Rodney Gibson, Josh McGuire-DNS, Tim Dohm –DNS, Randy Meador-DNS
Feature Finish (100 Laps): 1. 20-Jimmy Owens; 2. 15-Steve Francis; 3. 44-Earl Pearson Jr; 4. 21-Billy Moyer Sr; 5. 6S-Steve Shaver; 6. 28-Eddie Carrier Jr; 7. 23-John Blankenship; 8. 21JR-Billy Moyer Jr; 9. 17D-Zack Dohm; 10. 99-Donnie Moran; 11. 25F-Jason Feger; 12. H1-Jared Miley; 13. 5-Jared Landers; 14. 0-Scott Bloomquist; 15. 5B-Mike Marlar; 16. 42-Chris Garnes; 17. 25X-Mike Benedum; 18. 28E-Dennis Erb Jr; 19. 18C-Chris Carpenter; 20. 5L-Steve Lucas; 21. 63-Doug Drown; 22. 87-Walker Arthur; 23. B1-Paul Wilmoth Jr; 24. 37-Jared Hawkins; 25. 20H-Jacob Hawkins; 26. 15B-Brian Birkhofer
Race Statistics
Entrants: 61
Lap Leaders: Dennis Erb Jr. (Laps 1 – 60); Jimmy Owens (Laps 61 – 100)
Caution Flags: Jason Feger, Chris Carpenter, Doug Drown, Brad Jarrell, Jared Landers, Walker Arthur, Jacob Hawkins, Steve Lucas, Tyler Carpenter (Lap 1); Jacob Hawkins (Lap 4); Brad Jarrell (Lap 6); Walker Arthur, Tyler Carpenter (Lap 7); Brian Birkhofer (Lap 18); Jared Hawkins (Lap 25); Paul Wilmoth (Lap 42); Jason Feger (Lap 48); Steve Lucas (Lap 49); Debris (Lap 49); Chris Carpenter (Lap 55); Dennis Erb Jr. (Lap 62); Mike Benedum (Lap 73); Scott Bloomquist (Lap 80)
Lucas Oil Late Model Dirt Series Provisionals: John Blankenship
Lucas Oil Late Model Dirt Series Emergency Provisionals: none RED BUCK Fast Time Provisionals: Walker Arthur I-77 Raceway Park Track Provisionals: Tyler Carpenter, Steve Lucas, Mike Benedum, Brad Jarrell
Optima Batteries Hard Charger of the Race: John Blankenship (Started: 23rd, Finished: 7th, Advanced 16 positions)
Keyser Mfg Spoiler Challenge Point Leader: Jimmy Owens Allstar Performer of the Race: Earl Pearson Jr.
Sunoco Race for Gas Highest Finisher: Jimmy Owens
JRi Shocks/Dunn Benson Ford Rookie of the Race: Billy Moyer Jr.
COMP Cams Engine Builder of the Race: Cornett Racing Engines
Ohlins Shocks Chassis Builder of the Race: Bloomquist Race Cars
Outerwears Crew Chief of the Race: Chris Fox (Jimmy Owens) HAWK Performance Fastest Lap of the Race: Dennis Erb Jr. (Lap # 3; 14.326 seconds)
Time of Race: 67 minutes 39 seconds
---
Submitted By: Jeremy Shields
Back to News