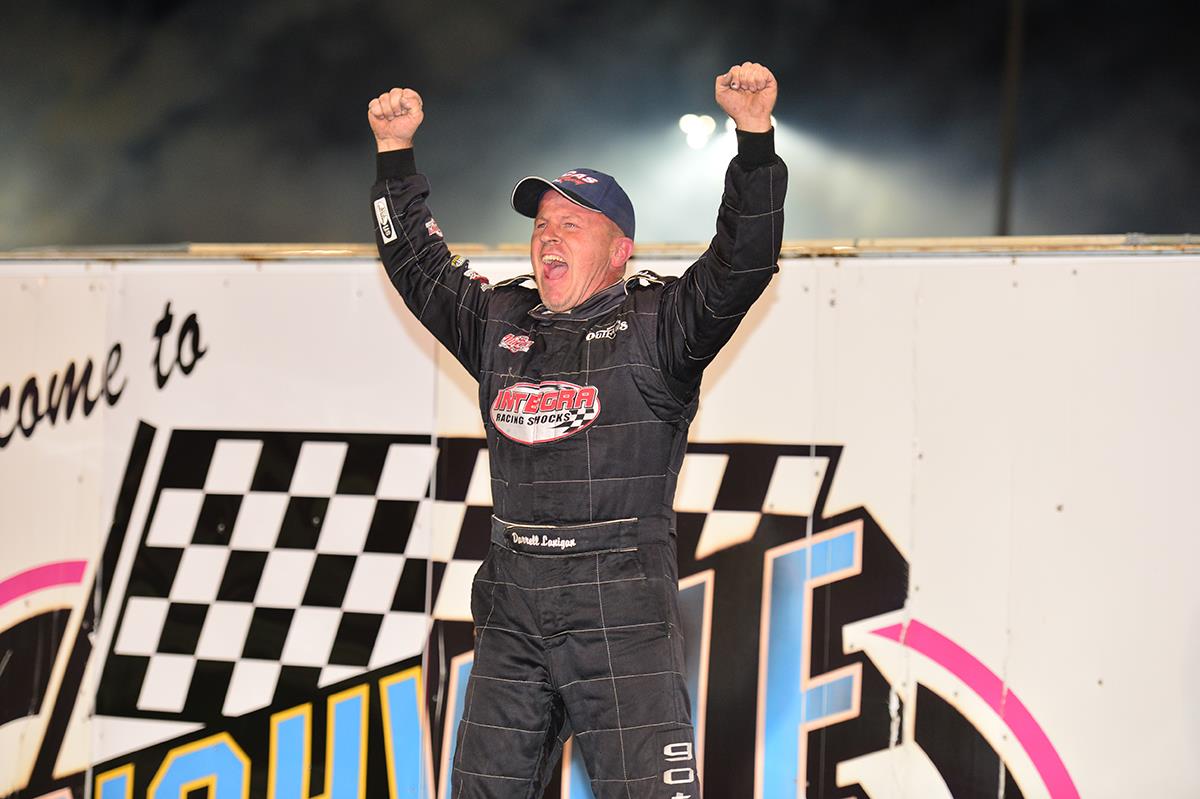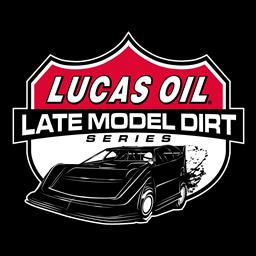 9/28/2013
Lucas Oil Late Model Dirt Series
---
Lanigan Wins Lucas Oil Late Model Knoxville Nationals
KNOXVILLE, IA (September 28, 2013) – Darrell Lanigan used a late-race restart to his advantage, passing Josh Richards on lap 95 and leading the remainder of the race to win the 10th Annual Lucas Oil Late Model Knoxville Nationals at Knoxville Raceway. Lanigan earned $40,000 for his first career Lucas Oil Late Model Dirt Series victory.
Josh Richards won the preliminary feature events on Thursday and Friday and was looking to become the second driver in the history of the event to sweep all three nights along with Billy Moyer in 2010. Richards would have to settle for a runner-up finish tonight in the 100-lap feature event followed by Tim McCreadie, defending race winner, Steve Francis, and Billy Moyer rounded out the top five finishers.
Richards led the first six laps of the race until Dale McDowell took over the point for one circuit. Richards fought back and regained the top spot on lap eight. Richards held the lead until Lanigan took over on lap 20. After the top five drivers battled fiercely for most of the race up front, the final caution came out for Jason Feger who was running third on lap 93 but was collected in a violent crash that included Don O"Neal, Dale McDowell and Scott Bloomquist. This set up a six-lap shootout to the finish as both Richards and Lanigan would lead the field back to green. On the restart, Lanigan dove to the bottom as he and Richards raced side-by-side down the backstretch.
Lanigan passed Richards before the cars entered turn three on lap 95, allowing him to carry his momentum to the victory. "I wanted to win this race so bad," said the 43-year old Kentucky native. "Our car was good all weekend here. We didn't make the trip last year, but to come back and win this race for the first time, is phenomenal. Knoxville is right up there among the elite tracks in dirt track racing and they do a tremendous job with the racing surface', stated an ecstatic Lanigan in victory lane.
Lanigan went onto compliment the facility and his team on his crown jewel victory. "This race continues to grow every year and really is a great event with a great purse. We are just honored to be able to come here, and to beat these guys says a lot about our race team, our Club 29 Rocket, Cornett Racing Engines, and all of the people that help us out. Thanks to all the fans for coming out this weekend," said Lanigan.
Richards now has 3-second place finishes in this event was disappointed with his second place finish as he thought he had a car capable of winning. "We started off real good, the car worked well, then we slowed the pace a little bit, and that's when Darrell caught me and got by me the first time. That red flag with six laps to go really hurt us, I am kicking myself a little bit. When he got by me on that restart, I knew I was in some trouble, because I couldn't turn the car in the corners"
McCreadie had a good performance on Friday Night and backed it up with a solid third–place in the 100-lap finale. "We haven't run that well for about a month. To come here and get third is almost like a win for us. I know we have won this race before, but hopefully it's a big step forward to close out the year. This is such a good-paying race, everyone needs to support these kinds of events', stated McCreadie.
Completing the top ten were John Blankenship, Brady Smith, Scott Bloomquist, Jimmy Owens, and Chad Simpson.
In preliminary action Steve Lance won the D-Main. Brian Birkhofer won the C-Main. Morgan Bagley won the B-Main.
The Lucas Oil Late Model Dirt Series will return to action next weekend October 5th and 6th, with a pair of events in the "Peach State". On Friday, Oct. 5th, the series will head to Dixie Speedway in Woodstock, GA for the Lucas Oil Dixie Shootout. Then, on Sunday, Oct. 6th, the series will make an appearance at Rome International Speedway in Rome, GA for the Rome Showdown. Both events will feature RED BUCK Time Trials, Heat Races, B-Mains, and 50-Lap, $10,000-to-win main events. For more information, log on to www.dixiespeedway.com and www.raceromespeedway.com.
For the latest breaking news on the Lucas Oil Late Model Dirt Series, log onto www.lucasdirt.com and follow the series on www.facebook.com/lucasdirt and www.twitter.com/#!/lucasdirt.
Lucas Oil Late Model Dirt Series
Race Summary
Saturday Night, September 28th, 2013
Lucas Oil Late Model Knoxville Nationals presented by Casey's General Stores
Knoxville Raceway – Knoxville, IA
CV Products D-Main (12 Laps, Top 4 Transfer to C-Main): Steve Lance, Skip Frey, Michael Smith, Dustin Walker, Curt Schroeder, Ray Sveeggen, Greg Kimmons, Dennis Vandermeersch, Stewart Hayward
Wrisco Aluminum C-Main (15 Laps, Top 8 Transfer to B-Main): Brian Birkhofer, Andy Eckrich, Dave Eckrich, Tyler Bruening, Rich Bell, Spencer Diercks, Mike Fryer, Chris Spieker, Jay Johnson, Travis Dickes, Steve Lance, Michael Smith, Darrel DeFrance, Billy Moyer Jr., Dustin Walker, Kent Robinson, Skip Frey, Charlie McKenna, Tim Isenberg, Tim Lance, Ray Guss, Jr., Jason Jaggers
CV Products B-Main (20 Laps, Top 6 Transfer to A-Main): Morgan Bagley, Denny Eckrich, Shannon Babb, Tony Jackson, Jr., Ryan Unzicker, Justin Kay, Austin Hubbard, Chase Junghans, Brian Birkhofer, Jason Rauen, Rodney Sanders, Jason McBride, Tyler Bruening, Mike Fryer, Terry Phillips, Dennis Erb Jr., Brian Shirley, Andy Eckrich, Dave Eckrich, Matt Furman, Chris Spieker, Rich Bell, Spencer Diercks, Mike Marlar-DNS, Ricky Weiss-DNS
Feature Finish (100 Laps): 1. 29-Darrell Lanigan; 2. 1-Josh Richards; 3. 39-Tim McCreadie; 4. 15-Steve Francis; 5. 21-Billy Moyer Sr; 6. 23-John Blankenship; 7. 2-Brady Smith; 8. 0-Scott Bloomquist; 9. 20-Jimmy Owens; 10. 25C-Chad Simpson; 11. 31U-Jason Utter; 12. 24X-Ryan Unzicker; 13. 28E-Dennis Erb Jr; 14. 25F-Jason Feger; 15. 71-Don O'Neal; 16. 17M-Dale McDowell; 17. 28-Eddie Carrier Jr; 18. 19R-Ryan Gustin; 19. 99JR-Frank Heckenast Jr; 20. 50-Denny Eckrich; 21. 21JR-Billy Moyer Jr; 22. 5-Jared Landers; 23. 28M-Jimmy Mars; 24. 44-Earl Pearson Jr; 25. B5-Brandon Sheppard; 26. 58D-AJ Diemel
Race Statistics
Entrants: 72
Lap Leaders: Josh Richards (Lap 1 – 6); Dale McDowell (Lap 7); Josh Richards (Laps 8 – 19); Darrell Lanigan (Lap 20 – 83); Josh Richards (Laps 84 – 94); Darrell Lanigan (Laps 95 – 100)
Caution Flags: Jared Landers (Lap 24); Jimmy Owens (Lap 39); Brandon Sheppard (Lap 41); Jared Landers (Lap 47); Eddie Carrier Jr. (Lap 94); Jason Feger (Lap 94)
Lucas Oil Late Model Dirt Series Provisionals: Dennis Erb Jr., Billy Moyer Jr.
Lucas Oil Late Model Dirt Series Emergency Provisionals: none RED BUCK Fast Time Provisionals: none Optima Batteries Hard Charger of the Race: Steve Francis (Started: 22nd, Finished: 4th, Advanced: 18 positions)
Keyser Mfg Spoiler Challenge Point Leader: Jimmy Owens Allstar Performer of the Race: Steve Francis
Sunoco Race for Gas Highest Finisher: Billy Moyer
JRi Shocks/Dunn Benson Ford Rookie of the Race: Billy Moyer Jr.
COMP Cams Engine Builder of the Race: Cornett Racing Engines
Ohlins Shocks Chassis Builder of the Race: Rocket Race Cars
Outerwears Crew Chief of the Race: Tommy Grecco (Steve Francis) HAWK Performance Fastest Lap of the Race: Ryan Unzicker (Lap # 20;17.595 seconds)
Time of Race: 69 minutes 31 seconds
---
Submitted By: Jeremy Shields
Back to News