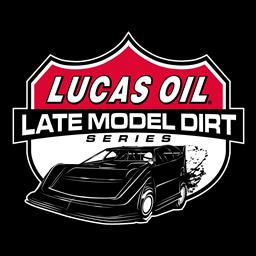 10/10/2009
Lucas Oil Late Model Dirt Series
---
Ray Cook Takes Popular Dixie Shootout Win at Dixie Speedway on Saturday Night
WOODSTOCK, GA (October 10,2009) Taking the lead on lap 23 after starting seventh, Ray Cook of Brasstown, NC led the rest of the way to score his first career Dixie Shootout win on Saturday Night at Dixie Speedway. The Lucas Oil Late Model Dirt Series sanctioned event win for Cook was his fifth this year as he collected $10,000 for the win in the 20th Annual Dixie Shootout, which was sponsored by Coal America's Energy. Dan Schlieper of Sullivan, WI finished second followed by new track record holder Earl Pearson Jr. of Jacksonville, FL, Clint Smith of Senoia, GA and Jimmy Owens of Newport, TN.
Owens and Smith would start on the front row of the 50 lap event with Smith grabbing the early lead followed by Owens, Schlieper, Tony Knowles and Bub McCool. Cook coming from the inside on row four was on the move early as he passed McCool for fifth on lap two and then a couple of circuits later he was up to the fourth spot around Knowles.
Smith and Owens were setting a quick pace around the D-shaped track as they opened up a three-car length advantage over Schlieper, who was still holding down the third spot. Cook then put the heat on Schlieper passing him for third on lap 14. Cook the quickly chased down Owens and raced side-by-side with him as they crossed the stripe with 15 laps complete.
Cook then cleared Owens for second officially on lap 16 taking over the second spot. With Cook on the move Smith's lead looked precarious as Cook tracked him down in a matter on five laps which was helped by the first caution of the race for a slowing Skip Arp on the main straightaway. On the restart it was Smith still in the lead, but he had Cook right on his tail and as the two cars crossed the stripe Smith held a scant half a car length lead over Cook who had pulled alongside him.
Cook took the outside route on lap 22 passing Smith for the lead coming off of turn number four. The top five at the half way mark showed Cook in front followed by Smith, Owens, Schlieper and McCool. Cook then stretched his lead out as Schlieper started to hound Smith for second as traffic started to play a role as Cook was starting to be held up.
The second caution on lap 37 for Randy Weaver was a break for Cook as it cleared out cars in front of him for the restart. The green flag restart lasted a mere two laps when Don O'Neal slowed with a flat tire bringing out the third and final caution of the race with eleven laps to go.
The final restart of the race saw Cook hold his lead over Schlieper keeping a three-car length lead with ten to go as a side-by-side battle was shaping up between Smith and Pearson as the pair of number 44 drivers were dueling it out for third. With five to go Schlieper started to cut down Cook's lead as it appeared the race would finish before Cook would get back into lapped traffic.
Schlieper got to two car lengths of Cook, but Cook held him off to take his Lucas Oil Series leading fifth win of the season in the Danny Dishman and Ronald Ivey owned MasterSbilt Monte Carlo SS with a Race Engine Design motor and sponsored by Hicks and Ingle Co. General Contracting, A+ Moving and Storage Company, PRC, VP Racing Fuels, PPM Racing Products, Real Racing Wheels, K&N Filters, Integra Racing Shocks, American Racer Tires and GW Performance sponsored car.
In the Lucas Oil Victory Lane, Cook did a quick interview with SPEED Channel who was on hand to tape the event and then did an emotional interview for the crowd. "I have to thank the Good Lord for a good and safe race, Mickey Smith did a whale of a job getting this track ready tonight with all the rain they have had here the last two weeks, it was extremely racy and I hoped the crowd enjoyed the show," said the 37-year old driver who currently stands sixth in the Lucas Oil Series points standings after 39 events.
"This was Mike Swims' brainchild and I remember getting an invitation to this race and thought that was pretty neat and he and I became good friends over the years and we all still miss him and I know he was riding along with me tonight and I'm sure he would be proud to have put on a race like we all saw tonight, I have to thank all my sponsors, my car owners, my family who's here tonight, this is just unbelievable to be standing here in victory lane after winning the Dixie Shootout."
Schlieper finished second in his Rockstar Energy Drink/Pro Power Engines/Bloomquist Race Cars Ford Fusion. Pearson, who set a new track record in time trials, was third in the Bobby Labonte Racing/Lucas Oil Slickmist/MasterSbilt with Smith grabbing fourth in the JP Drilling/Cliburn Performance/Rocket with Owens in the Mike Reece/Reece Monument Company/Bloomquist Race Cars Ford Fusion taking fifth.
Completing the top ten were Dale McDowell of Chickamauga, GA, Shane Clanton of Locust Grove, GA, Chris Madden of Gaffney, SC, Scott Bloomquist of Mooresburg, TN and Jonathan Davenport of Blairsville, GA.
Bloomquist leads Owens by 190 points heading into the next Lucas Oil Late Model Dirt Series event at Rome Speedway in Rome, GA on Sunday Night, October 11th.
To find out more about the Lucas Oil Late Model Dirt Series, log on to www.lucasdirt.com or call the series office at (951) 532-2503.
Lucas Oil Late Model Dirt Series
Race Summary
Saturday Night, October 10th, 2009
"Dixie Shootout 50"
Dixie Speedway – Woodstock, GA
PRC Fast Time: Earl Pearson Jr. / 13.824 seconds New Track Record
Hawk Brake First Heat (10 Laps-Top 4 Advance): Jimmy Owens, John Blankenship, Earl Pearson Jr., Scott Bloomquist, Freddy Smith, Lee Sutton, William Thomas, Dwayne Jackson, Wayne Echols, Mark Sims, David Payne-DNS, Bob Gibby-DNS
Hawk Brake Second Heat (10 Laps-Top 4 Advance): Tony Knowles, Ray Cook, Skip Arp, Aaron Ridley, Ethan Hunter, JJ Nye, Frank Ingram, Cody Barnett, Andrew Jenkins, Jody Knowles, Jake Knowles
AFCO Racing Products Third Heat (10 Laps-Top 4 Advance): Clint Smith, bub McCool, Brad neat, Shane Clanton, Don O'Neal, Tommy Kerr, Eric Jacobsen, Chuck Laney, Anthony Hill, Kayne Hickman, Lamar Haygood, Ricky Williams-DNS
Tiger Rear Ends Fourth Heat (10 Laps-Top 4 Advance): Dan Schlieper, Chris Madden, Dale McDowell. Jonathan Davenport, Steve Casebolt, Randy Weaver, Craig Scott, Michael Page, Mark Douglas, Michael Walker, Johnny Chastain
Mason Racin' Rebel Shock Dyno First B-Main (12 Laps- Top 3 Transfers): Freddy Smith, Ethan Hunter, Jake Knowles, Lee Sutton, JJ Nye, David Payne, Cody Barnett, Dwayne Jackson, Wayne Echols, William Thomas, Jody Knowles, Frank Ingram-DNS, Andrew Jenkins-DNS, Mark Sims-DNS, Bob Gibby-DNS
Wiles Drive Shafts Second B-Main (12 Laps- Top 3 Transfers): Don O'Neal, Randy Weaver, Tommy Kerr, Eric Jacobsen, Michael Page, Mark Douglas, Anthony Hill, Kayne Hickman, Chuck Laney, Craig Scott, Lamar Haygood, Michael Walker-DNS, Johnny Chastain-DNS, Ricky Williams-DNS, Steve Casebolt-DNS
20th Annual Dixie Shootout Feature Finish (50 Laps): Ray Cook, Dan Schlieper, Earl Pearson Jr., Clint Smith, Jimmy Owens, Dale McDowell, Shane Clanton, Chris Madden, Scott Bloomquist, Jonathan Davenport, Tommy Kerr, Brad Neat, Bub McCool, Freddy Smith, Steve Casebolt, John Blankenship, Aaron Ridley, Eric Jacobsen, Tony Knowles, Don O'Neal, Ethan Hunter, Jake Knowles, Randy Weaver, Skip Arp
Race Statistics
Entrants: 46
Lap Leaders: Clint Smith (Laps 1-22); Ray Cook (Laps 23-50)
Caution Flags: Lap 20 (Skip Arp); Lap 37 (Randy Weaver); Lap 39 (Don O'Neal)
Lucas Oil Late Model Dirt Series Provisionals: Steve Casebolt, Eric Jacobsen
PBM/Erson Cams Hard Charger of the Race: Tommy Kerr (Started 22, Finished 11, advanced 11 positions)
Allstar Performance Performer of the Race: Dan Schlieper
K&N Filters Clean Pass of the Race: Ray Smith
Quarter Master Rookie of the Race: John Blankenship
Comp Cams Engine Builder of the Race: Race Engine Design
Time of Race: 22 minutes, 14 seconds
---
Submitted By: Jeremy Shields
Back to News