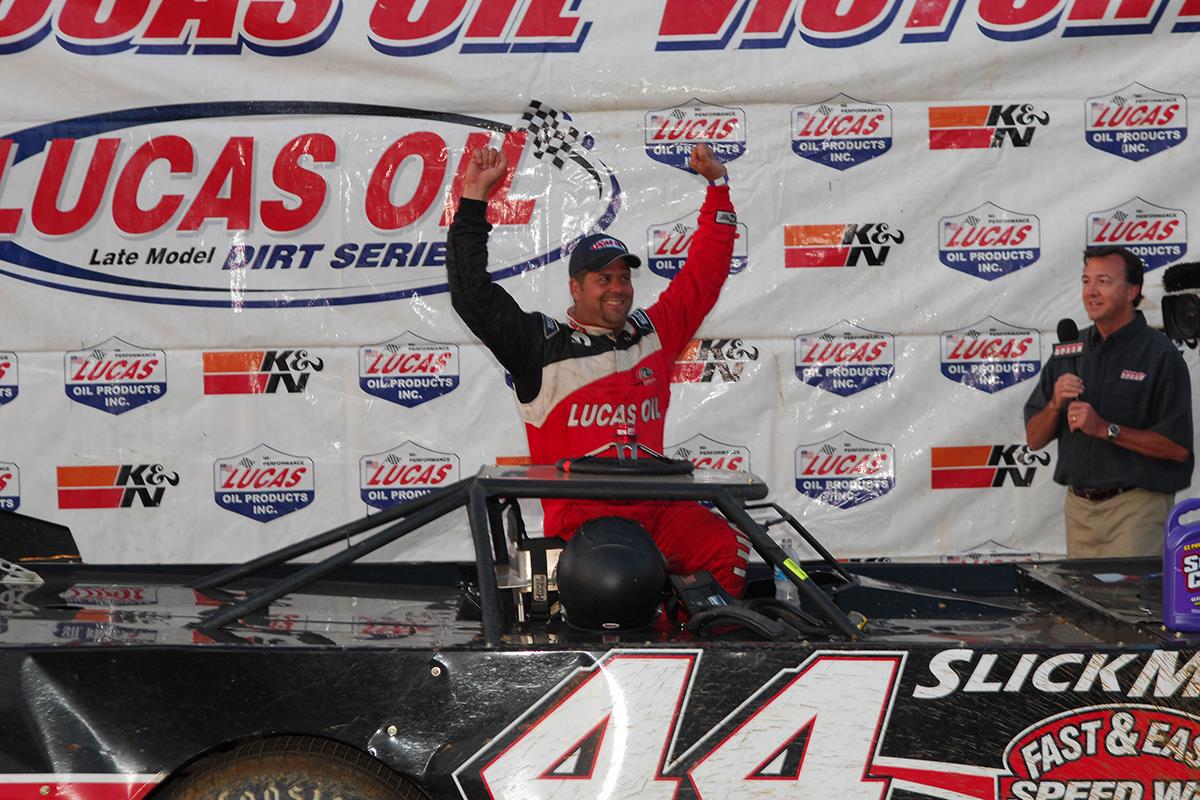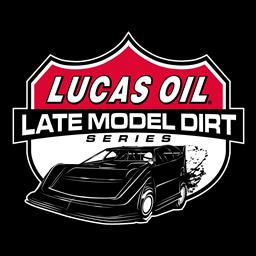 9/27/2009
Lucas Oil Late Model Dirt Series
---
Earl Pearson Jr. Wins Jackson 100 at Brownstown Speedway after Starting Eleventh
BROWNSTOWN, IN (September 27, 2009) Taking the lead with 18 laps to go, Earl Pearson Jr. of Jacksonville, FL went on to win the first day time race in the 30 year history of the Jackson 100 Sunday Afternoon at Brownstown Speedway. After sitting behind a torrid battle for the lead between Shannon Babb and Don O'Neal, Pearson raced past both of them in going to score his third Lucas Oil Late Model Dirt Series win of 2009. Babb finished second followed by O'Neal, defending race winner Tim McCreadie and current series point's leader Scott Bloomquist.
Bloomquist, who entered the race with a 200-point lead over Jimmy Owens started on the front row alongside pole-sitter Wayne Chinn. Bloomquist grabbed the early lead and he led three laps until Josh McGuire roared to the lead after a four-wide lap for the lead took place on lap four.
Babb then used the top side of the track to his advantage as he came to second bringing O'Neal along with him as Bloomquist faded to fifth. McGuire led two laps until Babb jetted by him on lap six. Babb led for four laps until McGuire re-emerged as the race lead when Babb slowed coming off of turn number four. Babb gave up the lead, but he did not go pitside as he stayed in the back for the restart.
On the restart McGuire, was in front of the field again, holding off O'Neal, Bloomquist, McCreadie and Pearson, who was up to fifth after starting in eleventh . McGuire held the point until O'Neal took the point on lap 17 as the race for the lead was keeping the fans on the edge of their seats until a caution for debris slowed the pace.
On the restart O'Neal, would see Pearson and McCreadie go three-wide for the lead as O'Neal kept the lead with another lap in the books. Babb, who brought out one of the cautions earlier in the race while leading would climb back up to fourth place by lap 23 as a three-wide battle for second would keep things interesting.
O'Neal began to enter traffic on lap 26 as Pearson was closing fast. Just as it looked like Pearson was going to take the lead from O'Neal, Babb took his high flying act on the top shelf, passed Pearson, and into second place on lap 34.
O'Neal and Babb then set up what would be a classic duel for the lead which lasted for several circuits. Babb would pull even with O'Neal by lap 44. Babb stayed close to O'Neal hounding him lap after lap as he was finally able to clear Pearson on lap 51 to re-take the lead.
Babb held the point for five laps until O'Neal fought back to re-take the lead from Babb on lap 55. O'Neal and Babb would then have both Pearson and Steve Casebolt closing the distance between them. Casebolt went to third around Pearson on lap 70 as the caution flew for the sixth place running car of McGuire who came to halt coming off of turn number four which ended his race.
On the restart Babb battled his way back to the front passing O'Neal for the lead, two laps later fifth-place running McCreadie slowed with a flat tire. The race would go green for two laps when debris was spotted on the track bringing out the final caution of the race with 26 laps remaining.
The restart was beneficial to Pearson as he and Casebolt had fell several car lengths behind Babb and O'Neal, but he had a new lease on life with 74 laps scored. Babb and O'Neal would go side-by-side for the lead on two different occasions as Pearson kept creeping closer and closer.
Pearson then wheeled his way around both Babb and O'Neal taking the lead on lap 82. With no more caution flags the rest of the way Pearson started to extend his lead over Babb and O'Neal as he was looking for his third Lucas Oil Series win of 2009 and his second at Brownstown this year following his Indiana Icebreaker win back in March.
Pearson did what he needed to do as would lead the final 18 laps to take his 17th career Lucas Oil Late Model Dirt Series victory in the Bobby Labonte Racing/Lucas Oil Slickmist/Sunoco Race Fuels/Ohlins/PRC/Allstar Performance/Hoosier Tires/Larry Wallace Racing Engines/MasterSbilt Race Cars #44. The 37-year-olds win broke a tie with Bloomquist for the all-time series win lead.
Babb finished second in the Sheltra and Sons Construction/Clements Racing Engines/Rocket Monte Carlo Ss followed by O'Neal in the Racing United Marketing/Superior Cleaning/MasterSbilt Monte Carlo SS. Fourth went to McCreadie, the 2008 Jackson 100 winner in the Sweeteners Plus/Pro Power Engines/Rocket Impala SS and Bloomquist in his Miller Brothers Coal/Hawkeye Trucking/Bloomquist Race Cars Monte Carlo SS.
Completing the top ten were Steve Casebolt of Richmond, IN, Jimmy Owens of Newport, TN, Steve Francis of Ashland, KY, Eric Jacobsen of Seacliffe Beach, CA and Tim Dohm of Cross Lanes, WV.
In the Lucas Oil Victory Lane, Pearson did an interview with Dave Argabright for SPEED and the Lucas Oil Motorsports Hour on VERSUS ; he commented to the large crowd that had come back to the track after being rained on Friday and time trials and one heat race on Saturday night before the rains set in. "Thanks to the Brownstown track crew for getting this track traceable today, I know they worked real hard today on it, this morning I was hoping they would cancel it with all the rain they had and the mess that was out there, but it turned out real well for fans and I hope they saw a great race out there," said Pearson who won at Brownstown for the third time in racing career.
"I know this is Forrest Lucas' home area and this win is for him and my car owner Bobby Labonte, this car has run real well this year, those last two cautions really helped me because I am not sure if I could have caught Babb and O'Neal, they were having a hack of a race for the lead and myself and Casebolt ran side-by-side for several laps out there, you could run anywhere on the track, it was rutty in spots, but with all the rain they've had here this year, it was amazing we could even race today,"
To find out more about the Lucas Oil Late Model Dirt Series, log on to www.lucasdirt.com or call the series office at (951) 532-2503.
Lucas Oil Late Model Dirt Series
Race Summary
Sunday Night, September 25th-27th, 2009
"30th Annual Jackson 100"
Brownstown Speedway – Brownstown, IN
PRC Fast Time: Shannon Babb / 14.141 seconds
Hawk Brake First Heat (12 Laps-Top 3 Advance): Wayne Chinn, Shannon Babb, Brad Neat, Freddy Smith, Jimmy Owens, Zak Blackwood, John Blankenship, Aaron Ridley, Jason Smith, Joe Godsey-DNS
Hawk Brake Second Heat (12 Laps-Top 3 Advance): Josh McGuire, Dennis Erb Jr., Tim Dohm, Jeep Van Wormer, Zack Dohm, Michael Walker, Greg Johnson, Chad Stapleton, Tim Tungate, Jason Jameson-DNS
AFCO Racing Products Third Heat (12 Laps-Top 3 Advance): Don O'Neal, Earl Pearson Jr., Steve Francis, Brandon Kinzer, Mike Jewell, Jim Price, Tyler Allen, Darrell Lanigan-DNS, Kevin Cole-DNS, Tyler Reddick-DNS
Tiger Rear Ends Fourth Heat (12 Laps-Top 3 Advance): Scott Bloomquist, Mike Marlar, Steve Godsey, Dale McDowell, Matt Boltnecht, John Gill, Dustin Linville, Time Prince, Justin Rattliff, Edgar Godsey
Hawk Brake Fifth Heat (12 Laps-Top 3 Transfer): Eric Jacobsen, Terry Casey, Steve Barnett, Shannon Reed, Dustin Neat, Jacob Webber, Tim Rivers, Joe Janowski, Victor Lee-DNS, James Pfeiffer, Sr.-DNS
Hawk Brake Sixth Heat (12 Laps- Winner Transfers): Ray Cool, Tim McCreadie, Dan Schlieper, Steve Casebolt, Ryan Cary, Brian Wilhite, Brian Birkhofer, Vic Coffey-DNS, Jason Riggs-DNS
Mason Racin' Rebel Shock Dyno First B-Main (15 Laps- Top 2 Transfers): Freddy Smith, Jeep VanWormer, Brandon Kinzer,Aaron Ridley, Zak Blackwood, Zack Dohm, John Blankenship, Greg Johnson, Jason Smith, Michael Walker, Tyler Allen, Chad Stapleton, Jim Price, Mike Jewell, Jimmy Owens-DNS, Darrell Lanigan-DNS, Tim Tungate-DNS, Kevin Cole-DNS, Kevin Cole-DNS, Jow Godsey-DNS, Jason Jameson-DNS
Wiles Drive Shafts Second B-Main (15 Laps- Top 2 Transfers): Steve Casebolt, John Gill, Matt Boltnecht, Shannon Reed, Brian Wilhite, Tim Rivers, Ryan Cary, Jacob Webber, Tim Prince, Dustin Linville, Dale McDowell-DNS, Dustin Neat-DNS, Brian Birkhofer-DNS, Joe Janowski-DNS, Vic Coffey-DNS, Justin Rattliff-DNS, Victor Lee-DNS, Jason Riggs-DNS, Edgar Godsey-DNS, James Pfeiffer, Sr.-DNS
30th Annual Jackson 100 Feature Finish (100 Laps): Earl Pearson Jr., Shannon Babb, Don O'Neal, Tim McCreadie, Scott Bloomquist, Steve Casebolt, Jimmy Owens, Steve Francis, Eric Jacobsen, Tim Dohm, Ray Cook, Dan Schlieper, Steve Godsey, Jeep VanWormer, Zak Blackwood, Steve Barnett, Josh McGuire, Dennis Erb Jr., Wayne Chinn, Brad Neat, John Gill, Terry Casey, Dale McDowell, Mike Marlar, Freddy Smith
Race Statistics
Entrants: 59
Lap Leaders: Laps 1-3 (Scott Bloomquist); Laps 4-5 (Josh McGuire); Laps 6-9 (Shannon Babb); Laps 10-16 (Josh McGuire); Laps 17-48 (Don O'Neal); Laps 49-55 (Shannon Babb); Laps 56-71 (Don O'Neal); Laps 72-81 (Shannon Babb); Laps 82-100 (Earl Pearson Jr.)
Caution Flags: Lap 1 (Ray Cook); Lap 5 (Steve Barnett, Jeep VanWormer, Eric Jacobsen); Lap 9 (Shannon Babb); Lap 10 (Steve Barnett); Lap 17 (Debris); Lap 50 (Tim McCreadie); Lap 71 (Josh McGuire); Lap 74 (Tim McCreadie); Lap 78 (Debris)
Lucas Oil Late Model Dirt Series Provisionals: Jimmy Owens and Dale McDowell
Track Provisional: Zak Blackwood
PBM/Erson Cams Hard Charger of the Race: Jimmy Owens (Started 23rd, Finished 7th; advanced 13 positions)
Allstar Performance Performer of the Race: Earl Pearson Jr.
K&N Filters Clean Pass of the Race: Shannon Babb
Quarter Master Rookie of the Race: none
Comp Cams Engine Builder of the Race: Larry Wallace Racing Engines
---
Submitted By: Jeremy Shields
Back to News