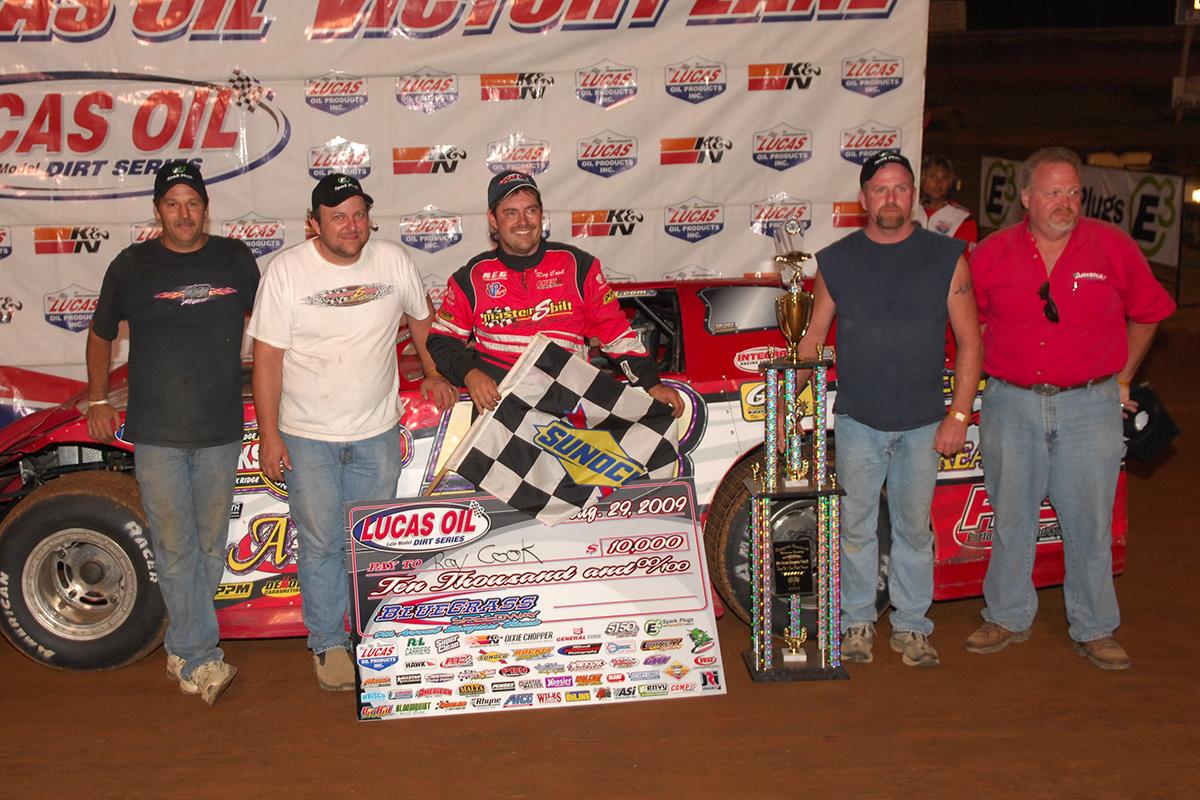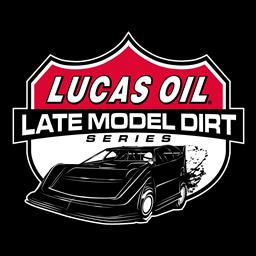 8/29/2009
Lucas Oil Late Model Dirt Series
---
Ray Cook Wins Ninth Annual Bluegrass Classic on Saturday at Bluegrass Speedway for Third Series Win of the Season
BARDSTOWN, KY (August 29, 2009) – Ray Cook of Brasstown, NC captured his third Lucas Oil Late Model Dirt Series Race of 2009 by winning the Ninth Annual Bluegrass Classic on Saturday Night at Bluegrass Speedway. Cook led all 60 laps to score his first ever win in the State of Kentucky earning $10,000 for the win. Chris Wall of Holden, LA finished second in his first ever appearance at the track. Dale McDowell of Chickamauga, GA placed third followed by Brandon Kinzer of Allen, KY and Billy Moyer of Batesville, AR.
Wall and Cook started on the front row of the event, which was ran before the largest crowd of the season at the track. After an initial false start, the race went green with Cook grabbing the lead as Wall moved into second followed by Kinzer, McDowell and Moyer.
Cook opened up a five car length advantage over Wall as McDowell made a pass on Kinzer to grab third on lap 16. Cook then started to enter traffic picking up the tail end of the field as Wall closed down the margin on the frontrunning Cook.
Wall closed on the bumper of Cook as the track started to take rubber as passing was becoming difficult. Wall stayed within two car lengths of Cook for several laps as Cook was having trouble lapping several of cars.
Cook, who the night before at Lawrenceburg battled engine issues and suffered a broken driveshaft was looking to turn around the weekend as he maintained the lead over Wall as there were 21 cars still on the lead lap with 34 laps in the books.
With 26 laps to go Cook was looking for a caution flag to clear traffic in front of him, but the race went green the rest of the way with cautions as Cook ran the remainder of the race behind the leading rookie driver on the Lucas Oil Series, John Blankenship who was the last driver on the lead lap.
Cook ran behind Blankenship the rest of the distance as he went on to pick up the victory as he was able to keep Wall at bay until the finish line scoring the win for his car owners Danny Dishman and Ronald Ivey. It was Cook's fourth career Lucas Oil Late Model Dirt Series win.
In the Lucas Oil Victory Lane, Cook was elated to talk to Dave Argabright of SPEED Channel who was on hand to tape the event. "It's been a long day, we worked all day after last night at Lawrenceburg, and we didn't leave to get down here until 2 o'clock today, we want to thank the Good Lord for a safe race, it's nerve wracking when the track gets like that, it happens sometimes, you have to be extremely patient out there, I followed Blankenship for a long time, but I wasn't going to move him to get by him, I have to thank my car owners Danny and Ron, MasterSbilt Race Cars, American Racer Tires they performed well here tonight and thanks to the fans for coming out tonight, we'll savor this win for while and get ready for next weekend," said the 37-year-old racer.
Cook's MasterSbilt Monte Carlo SS has a Race Engine Design motor and is sponsored by Hicks and Ingle Company General Contracting, A+ Moving and Storage, PRC, VP Racing Fuels, PPM Racing Products, Real Racing Wheels, K&N Filters, Integra Racing Shocks, American Racer Tires and GW Performance.
Wall, who was making his debut at Bardstown, ran well in taking second. "I couldn't think of a better guy to finish second to than Ray, he's a good Christian man and if I am going to run this series next year, I need laps on tracks like this, the car was exceptional tonight and it was good to see a sweep for the MasterSbilt cars, we just couldn't muster room there to pass Ray when the track took rubber, but we're pleased with second and we will get 'em down the road," said the driver of the C&M Gator Farm/Wall2Wall Performance Engines/ MasterSbilt by Stuckey Monte Carlo SS.
McDowell finished third in the Clint Bowyer Racing/General Mills/Dollar General/Warrior Race Cars Impala SS as he pulled into a tie for third in the championship points standings with Earl Pearson Jr., who ran 18th.
Kinzer was fourth in the Kinzer Drilling Company/Custom Race Engines/Rocket Chassis followed by Hall of Famer Billy Moyer in the Banner Valley Hauling/Clements Race Engines/Moyer Victory Circle M1 Chassis Monte Carlo SS.
Completing the top ten were Don O'Neal of Martinsville, IN, Brad Neat of Dunnville, KY, Scott James of Lawrenceburg, IN, Mike Marlar of Winfield, TN and Jimmy Owens of Newport, TN.
To find out more about the Lucas Oil Late Model Dirt Series, log on to www.lucasdirt.com or call the series office at (951) 532-2503.
Lucas Oil Late Model Dirt Series
Race Summary
Saturday Night, August 29th, 2009
9th Annual Bluegrass Classic
Bluegrass Speedway – Bardstown, KY
PRC Fast Time: Scott Bloomquist / 15.363 seconds
Hawk Brake First Heat (10 Laps-Top 4 Advance): Chris Wall, Dale McDowell, Scott Bloomquist, Scott James, Josh McGuire, Shon Flanary, Eddie Carrier Jr., Dustin Linville, Steve Casebolt, Shannon Thornsberry, David Webb, Jarryd Holshouser, Michael Chilton
Hawk Brake Second Heat (10 Laps-Top 4 Advance): Mike Jewell, Brad Neat, Don O'Neal, Eric Wells, Jimmy Owens, Terry English, Justin Rattliff, Johnny Wheeler, Freddy Smith, Dustin Neat, Michael England, John Blankenship, Jeff Watson-DNS
AFCO Racing Products Third Heat (10 Laps-Top 4 Advance): Ray Cook, Whitney McQueary, Jeep Van Wormer, Mike Marlar, Terry Casey, Eric Jacobsen, John Mason, D.J. Wells, Daniel Hatcher, Ed Behn, Rob Starkey, Joe Armes-DNS, Jason Keltner-DNS
Tiger Rear Ends Fourth Heat (10 Laps-Top 4 Advance): Brandon Kinzer, Billy Moyer, Tim Tungate, Matt Miller, Dan Schlieper, Earl Pearson Jr., Shannon Babb, Skip Arp, Joe Janowski, Lee Devasier, Jimmy Crabtree
Mason Racin' Rebel Shock Dyno First B-Main (12 Laps-Top 3 Advance): Jimmy Owens, Josh McGuire, Eddie Carrier Jr., Terry English, Justin Rattliff, Shon Flanary, Dustin Neat, David Webb, John Blankenship, Dustin Linville, Shannon Thornsberry, Freddy Smith, Johnny Wheeler, Michael Chilton, Jarryd Holshouser, Steve Casebolt, Jeff Watson, Michael England-DNS
Wiles Drive Shafts Second B-Main (12 Laps-Top 3 Advance): Terry Casey, Shannon Babb, Earl Pearson Jr., Skip Arp, Eric Jacobsen, Dan Schlieper, Daniel Hatcher, John Mason, Lee DeVasier, Joe Janowski, Jimmy Crabtree, Ed Behn, Kevin Colston, Jason Keltner, D.J. Wells, Rob Starkey, Joe Armes-DNS
Feature Finish (50 Laps): Ray Cook, Chris Wall, Dale McDowell, Brandon Kinzer, Billy Moyer, Don O'Neal, Brad Neat, Scott James, Mike Marlar, Jimmy Owens, Jeep VanWormer, Eric Wells, Whitney McQueary, Eddie Carrier Jr., Terry Casey, Shannon Babb, Scott Bloomquist, Earl Pearson Jr., John Blankenship, Josh McGuire, Eric Jacobsen, Tim Tungate, David Webb, Matt Miller, Jason Keltner, Mike Jewell, Steve Casebolt
Race Statistics
Entrants: 51
Lap Leaders: Ray Cook (1-50)
Caution Flags: Lap 1 (Tim Tungate, Matt Miller, Terry Casey)
Lucas Oil Late Model Dirt Series Provisionals: Steve Casebolt, Eric Jacobsen
Emergency Provisional: John Blankenship
PBM/Erson Cams Hard Charger of the Race: John Blankenship
Allstar Performance Performer of the Race: Ray Cook
K&N Filters Clean Pass of the Race: Jimmy Owens
Quarter Master Rookie of the Race: Jeep VanWormer
Comp Cams Engine Builder of the Race: Race Engine Design
Time of the Race: 22 minutes 19 seconds
---
Submitted By: Jeremy Shields
Back to News