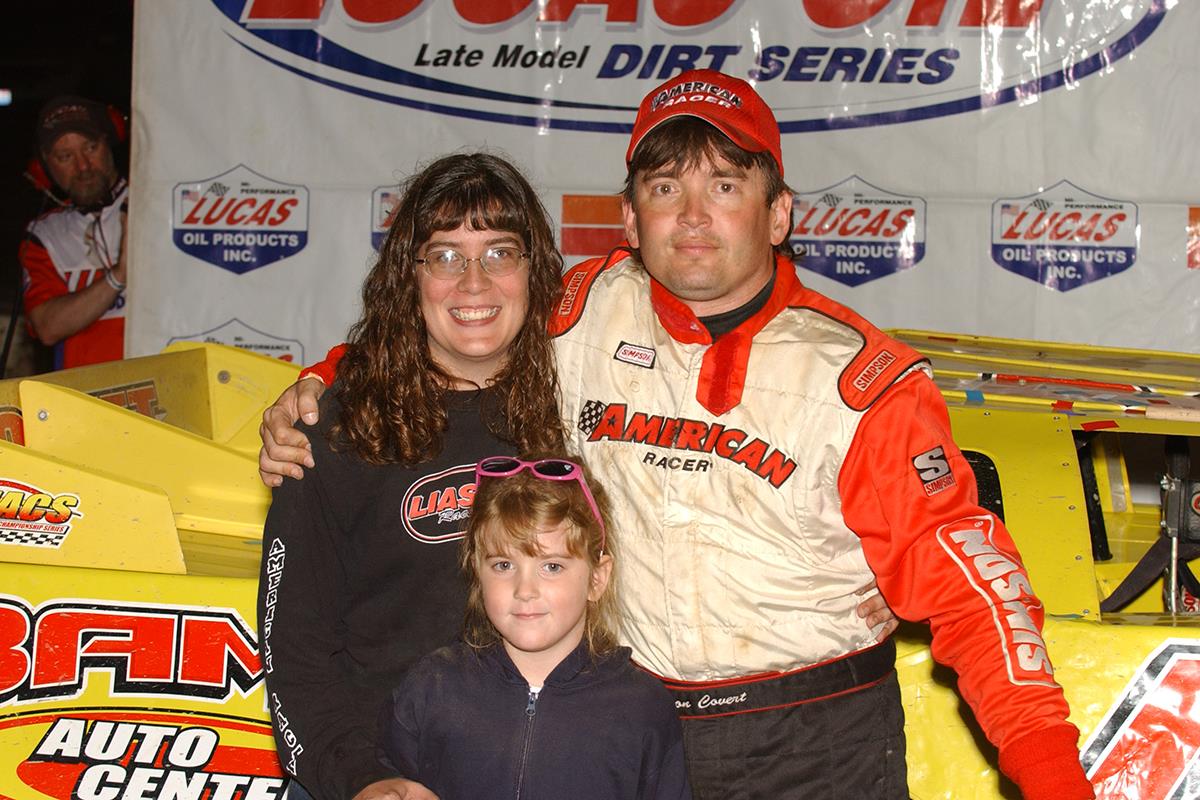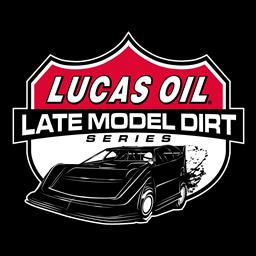 7/3/2009
Lucas Oil Late Model Dirt Series
---
Jason Covert Captures First Career Series Event at Muskingum County Speedway on Friday Night
ZANESVILLE, OH (July 3, 2009) – Taking the lead on lap three Jason Covert of York Haven, PA withstood three caution flags and heavy race traffic as he went unchallenged in winning his first career Lucas Oil Late Model Dirt Series main event on Friday Night at Muskingum Speedway. His victory in the Creno's 50 earned him a cool $10,000 in the Lucas Oil Victory Lane. Covert's win allowed him to become the 18th different winner this season on the LOLMDS tour.
Eric Jacobsen led the first three laps until Covert who started third stormed to the lead. Covert quickly stretched his lead as Jacobsen and Earl Pearson Jr. battled for second for several laps until Pearson passed the #5 machine on lap 13. On the restart, Jacobsen retook second spot from Pearson as a torrid battle resumed for the runnerup spot behind the high flying Covert.
Covert held a commanding lead until the caution came out for Tim Dohm on lap 23. While under caution, the red flag came out as the lights went out in turn two. After an extended break the race went green with Covert again racing unchallenged for the lead with Jacobsen, Josh Richards, Pearson and Steve Casebolt running in the top five.
Richards took second from Jacobsen on lap 23, but Covert had built a huge advantage over Richards and Pearson who climbed to third passing Jacobsen. With heavy traffic in front of him the rest of the way Covert methodically worked his way around several cars putting them a lap down. Covert then cleared his final hurdle as he had a clear race track in front of him with three laps to go as he had done his job in putting several cars between himself and Richards.
Covert then went on to score a convincing win becoming the fifth different driver in five Lucas Oil Late Model Dirt Series appearances at Muskingum County. Richards held off Pearson at the line for second with Jacobsen coming home in fourth followed by the PBM/Erson cams Hard Charger of the Race, Donnie Moran of Dresden, OH who finished fifth after starting in 20th.
In the Lucas Oil Victory Lane for the first time, Covert thanked a multitude of people. "I can't believe I finally won a Lucas Oil race, I've dreamt about this for a long time, the type of drivers who were here tonight, man I don't know what to say except I wish my dad was here to see this. I want to thank my car owner Barry Klinedinst, my crew, Robbie Allen, American Racer Tires and Rocket Chassis everything was exceptional tonight and thanks to the fans for coming here to watch us race, I don't race for a living, we don't get to travel a lot, so that's why it's satisfying to win this race here tonight," said the 38-year old racer who's car receives sponsorship from Red Wing Shoes, VP Racing Fuels, Bam's Auto Center, Pre-Mach Inc. Fabricators and Machining Dennis Eberly Building and Remodeling and Kuppy's Diner.
Completing the top ten were Steve Casebolt, Jimmy Owens, Ray Cook, Dale McDowell and Bart Hartman.
In preliminary action Josh Richards was the PRC Fast Time in qualifications with a lap of 16.287 seconds among the 43 entrants on hand. Heat race winners were Earl Pearson Jr., Jimmy Owens, Eric Jacobsen and Jason Covert. Kyle Bates and Freddy Smith were B-main winners.
To find out more about the Lucas Oil Late Model Dirt Series, log on to www.lucasdirt.com or call the series office at (951) 532-2503.
Lucas Oil Late Model Dirt Series
Race Summary Friday Night, July 3rd, 2009 "Creno's 50" @ Muskingum County Speedway – Zanesville, OH
PRC Fast Time: Josh Richards / 16.287 seconds
Hawk Brake First Heat (10 Laps-Top 4 Advance): Earl Pearson Jr., Josh Richards, Josh McGuire, Matt Lux, Kyle Bates, Chad Hina, Devin Moran, Steve Bigley, Bryan Casey, Robert Flanagan, Russell Frohnapfel
Hawk Brake Second Heat (10 Laps-Top 4 Advance): Jimmy Owens, Steve Casebolt, Dale McDowell, Dan Schlieper, Tim Dohm, Matt Miller, Ryan Markham, David Breazeale, Tracy Fritter, Steve Prince, Cortney Clewell
AFCO Racing Products Third Heat (10 Laps-Top 4 Advance): Eric Jacobsen, Scott Bloomquist, Bart Hartman, Brad Neat, Freddy Smith, Shane McLoughlin, Dan Shrigley, Lance Elson, Weston Hutichison, Cody Parker, Rick Aukland
Tiger Rear Ends Fourth Heat (10 Laps-Top 4 Advance): Jason Covert, Ray Cook, Doug Dodd, Don O'Neal, Steve Shaver, Donnie Moran, John Blankenship, Michael Walker, Corey Conley, Ty Myers
Mason Racin' Rebel Shock Dyno First B-Main (12 Laps- Top 3 Advance): Kyle Bates, Matt Miller, Tim Dohm, Devin Moran, David Breazeale, Bryan Casey, Tracy Fritter, Robert Flanagan, Ryan Markham, Russell Frohnapfel, Chad Hina, Steve Prince, Steve Bigley, Cortney Clewell-DNS
Wiles Drive Shafts Second B-Main (12 Laps-Top 3 Advance): Freddy Smith, Donnie Moran, Shane McLoughlin, Steve Shaver, Dan Shrigley, John Blankenship, Lance Elson, Cody Parker, Corey Conley, Ty Myers, Michael Walker, Weston Hutchison, Rick Aukland-DNS
Feature Finish (50 Laps): Jason Covert, Josh Richards, Earl Pearson Jr., Eric Jacobsen, Donnie Moran, Steve Casebolt, Jimmy Owens, Ray Cook, Dale McDowell, Bart Hartman, Scott Bloomquist, Doug Dodd, Josh McGuire, Don O'Neal, Dan Schlieper, Matt Lux, Freddy Smith, Devin Moran, David Breazeale, Shane McLoughlin, John Blankenship, Kyle Bates, Cody Parker, Brad Neat, Tim Dohm, Matt Miller.
Race Statistics
Entries: 43
Caution Flags: Matt Miller (Lap 12); Tim Dohm, Brad Neat (Lap 13); Tim Dohm (Lap 23)
Lap Leaders: Eric Jacobsen (1-2); Jason Covert (3-50)
Lucas Oil Late Model Dirt Series Provisionals: John Blankenship, David Breazeale
PBM/Erson Cams Hard Charger of the Race: Donnie Moran
Allstar Performance Performer of the Race: Eric Jacobsen
K&N Filters Clean Pass of the Race: Josh Richards
Quarter Master Rookie of the Race: David Breazeale
Comp Cams Engine Builder of the Race: Hershey's Racing Engines
Time of the Race: 56 minutes 06 seconds
---
Submitted By: Jeremy Shields
Back to News