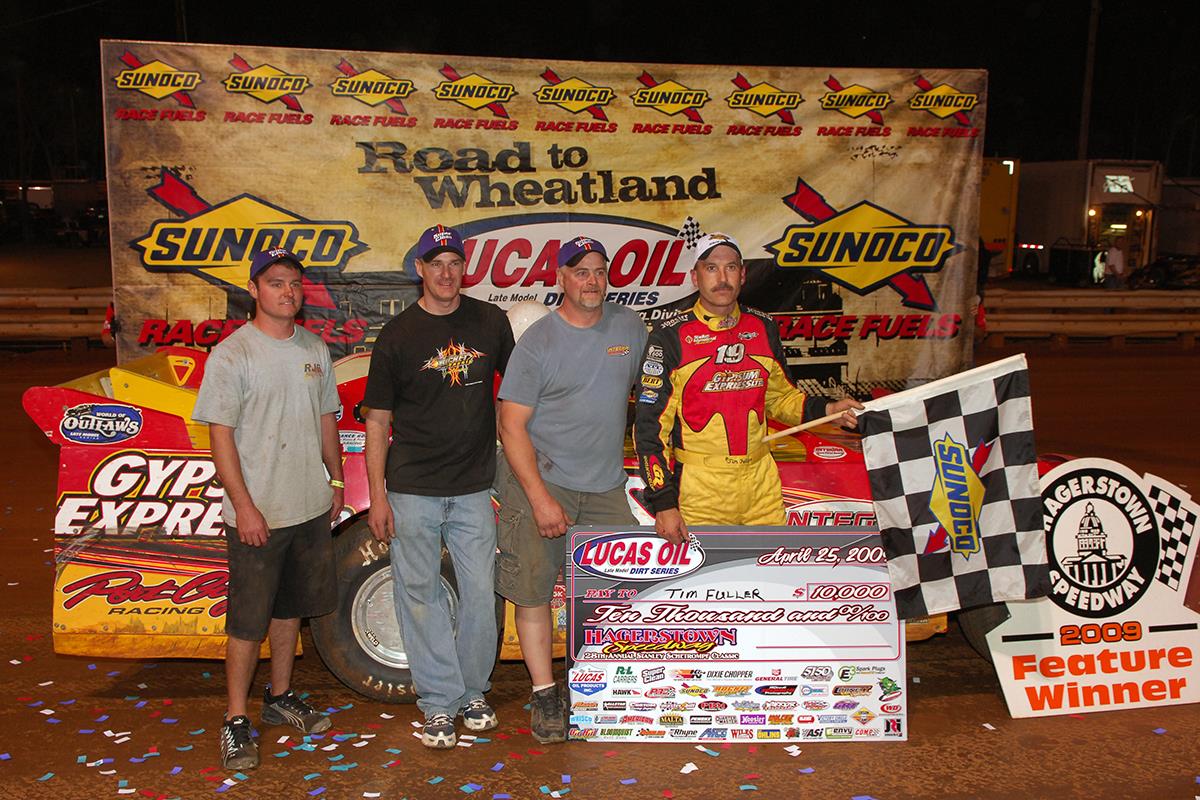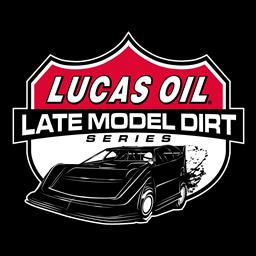 4/25/2009
Lucas Oil Late Model Dirt Series
---
Tim Fuller Wins First Ever Series Event Saturday Night at Hagerstown Speedway
HAGERSTOWN, MD (April 25, 2009) – Tim Fuller of Watertown, NY lead the last 20 laps of the 28th Annual Stanley Schetrompf Classic and took his first career Lucas Oil Late Model Dirt Series event on Saturday Night at Hagerstown Speedway as he won the $10,000 top prize. Trailing Fuller to the finish line were Jimmy Mars, Scott Bloomquist, Rick Eckert and Brian Birkhofer.
Eckert and Moyer started on the front row with Moyer gaining the early advantage over Eckert. Moyer quickly started to distance himself from the rest of the field, opening up an early four car length lead over Eckert, Fuller, who started fourth and the duo of Mars and Birkhofer running in the top five with five laps in the record books.
With Moyer in control early on, the first caution came out on lap ten when Jamie Lathroum got into the turn two wall, ending his night. On the Delaware double-file restart Moyer was on the point with Eckert and Fuller lined up side-by-side.
Moyer sprinted away from Eckert and Fuller on the restart. While Fuller made the move going to second on lap eleven. With 15 laps scored it was still Moyer out in front followed by Fuller, Eckert, Birkhofer and Friday Night's winner at Bedford, Jimmy Mars.
The race was going along smoothly until Jimmy Owens, who was running seventh, spun in turn four bringing out the second caution of the race. This only slowed Moyer briefly as the 51-year-old veteran regained his momentum on the restart, pulling out to a three car length advantage over Fuller a lap into the restart.
As the cars approached the halfway mark, Moyer continued his healthy lead, which had grown to five car lengths over Fuller and Eckert who was solidly in third. Mars and Birkhofer continued to dice it out for fourth and fifth.
Moyer looked like it was going to be his night to extend his series points lead, which he held heading into the night, but misfortune struck on lap 30. His driveshaft broke coming off of turn number four and he coasted to a stop on the main straightaway, causing an abrupt end on the back of a wrecker.
Fuller then took over the lead with Eckert moving to second followed by Mars, Steve Francis and Scott Bloomquist who was on the move after starting 14th. On the restart, Fuller moved out to a two car length lead as Mars made his way around Eckert for second on lap 31. The top three of Fuller, Mars and Eckert were starting to spread out amongst each other as a great battle for fourth was taking place between Francis and Bloomquist.
The fourth and final caution came out on lap 41 when Nick Dickson broke a driveshaft as he came out of his machine on the backstretch forcing the final yellow. Fuller temporarily breathed a sigh of relief as all he had to do was head to the checkers with a clean race track in front of him.
All Mars had to do was hang on for second; on the final restart Bloomquist would go to the top of the race track passing Francis and then Eckert to take over the third spot. Bloomquist then looked to have the momentum up top and it looked as it was just a matter of time before he was going to pass Mars for second.
But Mars shut the door several times over the last five laps, holding off the challenges from Bloomquist. As those two were battling hard for second, Fuller was comfortably extending his lead and that's all he needed. He headed to the finish line to score his first ever Lucas Oil Late Model Dirt Series win, becoming the eighth different winner in the first ten series events.
In the Sunoco Race Fuels Road to Wheatland Victory Lane, Fuller was thankful for the opportunity to drive his winning Rocket GTO for car owner Larry Wight. "Moyer was the car to beat, we didn't have anything for him, the last time we won here was about four years ago in a big-block modified, we've been struggling this year, thanks to John and Larry Wight, the guys here at Lucas Oil have always been good to us and we're glad to finally win a race for them."
"We really liked this Late Model stuff, the traveling is brutal sometimes to win on the Lucas Oil Series is great because of the tough competition they have this year, it was unfortunate for Billy and thankfully Chub (Frank) is alright after his accident," said Fuller who thought of his fellow competitor when Frank escaped injury after losing his steering while leading the second B-main was he went into the third turn guardrail and then was struck by Jeremy Miller who was running second.
Fuller's Custom Powered car is sponsored by Gypsum Express LTD., Integra Racing Shocks, Sunoco Race Fuels, G&R Auto Parts and Port City Racing.
Finishing second was Mars in the Deppe Enterprises/Pro Power Engines/MB Custom Chassis Malibu followed by Bloomquist who took over the points lead in his Miller Brothers Coal/Vic Hill Racing Engines/Bloomquist Race Cars Monte Carlo SS.
Rounding out the top five was Eckert in the Raye Vest/Jay Dickens Racing Engines/Bloomquist Race Cars Cadillac and Birkhofer in his J&J Steel/Pro Power Racing Engines/MB Customs Chassis Monte Carlo SS.
Completing the top ten were Steve Francis, Josh Richards, Steve Casebolt, Ray Cook and Earl Pearson Jr.
In preliminary action Brian Birkhofer was the fastest qualifier in the PRC Time Trials for the 53 entrants. Heat race winners were Rick Eckert, Billy Moyer, Jimmy Mars and Tim Fuller. The B-mains went to Dan Stone and Earl Pearson Jr.
The next Lucas Oil Late Model Dirt Series event will be on Saturday Night, May 2nd at Paducah International Raceway in Paducah, KY paying $10,000 to win. For more information you can go to www.paducahracing.com.
For the latest breaking news from the Lucas Oil Late Model Dirt Series, go to www.lucasdirt.com or call the series office at 951-532-2503.
Lucas Oil Late Model Dirt Series
Race Summary
Saturday Night, April 25, 2009
Hagerstown Speedway; Hagerstown, MD
PRC Fast Time: Brian Birkhofer, 18.918 seconds
Hawk Brake First Heat (10 Laps-Top 4 Advance): Rick Eckert, Brian Birkhofer, Scott James, Josh Richards, Jeremy Miller, Matt Lux, Dan Stone, DJ Myers, Freddy Smith, Andy Anderson, Mike Lupfer, Tommy Weder, Matt Quade, DNS-Al Shawver Jr.
Hawk Brake Second Heat (10 Laps-Top 4 Advance): Billy Moyer, Ray Cook, Steve Casebolt, Scott Bloomquist, Chub Frank, Bart Hartman, Jeep VanWormer, Donnie Moran, Jim Yoder, Michael Walker, Alan Sagi, Dan Schlieper, Nathan Durboraw
AFCO Racing Products Third Heat (10 Laps-Top 4 Advance): Jimmy Mars, Steve Francis, Jamie Lathroum, Ricky Elliot, Frank Plessinger, Earl Pearson Jr., David Breazeale, Don O'Neal, John Mason, J.T. Spence, Marvin Winters, Brad Neat, Ronnie DeHaven Jr.
Tiger Rear Ends Fourth Heat (10 Laps-Top 4 Advance): Tim Fuller, Jimmy Owens, Eric Jacobsen, Shane Clanton, Dale McDowell, Josh McGuire, Nick Dickson, John Blankenship, David Williams, Scott LeBarron, Terry Lescalleet, Al Shawver Jr., Jason Covert, Gary Stuhler
Mason Racin' Rebel Shock Dyno First B-Main (12 Laps-Top 3 Advance): Dan Stone, Donnie Moran, DJ Myers, Jim Yoder, Andy Anderson, Alan Sagi, Mike Lupfer, Bart Hartman, Nathan Durboraw, Freddy Smith, Matt Quade, Chub Frank, Jeremy Miller, Matt Lux, Jeep VanWormer, Dan Schlieper, Michael Walker, DNS-Tommy Weder
Wiles Drive Shafts Second B-Main (12 Laps-Top 3 Advance): Earl Pearson Jr., Dale McDowell, Nick Dickson, Don O'Neal, David Breazeale, John Blankenship, J.T. Spence, David Williams, John Mason, Brad Neat, Al Shawver Jr., Ronne DeHaven Jr., Frank Plessinger, Terry Lescalleet, Marvin Winters, Scott LeBarron, Josh McGuire
28th Annual Stanely Schetrompf Classic Feature Finish (50 Laps): Tim Fuller, Jimmy Mars, Scott Bloomquist, Rick Eckert, Brian Birkhofer, Steve Francis, Steve Casebolt, Ray Cook, Earl Pearson Jr., Scott James, Frank Plessinger, Shane Clanton, DJ Myers, Don O'Neal, Jimmy Owens, Eric Jacobsen, Donnie Moran, Ricky Elliot, Jeep VanWormer, Nick Dickson, Billy Moyer, Dan Stone, Jamie Lathroum, Dale McDowell, Josh McGuire.
Race Statistics
Entries: 53
Cautions: 4 Lap 10 (Jamie Lathroum); Lap 15 (Jimmy Owens); Lap 30 (Billy Moyer); Lap 41 (Nick Dickson)
Lucas Oil Late Model Dirt Series Provisionals: Josh McGuire, Don O'Neal
Emergency Provisional: Jeep VanWormer
PBM/Erson Cams Hard Charger of the Race: Frank Plessinger
Allstar Performance Performer of the Race: Tim Fuller
K&N Filters Clean Pass of the Race: Steve Casebolt
Quarter Master Rookie of the Race: Jeep VanWormer
COMP Cams Engine Builder of the Race: Custom Racing Engines
---
Submitted By: Jeremy Shields
Back to News