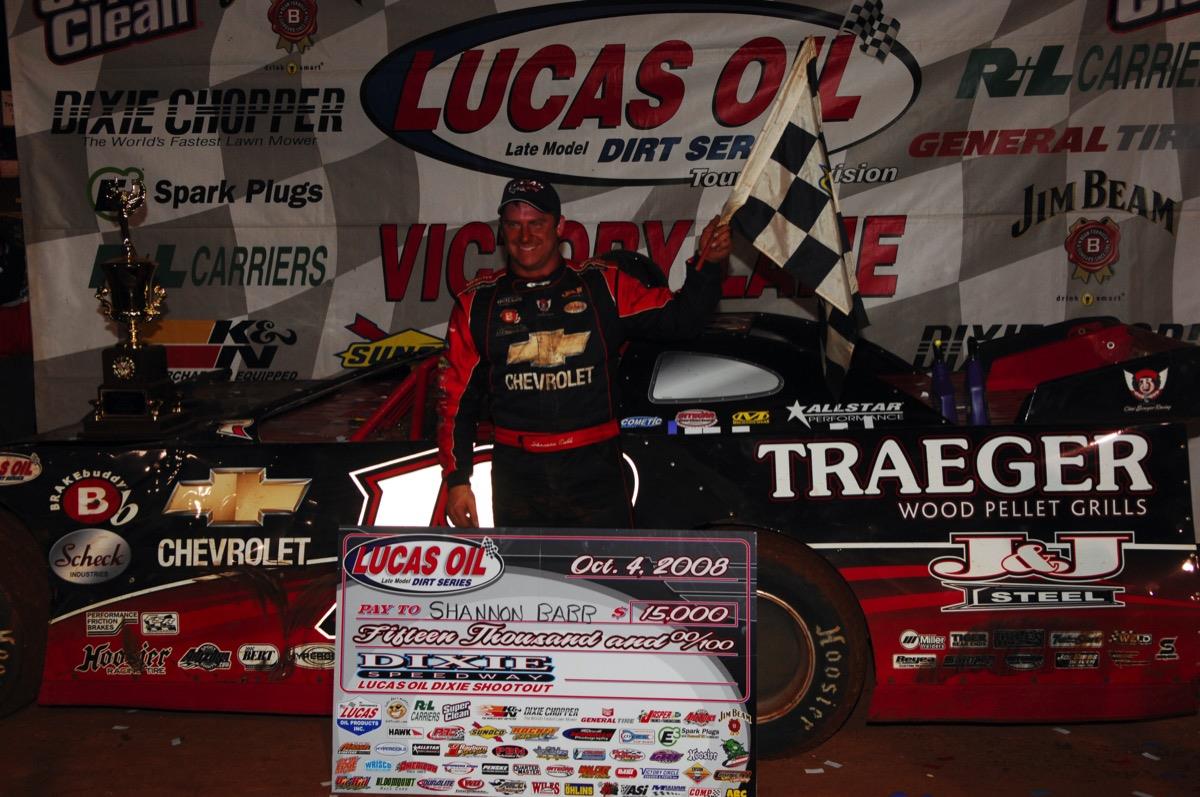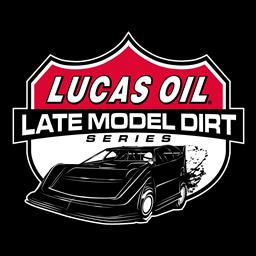 10/4/2008
Lucas Oil Late Model Dirt Series
---
Shannon Babb Wins Third Dixie Shootout on Saturday Night at Dixie Speedway
WOODSTOCK, GA (October 4,2008) – Shannon Babb of Moweaqua, IL drove to his third career Dixie Shootout win on Saturday Night at Dixie Speedway as the 34 year-old driver who races for NASCAR driver Clint Bowyer earned $15,000 for the win which closed out the 2008 season for the Lucas Oil Late Model Dirt Series. Babb took over the lead on lap 47 when the top two cars of Scott Bloomquist and Jimmy Owens got together in turn number two which turned over the lead to Babb. Bart Hartman of Zanesville, OH finished second followed by Dan Schlieper of Sullivan, WI, Justin Rattliff of Campbellsville, KY and Billy Drake of Bloomington, IL.
Bloomquist would grab the lead at the start of the 50 lap main event with Josh McGuire holding the second position for the first two laps until former Shootout winner Don O'Neal charged into second place on lap three.
There were three cautions in the early going of the race which kept the field bunched up behind Bloomquist, the only four-time winner of the Dixie Shootout. Chris Madden then began to make progress through the field as he would climb to third as he was within striking distance of O'Neal as he made the pass on lap 11 for the runner-up spot.
Madden then started to close ground on Bloomquist until lap 13 when suffered overheating problems which sidelined him for the night. There would be three more cautions that dotted the next few laps as Bloomquist still maintained the lead.
As Madden's night was through Hartman would move into second place with O'Neal, Jimmy Owens and McGuire the top five in the running order with 20 laps in the books as Owens would make the pass on O'Neal for third after the two had raced side-by-side for two circuits.
At the halfway mark Bloomquist held a ten-car length advantage over Hartman when Bloomquist would start to enter some lapped traffic on lap 32. On the very same lap Owens would sweep around Hartman to take second with Babb now up to fourth just in front of McGuire.
Owens then started to catch Bloomquist as the two Team Zero members battled with the two Rocket Chassis drivers of Hartman and Babb. Babb reached third by lap 36 as he would make it a three-car battle for the lead now as the top groove was working well for Babb whose car was getting faster up top.
Billy Moyer would slow in turn four with problems as the sixth-place runner would be done for the night as he went off the track on the hook. On the restart Owens was all over Bloomquist for the lead as the crowd rose to its feet and Babb added to the excitement as they were trying to go three wide for the lead with ten laps remaining in the race.
Babb took Owens for second on lap 42 as Bloomquist changed his line and moved to the top to try to halt Babb's momentum. It worked for a few laps as Babb dropped back just enough allowing Owens to regain second with six to go.
With five laps to go the crowd was up cheering as Owens was seriously threatening to take the lead from Bloomquist. At the start-finish line for lap 46 the two were dead even for the lead and heading into turn one they remained that way, but in turn two there was contact between the two as Owens went spinning stopping on the track. It was also determined that Bloomquist had stopped just briefly as he would be sent to the tail.
Owens pulled off to the pits with left front-end damage to his car and Bloomquist was given the black-flag after refusing to go to the tail. This put Babb on the point with Hartman in second followed by Schlieper.
On the final restart of the race Babb would pull away as he went on to cross the finish line first to claim his third career Dixie Shootout win. Hartman's second place finish clinched second in the LOLMDS final championship points standings in his Imler's Poultry/Cornett Engines/Rocket Monte Carlo SS. Schlieper who drove one of Clint Smith's Cliburn Tank Lines/RaceTek Engines/GRT GTO finished a close third with Rattliff in the England Racing/Belterra Casino, Resort and Spa/Pro Power Engines/Bloomquist Race Cars Monte Carlo SS with Drake concluding the season with a fifth place finish in the Executive Homes/Mullvain Motors/MasterSbilt GTO.
In victory lane afterwards Babb spoke with the SPEED Channel crew who was on hand for the event. "This is the first time we have come here in a Rocket, our two other wins here were in a Rayburn, we had a good race with Scott and Jimmy, they both were real good and I thought that Owens got the lead he would be gone."
"I first came here in 1998 with Hav-A-Tampa it's a neat little race track and obviously I really like it, it feels good to come back here and win again and for Clint (Bowyer), we needed this win." Babb then spoke of what he saw racing behind Bloomquist and Owens when the two got together. "That turn one is action-packed and you go in there as hard as you can, I'm not sure what happened they were racing hard and fortunately for us it ended up in our favor."
The number 18 Rocket Impala SS that Babb drives has a Clements Engine and is sponsored by Chevrolet/Traeger Wood Pellet Grills/J&J Steel/Scheck Industries/Buddy Brake/Hoosier Tires and Allstar Performance.
Completing the top ten were Josh McGuire, Steve Casebolt, Tony Knowles, Billy Ogle, Jr. and Freddy Smith.
The event concluded the 2008 season for the Lucas Oil Late Model Dirt Series as Earl Pearson, Jr. of Jacksonville, FL is the national champion for the fourth consecutive year.
You can find out more about the Lucas Oil Late Model Dirt Series by logging on to www.lucasdirt.com or call the series office at (951) 532-2503.
Lucas Oil Late Model Dirt Series
Race Summary
Saturday Night, October 4, 2008
Dixie Speedway – Woodstock, GA
PRC Fast Time: Earl Pearson, Jr. / 13.893 seconds (New Track Record)
Hawk Brake First Heat (10 Laps-Top 4 Advance): Josh McGuire, Chris Madden, Bart Hartman, Skip Arp, Tony Knowles, Brian Shirley, Lee Sutton, Tommy Kerr, Jay Smith, Wayne Echols, Earl Pearson Jr., Dillon Wood-DNS
Hawk Brake Second Heat (10 Laps-Top 4 Advance): Scott Bloomquist, Don O'Neal, Billy Moyer, Shannon Babb, Dale McDowell, Michael England, Wayne Chinn, David Payne, Gary McPherson, Bobby Giffin, Dewayne Jackson-DNS
AFCO Racing Products Third Heat (10 Laps-Top 4 Advance): Shane Clanton, Scott James, Jimmy Owens, Ray Cook, Dan Schlieper, Justin Rattliff, Tony Morris, Ricky Williams, John Mason, Frank Ingram, Jake Knowles-DNS
Tiger Rear Ends Fourth Heat (10 Laps-Top 4 Advance): Steve Casebolt, Freddy Smith, Travis Pennington, Billy Drake, Luther Jenkins, Eric Jacobsen, Aaron Ridley, Billy Ogle, Terry Casey, Randy Burroughs-DNS
Mason Racin' Rebel Shock Dyno First B-Main (12 Laps-Top 3 Advance): Dale McDowell, Tony Knowles, Brian Shirley, Michael England, Tommy Kerr, Lee Sutton, Wayne Chinn, Wayne Echols, Jay Smith, David Payne, Gary McPherson, Bobby Giffin-DNS, Earl Pearson Jr.-DNS, Dillon Wood-DNS, Dewayne Jackson-DNS
Quarter Master Second B-Main (12 Laps-Top 3 Advance): Dan Schlieper, Billy Ogle, Justin Rattliff, Tony Morris, Luther Jenkins, John Mason, Ricky Williams, Tim Day, Clint Smith, Eric Jacobsen-DNS, Aaron Ridley-DNS, Terry Casey-DNS, Jake Knowles-DNS, Randy Burroughs-DNS
Dixie Shootout Feature Finish (50 Laps): Shannon Babb, Bart Hartman, Dan Schlieper, Justin Rattliff, Billy Drake, Josh McGuire, Steve Casebolt, Tony Knowles, Billy Ogle, Freddy Smith, Don O'Neal, Earl Pearson Jr., Ray Cook, Jimmy Owens, Billy Moyer, Brian Shirley, Chris Madden, Travis Pennington, Dale McDowell, Shane Clanton, Scott James, Skip Arp, Terry Casey, Scott Bloomquist
Race Statistics
Entries: 46
Caution Flags: 9
Lap Leaders: Scott Bloomquist 1-46, Shannon Babb 47-50
Lucas Oil Late Model Dirt Series Provisionals: Earl Pearson Jr., Terry Casey
PBM/Erson Cams Hard Charger of the Race: Justin Rattliff
Allstar Performance Performer of the Race: Dan Schlieper
K&N Filters Clean Pass of the Race: Billy Drake
Quarter Master Rookie of the Race: Tony Knowles
ASI Racewear Lucky 7 Award: Steve Casebolt
Integra Shocks Crew Chief of the Race: Austin Hargrove
Comp Cams Engine Builder of the Race: Clements Racing Engines
Time of the Race: 50 minutes
---
Submitted By: Jeremy Shields
Back to News