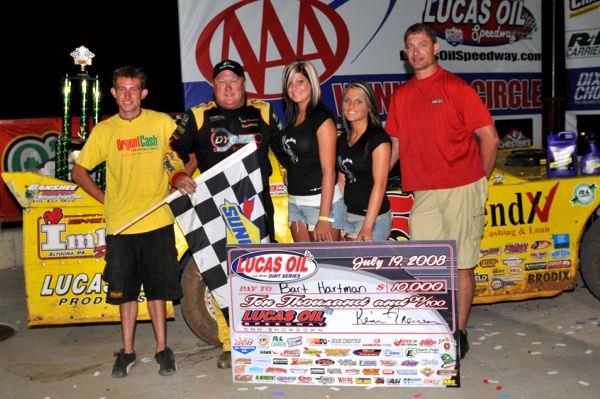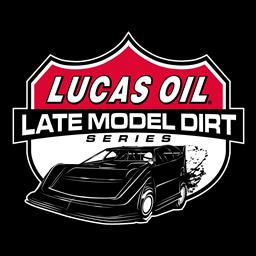 7/19/2008
Lucas Oil Late Model Dirt Series
---
Bart Hartman Wins CMH Showdown at Lucas Oil Speedway
WHEATLAND, MO (July 19, 2008) – It will be a race that everyone in attendance will remember for years to come. There was a huge crowd on hand for the Lucas Oil Late Model Dirt Series "CMH Showdown" Saturday night at Lucas Oil Speedway. Several lead changes, multiple three-wide battles for the lead, and Bart Hartman of Zanesville, OH ending up in victory lane made up one of the most exciting nights in racing to date. The 39-year-old, second generation racer picked up his first LOLMDS win of 2008, and first series win since 2005, which vaulted him into second place in the Lucas Oil Championship Points Standings.
Hartman's thrilling win allowed him to become the 19th different winner of the LOLMDS season. Hartman led Earl Pearson Jr. of Jacksonville, FL; Brian Birkhofer of Muscatine, IA; 18th starting Terry Phillips of Springfield, MO; and Terry Casey of New London, WI to the finish line for the $10,000 triumph.
Hartman started from the pole of the 50 lap "CMH Showdown," alongside PRC Fast Qualifier Dan Schlieper of Sullivan, WI. Schlieper would overtake Hartman at the start with Pearson, Birkhofer and Casey in tow after the initial start was negated as a caution came out for Chris Smyser.
Schlieper held a one-car length lead advantage over Hartman in the early going with Casey on the move, quickly advancing up from his seventh starting spot into the top five with one lap in the books, merely two circuits later he passed Birkhofer for fourth.
Hartman kept pace with Schlieper, following the former World 100 winner closely. Pearson was gaining ground on the frontrunners, and an exciting battle going on in the top five between Casey and Birkhofer who swapped the fourth spot another time on lap six.
Schlieper and Hartman started entering lapped traffic by the tenth circuit, which was just the opportunity that Hartman needed to overhaul Schlieper for the lead on lap ten. Working his way through traffic, Birkhofer would join the fray as he passed Pearson for third and then dove under Schlieper for second on the 11th lap.
Entering turn number one, the leaders went three wide for the top spot with Hartman, Birkhofer and Schlieper battling with the two lapped cars in an incredible display of driving talent. Coming off of turn two Hartman would keep the lead, with Birkhofer hot on his heels. With 15 laps in the books, it looked as if it was a matter of time before Birkhofer would wrestle the lead away from Hartman.
The packed grandstand was buzzing; Hartman and Birkhofer would go door-to-door for two consecutive laps with Casey roaring around the top of the track, passing both Schlieper and Pearson for third on lap 17.
The caution came out for a slowing Scott James with 17 laps recorded. On the restart, Hartman would be in front with a double-file formation behind him. Hartman vaulted away from the field when the green re-appeared with Birkhofer and now Pearson jockeying for second.
With the halfway mark coming up, the action was outstanding as another three-wide race developed for the lead with Hartman, Birkhofer and Pearson dueling it out. Hartman's car was performing well on the top side, but on lap 28 he jumped the cushion in turn four, allowing Birkhofer an avenue on the inside to go by to take over the lead.
Hartman would fight back on the top side, as he whipped by Birkhofer on lap 30 to regain the top spot. With 20 laps to go, the top three of Hartman, Birkhofer and Pearson continued to put on quite a show with 18th starting Terry Phillips and Casey maintaining a solid fourth and fifth in the running order.
With multiple grooves on the 3/8ths mile track, Pearson hugged the bottom once more and pulled even with Birkhofer, who was working the middle line, for second. After the two ran side-by-side for a remarkable four straight laps, Pearson finally was able to clear Birkhofer for second on lap 36.
With 14 laps to go, Pearson began to close the gap on Hartman, as Hartman jumped the turn four cushion, allowing Pearson to slide by him on the bottom to take the lead for the first time in the race. Pearson then opened up a three-car length lead.
The son of five-time USAC Stock Car Champion, Butch Hartman, rebounded nicely, not giving up on the top line around the track as he rocketed back by Pearson as the two were heading down the back chute to re-gain the lead with ten laps remaining.
Hartman then turned the wick up on his Rocket Monte Carlo, building his lead in the closing laps enough so that Pearson would not be able to make a last-lap run at him. He went on to collect his first Lucas Oil Late Model Dirt Series win since September 24, 2005 at West Virginia Motor Speedway. With the win, Hartman now takes over second place in the Lucas Oil Championship Points Standings, heading into an off weekend for the LOLMDS.
In the Lucas Oil Speedway victory lane, a relieved Hartman, who is following the LOLMDS for the first time was glad to be there after several strong runs this season. "Brian was really tough after the caution, Earl was good on the bottom, we just ran our own race and thanks to Austin (Hargrove, his crew chief) he's worked his butt off this weekend, the car was super good up top and there's where it worked the best," said the former Dirt Track World Champion and North-South 100 winner.
"Thanks to these great fans for coming out here tonight, we hope we put on a show for them, this is by far the best facility I've ever raced at, we've run good here lately, we wished we could have picked some wins earlier, but there's a lot of big races left, " Hartman said after thanking his sponsors; Rocket Chassis, Cornett Engines, Imler's Poultry, Lendx Check Chasing and Loans, Hoosier Tires, Sunoco Race Fuels, All-Star Performance, Lucas Oil Products and Ohlins.
Second place finisher Earl Pearson Jr. congratulated Hartman on his win in victory lane. "His car was really good up top, the bottom was real good for us there early on when we closed on them guys (Hartman and Birkhofer), but the bottom started to go away and we were just hanging on there, cause he (Hartman) had his car set-up to run up there and we gambled on tires and obviously he picked the right ones." Pearson was driving the Bobby Labonte Racing/LifeLong Locks/MasterSbilt Dodge Charger.
Brian Birkhofer, who has two LOLMDS wins at Lucas Oil Speedway in the last two years said coming home third was too bad considering the two drivers he was racing against. "Bart deserved the win, I'm glad to see him get one of these (Lucas Oil) races, you can race against him and Earl for lap after lap and they'll race you clean every time, that one caution killed me on the tires," said the driver who wheels the J&J Steel/Pro Power Engines/Mars 'n Hofer Monte Carlo SS.
Terry Phillips, who recorded his 90th career win on the O'Reilly MLRA Series last weekend in Moberly, MO made a valiant run from 18th to finish a solid fourth in his Andy's Frozen Custard/Hatfield Racing Engines/GRT by Phillips GTO. "This new car has been real good since we started running it, we went with the soft tires and they helped early on, but once we got up into fourth we couldn't get any further up there, I used them up getting there, but we'll take fourth against this type of competition."
Terry Casey, who leads the Quarter Master "Rookie of the Year" chase, continues to impress as he picked up the fifth spot in the Arnie Ranta Motorsports/Pro Power Engines/C.J. Rayburn Monte Carlo. Casey's top five run at Wheatland marked his fourth top five finishes in the month of July.
Completing the top ten were Steve Casebolt, Dan Schlieper, Justin Rattliff, Billy Moyer and Wayne Chinn.
In preliminary action at Lucas Oil Speedway, Dan Schlieper was fastest qualifier among the 33 entries in the PRC Time Trials, with a lap of 14.805 seconds. The heat races were won by Schlieper, Brian Birkhofer, Bart Hartman and Earl Pearson Jr. The B-Mains went to David Turner and Terry Phillips.
The Lucas Oil Late Model Dirt Series will take next weekend off before resuming with a gigantic stretch of events. The series will next be on action on Thursday Night, July 31st at Bedford Speedway in Bedford, PA, Friday Night, August 1st at Winchester Speedway in Winchester, VA and Saturday Night, August 2nd at Hagerstown Speedway in Hagerstown, MD.
For more information on the Lucas Oil Late Model Dirt Series, visit us at www.lucasdirt.com or call the series office at (951) 532-2503.
Lucas Oil Late Model Dirt Series
Race Summary
Saturday Night, July 19, 2008
Lucas Oil Speedway - Wheatland, Missouri
PRC Fast Time: Dan Schlieper/14.805 seconds
Hawk Brake First Heat (10 Laps-Top 4 Advance): Dan Schlieper, John Mason, Justin Rattliff, Billy Moyer, David Turner, JD Hubert, Randy Zimmerman, Rylan Long, Jeremy Payne
Hawk Brake Second Heat (10 Laps-Top 4 Advance): Brian Birkhofer, Denny Eckrich, Steve Casebolt, John Anderson, Chris Smyser, Eric Turner, Larry Clawson, Chad Frewaldt
AFCO Racing Products Third Heat (10 Laps-Top 4 Advance): Bart Hartman, Terry Casey, Wayne Chinn, Freddy Smith, Will Vaught, Denny Woodworth, Larry Jones, Rickey Frankel
Tiger Rear Ends Fourth Heat (10 Laps-Top 4 Advance): Earl Pearson Jr., Scott James, Billy Drake, Jason Bodenhamer, Terry Phillips, Reid Millard, PJ Haskins, Brantlee Gotschall
Mason Racin' Rebel Shock Dyno First B-Main (12 Laps-Top 3 Advance): David Turner, Jeremy Payne, JD Hubert, Eric Turner, Chris Smyser, Randy Zimmerman, Rylan Long, Chad Frewaldt, Larry Clawson - DNS
Quarter Master Second B-Main (12 Laps-Top 3 Advance): Terry Phillips, Denny Woodworth, Will Vaught, Larry Jones, Rickey Frankel, Brantlee Gotschall, Reid Millard, PJ Haskins
"CMH Showdown" Feature Finish (50 Laps): Bart Hartman, Earl Pearson Jr., Brian Birkhofer, Terry Phillips, Terry Casey, Steve Casebolt, Dan Schlieper, Justin Rattliff, Billy Moyer, Wayne Chinn, Billy Drake, Denny Eckrich, Scott James, Will Vaught, John Anderson, Jason Bodenhamer, John Mason, Chris Smyser, Freddy Smith, JD Hubert, Jeremy Payne, Eric Turner, Brantlee Gotschall, Larry Clawson, Denny Woodworth, David Turner
Race Statistics
Entries: 33
Caution Flags: 2
Lap Leaders: Dan Schlieper 1-9, Bart Hartman 10-35, Earl Pearson Jr. 36-39, Hartman 40-50
Lucas Oil Late Model Dirt Series Provisionals: Chris Smyser, Eric Turner
Midwest Late Model Racing Association Series Provisionals: Brantlee Gotschall, Larry Clawson
PBM/Erson Cams Hard Charger of the Race: Terry Phillips (Started 18th and finished 4th -advanced 14 positions)
Allstar Performance Performer of the Race: Terry Phillips
K&N Filters Clean Pass of the Race: Bart Hartman Quarter Master Rookie of the Race: Terry Casey ASI Racewear Lucky 7 Award: Dan Schlieper Integra Shocks Crew Chief of the Race: Austin Hargrove (Bart Hartman) Comp Cams Engine Builder of the Race: Cornett Racing Engines Time of the Race: 30 minutes
---
Submitted By: Jeremy Shields
Back to News