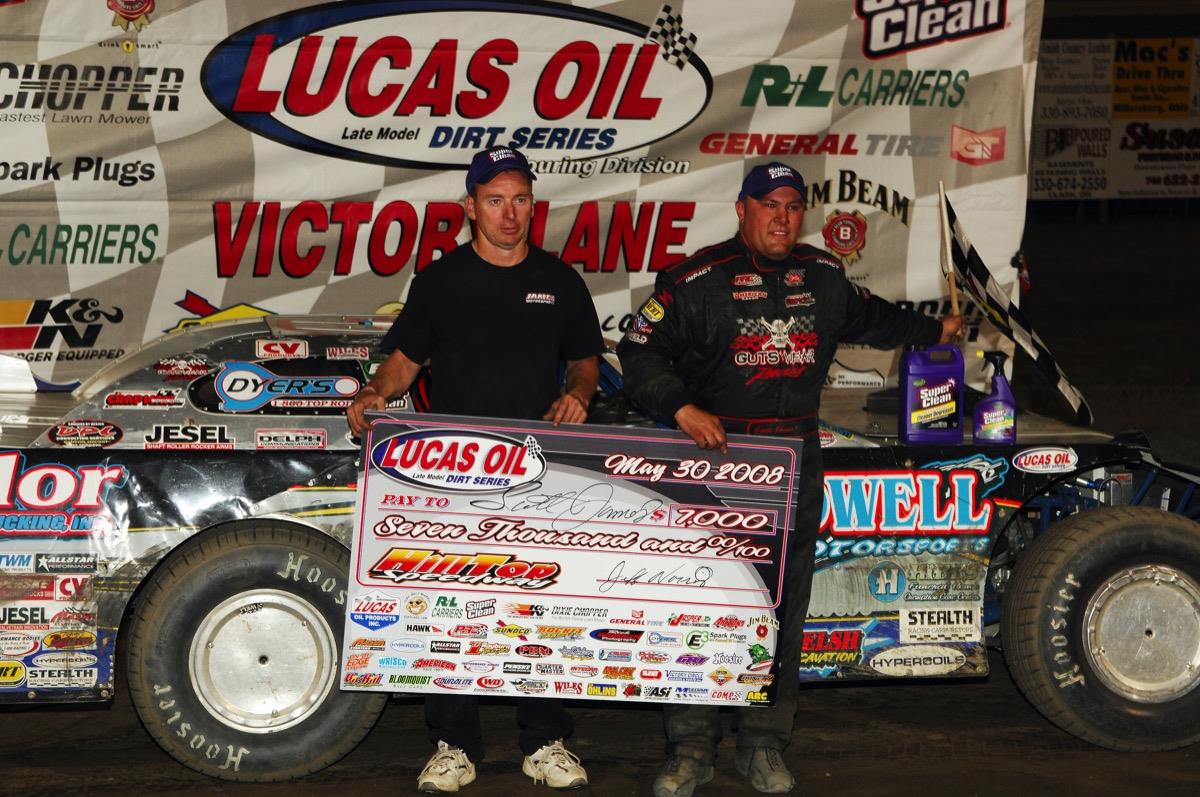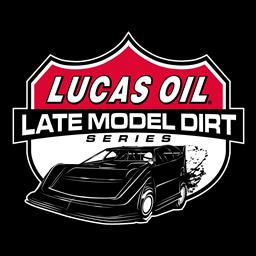 5/30/2008
Lucas Oil Late Model Dirt Series
---
Scott James Outduels Matt Miller to Win Series Event at Hilltop
MILLERSBURG, OH (May 30, 2008) – Scott James of Lawrenceburg, IN withstood a race long battle with Matt Miller of Waterville, OH to take his second Lucas Oil Late Model Dirt Series event of 2008 on Friday Night at the Hilltop Speedway. The series was making its first ever appearance at the Jeff Norris facility and produced a 35 lap event for the ages. James earned $7,000 for his fifth career LOLMDS win. Miller finished second followed by Dan Schlieper of Sullivan, WI, Earl Pearson Jr. of Jacksonville, FL and Wooster, OH's Doug Drown finished fifth
James, who started alongside Miller in the front row of the 35 lap main event took the lead at the start with Miller and defending track champion George Lee running in third. James and Miller started to pull away from the others has they were having quite a race for the lead.
The two frontrunners got behind lapped traffic with only seven laps in the books in the rapidly moving race. James held the lead until Miller went around him in heavy traffic on lap 14. There was one more lap scored when the first caution came out on lap 15 for debris.
On the restart Miller maintained the top spot with James right on his heels. James then used a different line on the race track as he retook the lead from Miller on the 23rd circuit. The top three cars of James, Miller and Schlieper were putting on quite a show in the race for the lead as the laps wound down.
James put two lapped cars between himself and Miller in the closing laps and that cushion helped propel James onto to the Lucas Oil Victory Lane in the Powell Motorsports/Baylor Trucking/Jay Dickens Racing Engines/Rocket Chassis GTO. Miller finished second in the Stephen McCullough/Gressman Engines/Rocket Chassis followed by Schlieper in his Miller Brothers Coal/Pro Power Engines/Wild Inc. Ford Fusion.
Pearson who started ninth on the grid climbed to fourth at the finish to take over the series championship points standings in the Bobby Labonte Racing/Larry Wallace Engines/MasterSbilt Dodge Charger with Doug Drown leading the local contingent with his fifth place finish in the B.A. Malcuit/Malcuit Racing Engines/Moyer Victory Circle Chassis.
Completing the top ten were Terry Casey, Billy Drake, Freddy Smith, Justin Rattliff and Bart Hartman.
In preliminary racing action, Matt Miller was the fastest qualifier in the PRC Time Trials for the 26 entrants. The heat race winners were Miller, George Lee and Scott James. Steve Casebolt won the B-Main.
The Lucas Oil Late Model Dirt Series will take to the track with a Saturday Night visit to the Florence Speedway in Union, KY for the 22nd Annual Ralph Latham Memorial paying $10,000 to win. For more information you can go to www.florencespeedway.com.
You can find out more about the Lucas Oil Late Model Dirt Series by logging on to www.lucasdirt.com or call the series office at (951) 532-2503.
Lucas Oil Late Model Dirt Series
Race Summary
Friday Night, May 30, 2008
Hilltop Speedway—Millersburg, OH
PRC Fast Time: Matt Miller/14.973 seconds
Hawk Brake First Heat (10 Laps-Top 6 Advance): Matt Miller, Rick Bond, Doug Dodd, Billy Drake, Ryan Markham, Dave Hornikel, Chester Elliot, Jeff Esbenshade, Eric Myers
Hawk Brake Second Heat (10 Laps-Top 6 Advance): George Lee, Dan Schlieper, Terry Casey, Wayne Chinn, Justin Rattliff, Bart Hartman, Steve Casebolt, Mark Banal, Keith Tish
AFCO Racing Products Third Heat (10 Laps-Top 6 Advance): Scott James, Doug Drown, Earl Pearson Jr., Freddy Smith, Justin Chance, Chet Alexander, Rocky Owens, John Mason
Mason Racin' Rebel Shock Dyno B-Main (12 Laps-Top 4 Advance): Steve Casebolt, Mark Banal, John Mason, Eric Meyers, Keith Tish, Rocky Owens, Jeff Esbenshade, Chester Elliott - DQ
The Royal Cup Feature Finish (35 Laps): Scott James, Matt Miller, Dan Schlieper, Earl Pearson Jr., Doug Drown, Terry Casey, Billy Drake, Freddy Smith, Justin Rattliff, Bart Hartman, Dave Hornikel, George Lee, Ryan Markham, Steve Casebolt, Eric Myers, Justin Chance, Chet Alexander, John Mason, Keith Tish, Rick Bond, Wayne Chinn, Doug Dodd, Mark Banal, Rocky Owens
Race Statistics
Entries: 26
Caution Flags: 3
Lap Leaders: James 1-14, Miller 15-22, James 23-35
Lucas Oil Late Model Dirt Series Provisionals: Rocky Owens, Keith Tish
PBM/Erson Cams Hard Charger of the Race: Bart Hartman (Started 17th and finished 10th-advanced 7 positions)
Allstar Performance Performer of the Race: Freddy Smith
K&N Filters Clean Pass of the Race: Scott James
Quarter Master Rookie of the Race: Terry Casey
ASI Racewear Lucky 7 Award: Billy Drake
Integra Shocks Crew Chief of the Race: Jason Palubicki (Dan Schlieper)
Comp Cams Engine Builder of the Race: Jay Dickens Racing Engines
Time of the Race: 21 minutes
---
Submitted By: Jeremy Shields
Back to News