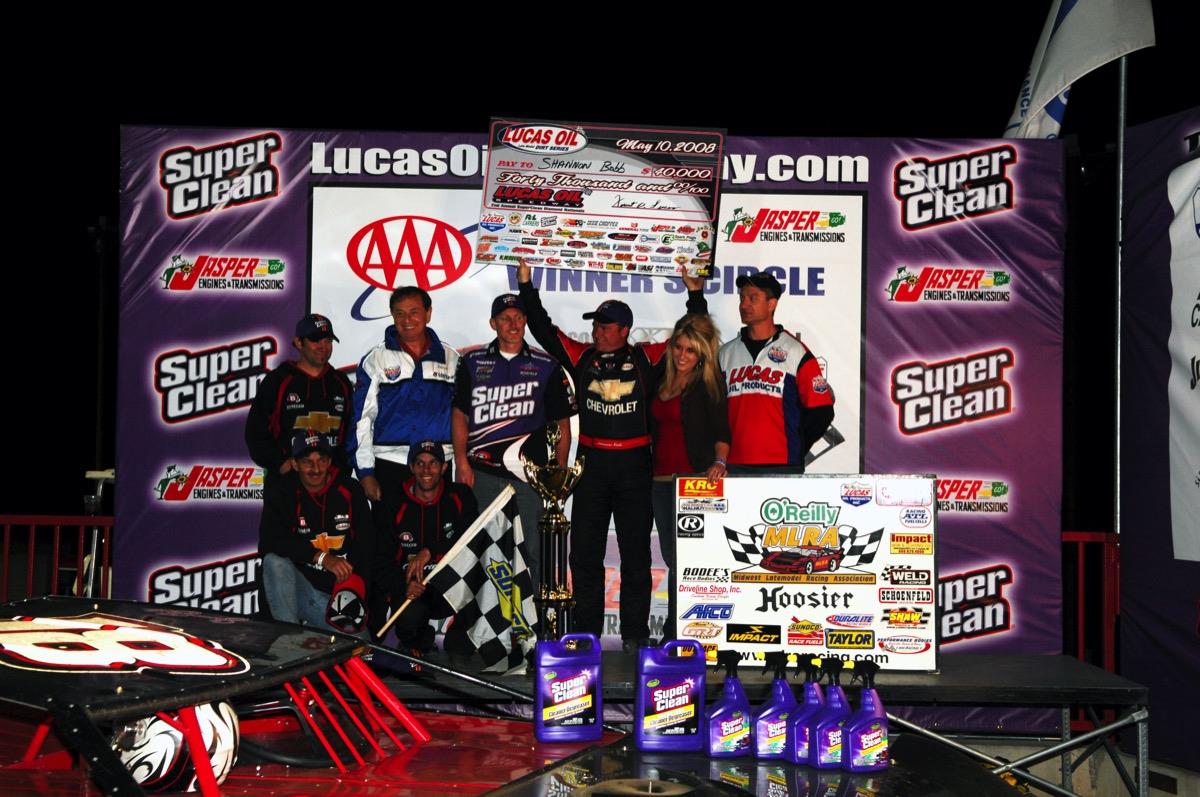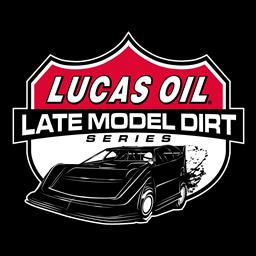 5/10/2008
Lucas Oil Late Model Dirt Series
---
Shannon Babb Blasts to Win in 2nd Annual SuperClean Diamond Nationals
WHEATLAND, MO (May 10, 2008) – Shannon Babb can now add a Diamond Nationals victory and a diamond ring to his already impressive resume as the Mowequa, IL hotshoe led every lap en route to picking up the $40,000 paycheck.
A stellar field of 80 entries was trimmed to 26 for the 100-lap 2nd Annual Super Clean Diamond Nationals with Scott Bloomquist and Shannon Babb leading the field down to the green. Babb immediately showed his strength by powering ahead of the second place battle between Bloomquist, Moyer, and Pearson.
While a rash of early cautions kept Babb at bay, Bloomquist, Moyer, and Pearson swapped the second position back and forth, 20th-starting Steve Francis and 25th-starting Bart Hartman were slowly working their way through the field. Francis ran as high as sixth before falling into the pits and Hartman cracked the top ten before being involved in a lap 39 caution which included Jimmy Mars, Will Vaught, Michael England, and Terry Casey among others.
The restart saw Babb on the point with Pearson, Bloomquist, Scott James, and Moyer in tow. As Babb weaved in and out of lapped traffic, Pearson shadowed his every move until lap 69 when a broken j-bar forced the defending Series champion to slow on the track.
When racing resumed, Babb led Bloomquist, Moyer, Darrell Lanigan, and Jimmy Owens down to the green as Bloomquist slipped high in turn four allowing several cars to pass. Moyer then gave chase to the race-long leader over the closing laps, but was never able to chase down the driver of the Clint Bowyer Motorsports #18.
Babb was the first to cross the stripe in his Clements powered Rocket with Moyer crossing in second, Lanigan third, Owens fourth, and Steve Casebolt fifth.
"I'd just like to thank Clint Bowyer and this whole team for giving me a great race car," Babb said in victory lane. "It's awesome to get this win and I'd like to thank Forrest (Lucas) for all he does to make this event possible."
Upon the conclusion of the race, Series officials reviewed the official score sheets and revised two positions in the final rundown of the track's original electronic scoring. Darrell Lanigan, who was originally scored one lap down in eighth position, was determined to be on the lead lap, thus revising his finishing position to third place. In addition, John Blankenship was originally scored electronically in 14th place, but was later credited with a 13th place finish after a review of the official score sheets.
You can find out more about the Lucas Oil Late Model Dirt Series by logging on to www.lucasdirt.com or call the series office at (951) 532-2503.
Lucas Oil Late Model Dirt Series
Race Summary
Sunday Night, May 11, 2008
Lucas Oil Speedway—Wheatland, Missouri
PRC Fast Time: Scott Bloomquist/16.909 seconds
Hawk Brake First Heat (10 Laps-Top 3 Advance): Scott Bloomquist, Scott James, Jeremy Payne, Darrell Lanigan, Chad Simpson, Larry Campbell, Jesse Stovall, JD Hubert, Mark Voigt, Larry Clawson, Greg Larsen, Rickey Frankel – DNS, PJ Haskins - DNS
Hawk Brake Second Heat (10 Laps-Top 3 Advance): Will Vaught, John Blankenship, Dan Schlieper, Chub Frank, Freddy Smith, Brian Shirley, Shanon Buckingham, Scott Drake, Alan Vaughn, Wayne Chinn, Chad Frewaldt, Billy Peden – DNS, Stacy Taylor – DNS, Larry D. Clawson - DNS
AFCO Racing Products Third Heat (10 Laps-Top 3 Advance): Shannon Babb, Jimmy Owens, Terry Casey, Clint Smith, Chris Simpson, Brian Birkhofer, Dave Eckrich, Billy Drake, Brandon McCormick, Mark Burgtorf – DNS, Ryan Dauber – DNS, Aaron Seabaugh – DNS, Davis Thomas - DNS
Tiger Rear Ends Fourth Heat (10 Laps-Top 3 Advance): Billy Moyer, Steve Casebolt, Michael England, Ray Cook, Wendell Wallace, Rusty Dukes, Denny Eckrich, Jack Sullivan, John Mason, Justin Fegers, Steve Hucovski, Don O'Neal – DNS, Brady Smith - DNS
Hawk Brake Fifth Heat (10 Laps-Top 3 Advance): Earl Pearson Jr., Rick Eckert, Josh Richards, Steve Francis, John Anderson, Bart Hartman, James Ward, Justin Rattliff, Larry Jones, Jeremy Grady, Peyton Taylor, Jason Sivils, Darren Miller – DNS, Bryant Goldsmith - DNS
Hawk Brake Sixth Heat (10 Laps-Top 3 Advance): Jimmy Mars, Eric Turner, David Turner, Brantlee Gotschall, Al Purkey, Terry Phillips, Andrew McKay, Denny Woodworth, Steve Rushin, Randy Zimmerman, Shawn Harker, Brad Neat
Mason Racin' Rebel Shock Dyno First B-Main (20 Laps-Top 2 Advance): Darrell Lanigan, Chub Frank, Clint Smith, Freddy Smith, Chad Simpson, Chris Simpson, Jesse Stovall, Brain Shirley, Larry Campbell, JD Hubert, Wayne Chinn, Larry Clawson, Chad Frewaldt, Mark Voigt, Scott Drake, Dave Eckrich, Brandon McCormick, Alan Vaughn, Greg Larsen, Brian Birkhofer, Billy Drake, Shanon Buckingham – DNS, Rickey Frankel – DNS, PJ Haskins – DNS, Billy Peden – DNS, Stacy Taylor – DNS, Larry D. Clawson – DNS, Mark Burgtorf – DNS, Aaron Seabaugh – DNS, David Thomas - DNS
Quarter Master Second B-Main (20 Laps-Top 2 Advance): Steve Francis, Wendell Wallace, Ray Cook, John Anderson, Brantlee Gotschall, Andrew McKay, Rusty Dukes, John Mason, Jack Sullivan, Peyton Taylor, Denny Woodworth, Larry Jones, Jeremy Grady, Steve Hucovski, James Ward, Justin Fegers, Al Purkey, Bart Hartman, Steve Rushin, Randy Zimmerman, Jason Sivils, Terry Phillips – DNS, Denny Eckrich – DNS, Justin Rattliff – DNS, Shawn Harker – DNS, Tommy Elston – DNS, Brad Neat – DNS, Don O'Neal – DNS, Brady Smith – DNS, Darren Miller – DNS, Bryant Goldsmith - DNS
2nd Annual SuperClean Diamond Nationals Feature Finish (100 Laps): Shannon Babb, Billy Moyer, Darrell Lanigan, Jimmy Owens, Steve Casebolt, Scott James, Josh Richards, Scott Bloomquist, Dan Schlieper, Rick Eckert, Justin Rattliff, Steve Francis, John Blankenship, Earl Pearson Jr., Jimmy Mars, Bart Hartman, Will Vaught, Terry Casey, Michael England, Wendell Wallace, Chub Frank, Jeremy Payne, Terry Phillips, Eric Turner, Al Purkey, David Turner
Race Statistics
Entries: 80
Caution Flags: 9
Lap Leaders: Shannon Babb 1-100
Lucas Oil Late Model Dirt Series Provisionals: Justin Rattliff, Bart Hartman
Midwest Late Model Racing Association Series Provisionals: Al Purkey, Terry Phillips
PBM/Erson Cams Hard Charger of the Race: Darrell Lanigan (Started 19th and finished 3rd-advanced 16 positions)
Allstar Performance Performer of the Race: Darrell Lanigan
K&N Filters Clean Pass of the Race: Bart Hartman
Quarter Master Rookie of the Race: John Blankenship
ASI Racewear Lucky 7 Award: Josh Richards
Integra Shocks Crew Chief of the Race: Eric Killion (Steve Casebolt)
Comp Cams Engine Builder of the Race: Clements Racing Engines
Time of the Race: 1 hour, 13 minutes
---
Submitted By: Jeremy Shields
Back to News