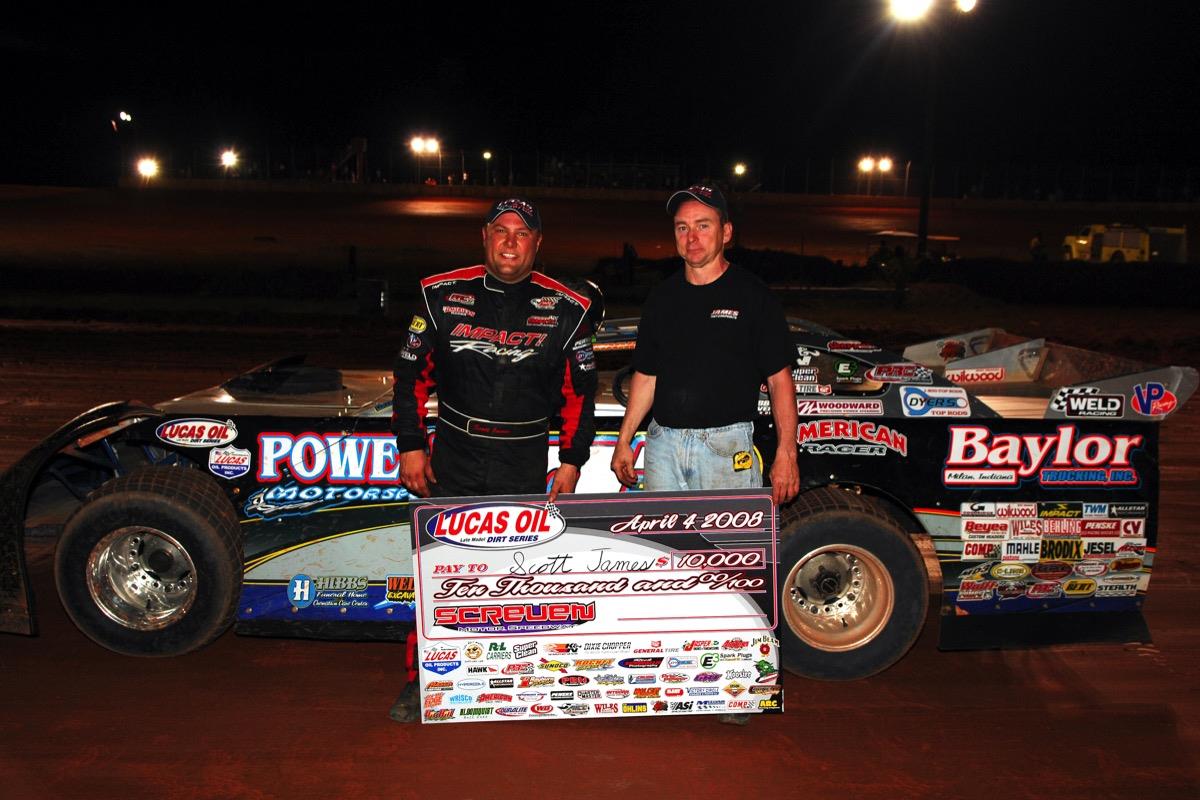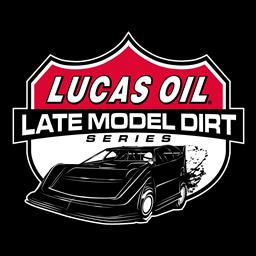 4/4/2008
Lucas Oil Late Model Dirt Series
---
Shark Attack at Screven – James wins Series Race
SYLVANIA, GA (April 4, 2008) – Scott James of Lawrenceburg, IN, took the lead from Tim Dohm of Charleston, WV, on lap 21 and then held off Jimmy Owens of Newport, TN, to win the 50-lap main event for the Lucas Oil Late Model Dirt Series on Friday night at Screven Motor Speedway.
James used a unique line around the track in his Baylor Trucking/Powell Motorsports Rocket/Dickens by running high through turns one, two and three, and then driving off the bottom of turn four to cover the inside where Owens was the strongest.
Owens had to settle for second in the Reece Monument/Gantte Appraisals Bloomquist/Cornett, and Dohm took the third spot in the Dohm Cycle Rocket/Vic Hill. Randy Weaver of Crossville, TN, was fourth in the Hicks & Ingalls Contractors GRT/RED, and Donnie Moran of Dresden, OH rounded out the top five in the Eddie's Sunoco Mastersbilt/Vic Hill.
Justin Rattliff of Campbellsville, KY, was sixth in the Rattliff Motors Rayburn/Pro Power, and Lucas Oil Late Model Dirt Series point leader Terry Casey of New London, WI, finished seventh in the Arnie Ranta Motorsports/Brewer Concrete Rayburn/Pro Power. Casey was the PRC Fast Qualifier among the 52 entrants with a lap around the 3/8-mile clay oval in 13.976 seconds, and he also won the Hawk Brakes first 10-lap heat race.
Billy Drake of Bloomington, IL, was eighth in the Steidinger Construction Mastersbilt/Mulvain, and ninth went to Ronny Lee Hollingsworth of Northport, AL, in the Baird Transport Rocket/Vic Hill. Bart Hartman of Zanesville, OH, rounded out the top ten in the Imler's Poultry Rocket/Cornett.
In preliminary action, James, Dohm, and Owens also picked up heat race wins, while Hartman and Randle Chupp of Troutman, NC, in the Starrette Trucking/R.W. Powell Construction Rocket/RC won the 12-lap B-Mains. The Lucas Oil Late Model Dirt Series travels to Golden Isle Speedway in Brunswick, GA, for a 50-lap event on Saturday night.
You can find out more about the Lucas Oil Late Model Dirt Series by logging on to www.lucasdirt.com or call the series office at (951) 532-2503.
Lucas Oil Late Model Dirt Series
Race Summary
Friday Night, April 4, 2008
Screven Motor Speedway-Screven, GA
PRC Fast Time: Terry Casey 13.976 seconds (NTR)
Hawk Brake First Heat (10 Laps-Top 4 Advance): Terry Casey, Billy Drake, Donnie Moran, Ray Cook, Bart Hartman, Wayne Chinn, Terry Lumley, Casey Roberts, Dion Deason, Scott Shirey, Monk Gulledge, Shane Walker
Hawk Brake Second Heat (10 Laps-Top 4 Advance): Scott James, Justin Rattliff, Shane Riner, Dennis Franklin, Travis Pennington, Bodine Massengill, Dillon Wood, Bo Smith, Jeremy Faircloth, Damon Eller, Michael England, Shane Williams, Jacob Webber - DNS
AFCO Racing Products Third Heat (10 Laps-Top 4 Advance): Jimmy Owens, Earl Pearson Jr., Dan Schlieper, Ronny Lee Hollingsworth, John Mason, Randle Chupp, Ben Faircloth, Jonathan Davenport, John Henderson, Brandon Yawn, Freddy Smith, Henry Carter, Steven Howard
Tiger Rear Ends Fourth Heat (10 Laps-Top 4 Advance): Tim Dohm, Randy Weaver, Ivedent Lloyd Jr., Steve Casebolt, Jason Fitzgerald, Ches-ley Dixonm Jeff Fortner, Jordy Nipper, Don O'Neal, Casey Barrow, John Kellum, Ed Basey, Mark Davis
Mason Racin' Rebel Shock Dyno First B-Main (12 Laps-Top 3 Advance): Bart Hartman, Wayne Chinn, Dillon Wood, Terry Lumley, Damon Eller, Monk Gulledge, Scott Shirey, Dion Deason, Sean Meeks, Bo Smith, Travis Pennington, Casey Roberts – DNS, Jeremy Faircloth – DNS, Sean Meeks – DNS, Michael England – DNS, Shane Williams – DNS, Shane Walker – DNS, Jacob Webber - DNS
Quarter Master Second B-Main (12 Laps-Top 3 Advance): Randle Chupp, Casey Barrow, Jonathan Davenport, Ches-ley Dixon, John Kellum, Brandon Yawn, Jason Fitzgerald, Ben Faircloth, John Mason, Don O'Neal, Freddy Smith, Steven Howard, Jeff Fortner – DNS, Jordy Nipper – DNS, John Henderson – DNS, Henry Carter – DNS, Ed Basey – DNS, Mark Davis - DNS
Lucas Oil Late Model Dirt Series Feature Finish (50 Laps): Scott James, Jimmy Owens, Tim Dohm, Randy Weaver, Donnie Moran, Justin Rattliff, Terry Casey, Billy Drake, Ronny Lee Hollingsworth, Bart Hartman, Randle Chupp, Ray Cook, Steve Casebolt, Don O'Neal, Earl Pearson Jr., Ivedent Lloyd Jr., Wayne Chinn, Shane Riner, Dennis Franklin, Dillon Wood, Jonathan Davenport, Dan Schlieper, Freddy Smith, Brandon Yawn, Casey Barrow
Race Statistics
Entries: 52
Caution Flags: 9
Lap Leaders: Dohm 1-20, James 21-50
Series Provisionals: Don O'Neal, Freddy Smith
Track Provisional: Brandon Yawn
PBM/Erson Cams Hard Charger of the Race: Don O'Neal (Started 23rd and finished 14th-advanced 9 positions)
Allstar Performance Performer of the Race: Tim Dohm
K&N Filters Clean Pass of the Race: Scott James
Quarter Master Rookie of the Race: Terry Casey
ASI Racewear Lucky 7 Award: Terry Casey
Integra Crew Chief of the Race: Kenny Kenneda (Scott James)
Comp Cams Engine Builder of the Race: Jay Dickens Engines
Time of the Race: 40 minutes
---
Submitted By: Jeremy Shields
Back to News