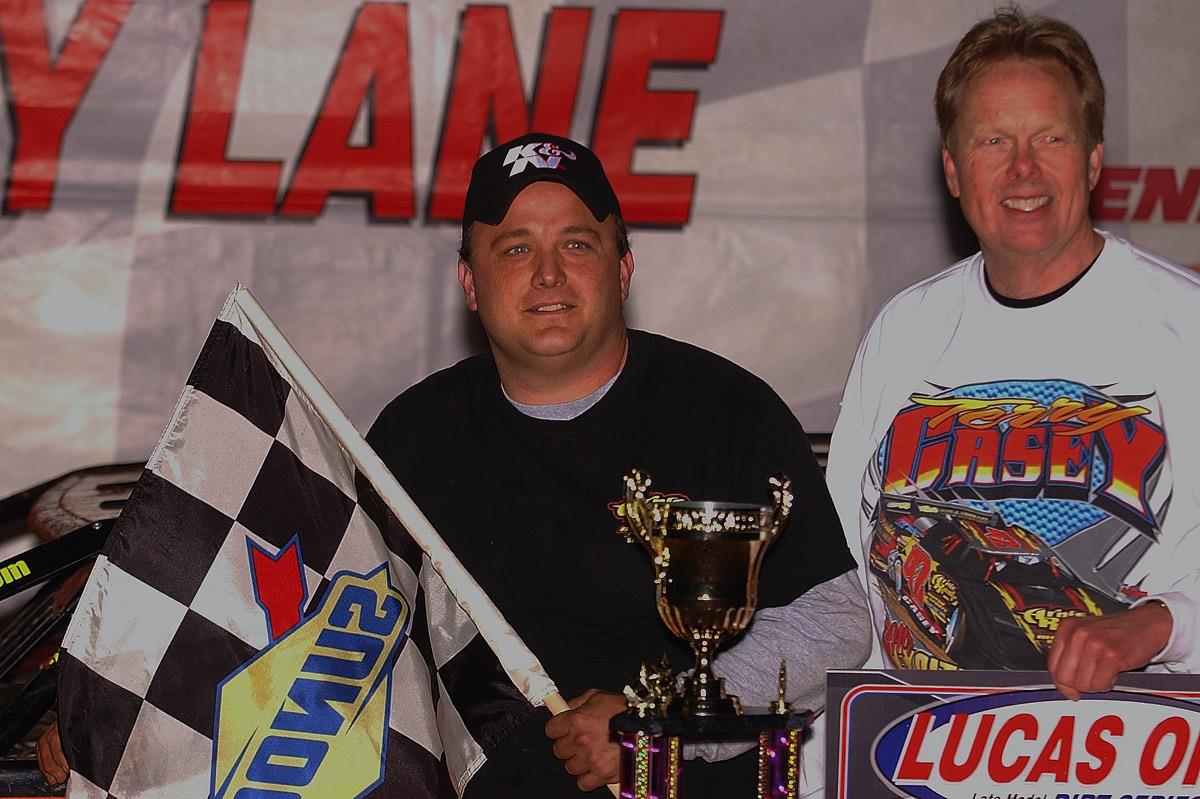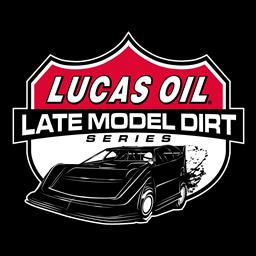 4/3/2008
Lucas Oil Late Model Dirt Series
---
Terry Casey takes Series win at Swainsboro
SWAINSBORO, GA (April 3, 2008) – Terry Casey of New London, WI drove the Arnie Ranta Motorsports/Brewer Concrete Rayburn/Pro Power to his third Lucas Oil Late Model Dirt Series win of the season on Thursday night at Swainsboro Raceway in the 30-lap main event. Casey started third, took the lead from Dan Schlieper of Sullivan, WI on lap seven, and then weaved his way through lapped traffic late in the race to post the victory.
The main event win gave Casey a "clean sweep" of the event, as he was the Fast Qualifier among the 45 entrants with a lap around the 3/10-mile clay oval in 14.577 seconds, he also won the Hawk Brakes First 10-lap Heat Race, and he also padded his Lucas Oil Late Model Dirt Series point lead.
Schlieper took the second spot in the Hawkeye Trucking/Miller Brothers Coal Rayburn/Pro Power, and Ivedent Lloyd Jr. of Ocala, FL finished third in the HTI Mastersbilt/Lloyd. Dennis "Rambo" Franklin of Gaffney, SC was fourth in the Swiftco Racing/Encompass Solutions Barry Wright/Clements, and the defending and three-time Lucas Oil Late Model Dirt Series National Champion Earl Pearson Jr. of Jacksonville, FL finished fifth after starting 15th in the Lifelong Locks Mastersbilt/Larry Wallace.
Bart Hartman of Zanesville, OH drove the Imler's Poultry Rocket/Cornett to a sixth-place finish, and Randle Chupp of Troutman, NC was seventh in the Starrette Trucking/Powell Construction Rocket/RC. Steve Casebolt of Richmond, IN finished eighth in the Fatheads/Dixie Choppers Rocket Cornett, and Don O'Neal of Martinsville, IN was ninth in the Harrod Farms Rayburn/Dickens. Ray Cook of Brasstown, NC rounded out the top ten in the A+ Moving & Storage/Fairway Ford Mastersbilt/Grover.
The Lucas Oil Late Model Dirt Series now moves to Screven Motor Speedway in Sylvania, GA on Friday night.
You can find out more about the Lucas Oil Late Model Dirt Series by logging on to www.lucasdirt.com or call the series off ice at (951) 532-2503.
Lucas Oil Late Model Dirt Series
Race Summary
Saturday Night, April 3, 2008
Swainsboro Raceway-Swainsboro, GA
PRC Fast Time: Terry Casey 14.577 seconds
Hawk Brake First Heat (10 Laps-Top 3 Advance): Terry Casey, Tim Dohm, Donnie Moran, John Mason, Shane Williams, Jordy Nipper, Ronny Lee Hollingsworth, John Henderson, Scott James, Ches-ley Dixon, Damon Eller, Terry Lumley
Hawk Brake Second Heat (10 Laps-Top 3 Advance): Casey Roberts, Randy Weaver, Bart Hartman, Ivedent Lloyd, Randle Chupp, Freddy Smith, Jimmy Owens, Jeremy Faircloth, Steven Howard, Travis Pennington, Sean Meeks
AFCO Racing Products Third Heat (10 Laps-Top 3 Advance): Dan Schlieper, Don O'Neal, Dillon Wood, Earl Pearson Jr., Bob Robertson, Jason Fitzgerald, Michael England, Dion Deason, Ed Basey, Scott Bloomquist, Brian Nuttall - DN
Tiger Rear Ends Fourth Heat (10 Laps-Top 3 Advance): Justin Rattliff, Billy Drake, Dennis Franklin, Ray Cook, Steve Casebolt, Ben Faircloth, Brent Dixon, Henry Carter, Jeff Fortner, Jimmy Sharpe, Wayne Chinn
Mason Racin' Rebel Shock Dyno First B-Main (12 Laps-Top 2 Advance): Randle Chupp, Freddy Smith, Ronny Lee Hollingsworth, John Henderson, Jordy Nipper, Damon Eller, Shane Williams, Jimmy Owens, Scott James, Jeremy Faircloth, Ches-ley Dixon, Steven Howard - DNS, Travis Pennington - DNS, Sean Meeks - DNS, Terry Lumley - DNS
Quarter Master Second B-Main (12 Laps-Top 2 Advance): Steve Casebolt, Ben Faircloth, Bob Robertson, Wayne Chinn, Dion Deason, Henry Carter, Jason Fitzgerald, Michael England, Brent Dixon, Ed Basey - DNS, Jeff Fortner - DNS, Scott Bloomquist - DNS, Jimmy Sharpe - DNS, Brian Nuttall - DNS
Lucas Oil Late Model Dirt Series Feature Finish (50 Laps): Terry Casey, Dan Schlieper, Ivedent Lloyd, Dennis Franklin, Earl Pearson Jr., Bart Hartman, Randle Chupp, Steve Casebolt, Don O'Neal, Ray Cook, John Mason, Justin Rattliff, Donnie Moran, Ben Faircloth, Billy Drake, Freddy Smith, Dillon Wood, Damon Eller, Randy Weaver, Ronny Lee Hollingsworth, Tim Dohm, Scott James, Casey Roberts, Bob Robertson
Race Statistics
Entries: 45
Caution Flags: 6
Lap Leaders: Schlieper 1-6, Casey 7-30
Series Provisionals: Scott James, Damon Eller
PBM/Erson Cams Hard Charger of the Race: Ivedent Lloyd (Started 14th and finished third-advanced 11 positions)
Allstar Performance Performer of the Race: Dan Schlieper
K&N Filters Clean Pass of the Race: Ivedent Lloyd
Quarter Master Rookie of the Race: Terry Casey
ASI Racewear Lucky 7 Award: Randle Chupp
Integra Crew Chief of the Race: Jason Palubicki (Dan Schlieper)
Comp Cams Engine Builder of the Race: Pro Power Engines
Time of the Race: 45 minutes
---
Submitted By: Jeremy Shields
Back to News