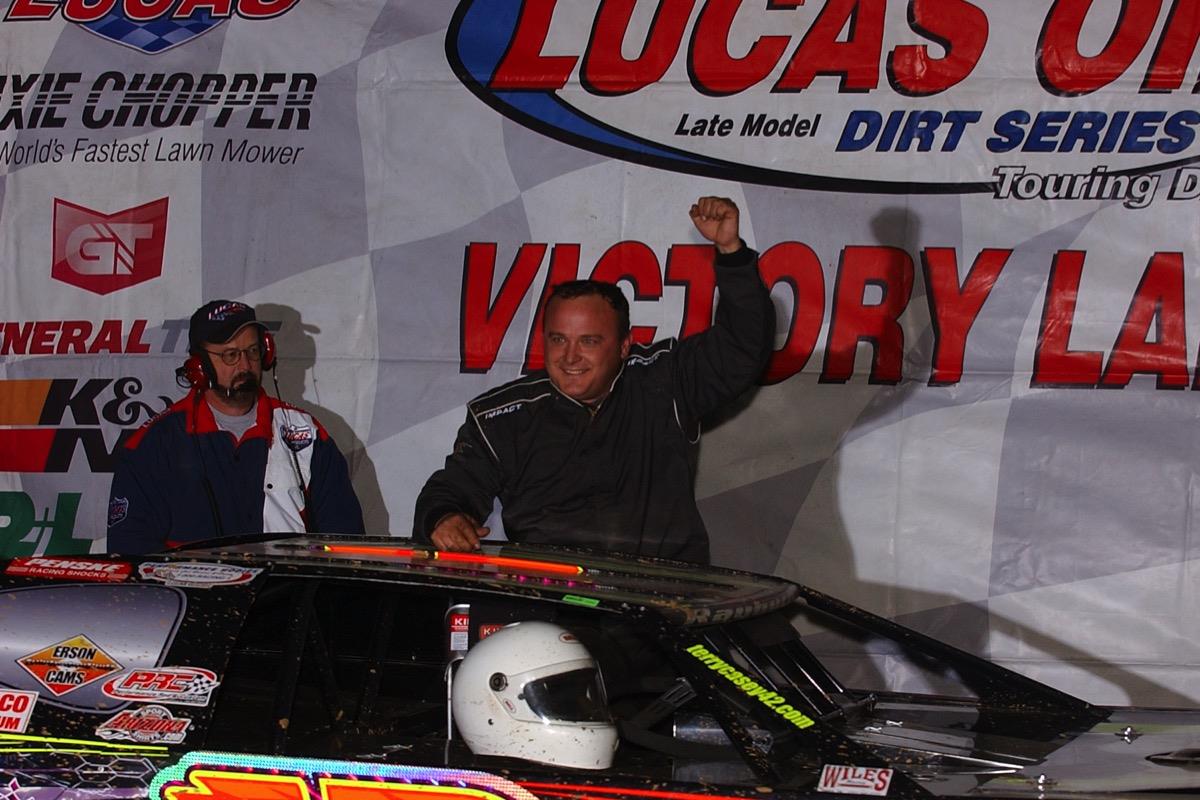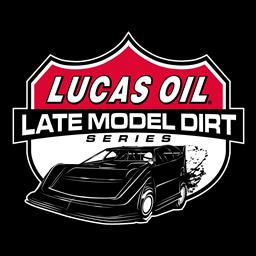 3/29/2008
Lucas Oil Late Model Dirt Series
---
Terry Casey Races His Way from 16th to Win 11th Annual "Indiana Icebreaker" at Brownstown Speedway
BROWNSTOWN, IN (March 29, 2008) – Many people thought that when the Lucas Oil Late Model Dirt Series left East Bay Raceway Park back in February that Terry Casey would be out of his comfort zone. Since he is traveling for the first time out on the road in his career and racing on tracks that wouldn't suit his style. However, Saturday Night at the Hancock Core sponsored 11th Annual "Indiana Icebreaker" at Brownstown Speedway that adage was thrown out the window as Casey came from his 16th starting spot to win the event on a dry-slick and a very racy track. The ever-improving Casey grabbed the lead on lap 24 from Bart Hartman and pulled away for the $10,000 victory before a capacity crowd.
Trailing Casey to the finish line was early pacesetter, Justin Rattliff, the 13th starting Hartman, 3-time Lucas Oil Late Model Dirt Series National Champion, Earl Pearson Jr. and 24th place starter, Steve Casebolt.
Rattliff looked to be the car to beat early on in the 50-lap affair as the '07 Lucas Oil Rookie of the Year looked strong from the get-go as fellow front row starter Wes Steidinger and long-time Brownstown Speedway veteran John Gill in the Warrior House Car taking the top three spots from the outset of the race.
A car on the move in this first portion of the race was Rohn Moon. Moon a former World Karting Association Champion roared from his seventh starting spot to momentarily take third from Steidinger who had slipped a spot when Gill went around him a lap earlier, but one circuit later Steidinger was back into that spot re-passing Moon.
The first caution of the race came out on lap seven and was for Illinois drivers Dennis Erb Jr. and Billy Drake in turn number four. On the restart Rattliff resumed his position on the point with 11th starting Don O'Neal shooting up to second place when the green flag came back out again. With ten laps in the record books Rattliff was starting to see pressure from O'Neal with Steidinger, Gill and Earl Pearson Jr. now in the thick of things as he was up to fifth place.
The second caution of the night involved Kevin Claycomb, which slowed the action on lap 12. Again on the restart Rattliff would be out in front followed closely by O'Neal, the race would really heat up as 13th place starter Bart Hartman made an unbelievable move on the outside on lap 16 to come out of nowhere to grab second from O'Neal.
Hartman's high flying antics carried him all the way to the lead two laps later as he stormed around Rattliff to take over the lead. Another car following Hartman up through the pack was 16th starting Terry Casey. Casey would pass O'Neal for third and then his surge would allow him to overtake Rattliff on lap 19. The final caution of the race would come out on lap 20 for Matt Miller, whose car had stalled just off the main straightaway as he was heading to the pit area.
With 30 laps left in the race it looked like it was going to be a shootout to the finish among the top five drivers as Hartman, Casey, Rattliff, O'Neal and Pearson were loaded for bear each seeking the $10,000 first place check.
On the final restart of the race Hartman was still riding the rim of the track with Casey developing his strategy racing in the middle of the track as Pearson got a good restart as he moved by Rattliff for third on lap 21 as the top two were starting to pull away.
Hartman's lead after the restart would last until the 24th circuit when Casey made his move coming off of turn number four to take his turn leading the race. The two would go door to door for two more laps until Casey cleared Hartman.
With 20 laps to go Casey was starting to gain full control of the race as Rattliff had regained the third spot from Pearson and he then caught up to and passed Hartman for second. But at this point Casey was building his lead as the frontrunners were entering traffic for the first time all race long.
Casey continued to stretch his lead in the waning laps as Rattliff had pulled away enough from Hartman to build some precious car lengths between the two. Hartman meanwhile had his hands full trying to hold off both Pearson and Casebolt, who had to take a provisional to make the starting field.
Those three drivers had an eventful final ten laps as Hartman was able to hold both of them off to gain some valuable points. Pearson barely was able to fend off Casebolt, who drove a terrific race as the reigning Eldora Dream winner looked good in coming from dead last to gain a top five finish.
As chief starter Tim Montgomery's checkered flag waved Casey raced across the finish line well out in front, leading the final 27 laps for his second career Lucas Oil Late Model Dirt Series triumph. The win also allowed the 39-year-old New London, WI native to take over the championship point's standings lead and the Quarter Master Rookie of the Year points lead. Rattliff, who led 17 laps, finished a solid second.
In the Lucas Oil victory lane, Casey was joined by several well wishers as he would say that maybe his critics would stop saying "that he couldn't win on a dryslick track and that is a thing of the past. "I got so tired of hearing that down at East Bay that I couldn't drive on this type of track, we won down there from the pole, but I don't care a win is a win, the car was just awesome tonight. I spent a week down at Rayburn's putting this new car together. I've been building customer cars ever since I got back from Florida," said Casey who was joined by his crew chief wife Lori and engine builder, Bill Schlieper.
Coming from Wisconsin where they're still several inches of snow on the ground Casey was just glad to be racing in weather that was just a little warmer than at home. "I come down here and people blame me for bringing the cold weather with me," laughed Casey who gladly will take the prize money back to the freezing temperatures in Badger Land.
Rattliff's second place was satisfying for the 20-year-old driver. "The car worked good for about 20 laps and we dropped back a few spots and got back into second and we were running down Casey, but he got away from me in the last 15 laps and we fell behind a half a straightaway or so, congrats to Casey on the him, we felt we had a car capable of winning, but we'll take second."
Hartman's daring moves a quarter of the way through the event may have been his downfall as he may have very well ended up in victory lane instead of Casey. "We had a little bit different tire combination and I really didn't want to be in the lead when we were cause I thought the car was going to fade and we did a little bit, we had that little episode in turn two and I told myself just settle down, Terry and Justin ran a good race and they had a little harder tire on than I did and that was the difference," said Hartman who moved up the seventh in the points after Brownstown.
Casey' winning C.J. Rayburn Monte Carlo SS is sponsored by Arnie Ranta Motorsports, Brewer Concrete Construction and Arnie's Sleds and Trailers and has a Bill and John Schlieper Pro Power Engine under the hood.
Rattliff who also drives a C.J. Rayburn Chassis with a Pro Power engine moved to fifth in the points in the James Rattliff owned Rattliff Motors sponsored car with Hartman's Imler's Poultry of Altoona, PA sponsored Rocket Monte Carlo SS finishing just ahead of the Bobby Labonte Racing/Life Long Locks/MasterSbilt Dodge entry of Pearson as Casebolt in his Fatheadz.com/Rocket GTO is now second to Casey in the championship points standings.
Completing the top ten were Don O'Neal, Mike Marlar, John Gill, Steve Barnett and Dennis Erb Jr.
In preliminary action John Gill was the PRC fast qualifier for the 61 entrants with a lap of 13.798 seconds. Wayne Chinn, Justin Rattliff, John Gill, Matt Miller, Brian Birkhofer and Wes Steidinger won the Hawk Brake, AFCO Racing Products and Tiger Rear Ends sponsored heat races. The Mason Racin' rebel Shock Dyno and Quarter Master sponsored B-mains went to Dennis Erb Jr. and Steve Barnett.
The Lucas Oil Late Model Dirt Series will next be in action with a three-day jaunt to the Peach State of Georgia starting on Thursday Night, April 3rd at the Paul Purvis owned Swainsboro Raceway in Swainsboro, GA for a $7,000 to win event, followed on Friday Night, April 4th for a $10,000 to win race at the REDD Griffin owned Screven Motor Speedway in Sylvania, GA and the weekend tops off at the Frankie Lloyd owned Golden Isles Speedway in Brunswick, GA on Saturday Night, April 5th for a $10,000 to win race that will taped by SPEED Channel.
You can find out more about the Lucas Oil Late Model Dirt Series by logging on to www.lucasdirt.com or call the series office at (951) 532-2503.
Lucas Oil Late Model Dirt Series
Race Summary
Saturday Night, March 29, 2008
Brownstown Speedway-Brownstown, IN
PRC Fast Time: John Gill 13.798 seconds
Hawk Brake First Heat (10 Laps-Top 3 Advance): Wayne Chinn, Rohn Moon, Bart Hartman, Mike Jewell, Joey Kramer, Joe Janowski, John Mason, Patrick Sheltra, Tyler Boggs, Steve Casebolt
Hawk Brake Second Heat (10 Laps-Top 3 Advance): Justin Rattliff, Earl Pearson Jr., Dan Schlieper, Freddy Smith, Shannon Reed, James Huff, Mark Bechelli, Jamie Ferguson, Mitchell Lankford, Jacob Webber
AFCO Racing Products Third Heat (10 Laps-Top 3 Advance): John Gill, Kevin Claycomb, Cody Mahoney, Dennis Erb Jr., Donnie Moran, Greg Johnson, Duane Chamberlain, Matt Lux, Christian Rayburn, Chad Stapleton
Tiger Rear Ends Fourth Heat (10 Laps-Top 3 Advance): Matt Miller, Brad Neat, Terry Casey, Michael England, Rick Aukland, James Moon, Curt Spalding, Zach Carney, Scott James, Justin Shaw
Hawk Brake Fifth Heat (10 Laps-Top 3 Advance): Brian Birkhofer, Don O'Neal, Brady Smith, Steve Barnett, Mike Marlar, Ray Cook, Terry English, Tim Prince, Derek Fisher, Dean Boyd
Hawk Brake Sixth Heat (10 Laps-Top 3 Advance): Wes Steidinger, Ryan Dauber, Billy Drake, Damon Eller, Aaron Scott, B.J. McCammon, D.J. Wells, Jason Jameson
Mason Racin' Rebel Shock Dyno First B-Main (12 Laps-Top 2 Advance): Dennis Erb Jr., Freddy Smith, Donnie Moran, Shannon Reed, Joey Kramer, John Mason, Greg Johnson, James Huff, Patrick Sheltra, Duane Chamberlain, Christian Rayburn, Joe Janowski, Chad Stapleton, Tyler Boggs, Jamie Ferguson, Mitchell Lankford, Mike Jewell, Mark Bechelli, Steve Casebolt, Matt Lux
Quarter Master Second B-Main (12 Laps-Top 2 Advance); Steve Barnett, Mike Marlar, Michael England, Rick Aukland, Terry English, Ray Cook, Damon Eller, B.J. McCammon, Aaron Scott, Derek Fisher, D.J. Wells, Curt Spalding, James Moon, Jason Jameson, Dean Boyd, Tim Prince, Scott James
Lucas Oil Late Model Dirt Series Hancock Core Indiana Icebreaker Feature Finish (50 Laps): Terry Casey, Justin Rattliff, Bart Hartman, Earl Pearson Jr., Steve Casebolt, Don O'Neal, Mike Marlar, John Gill, Steve Barnett, Dennis Erb Jr., Wayne Chinn, Brad Neat, Scott James, Dan Schlieper, Rohn Moon, Kevin Claycomb, Cody Mahoney, Freddy Smith, Ryan Dauber, Matt Miller, Wes Steidinger, Brian Birkhofer, Brady Smith, Billy Drake
Race Statistics
Entries: 61
Caution Flags: 4
Lap Leaders: Justin Rattliff 1-17, Bart Hartman 18-23, Terry Casey 24-50
PBM/Erson Cams Hard Charger of the Race: Steve Casebolt (Started 24th and finished fifth-advanced 19 positions)
Allstar Performance Performer of the Race: Justin Rattliff
K&N Filters Clean Pass of the Race: Bart Hartman
Quarter Master Rookie of the Race: Terry Casey
ASI Racewear Lucky 7 Award: Mike Marlar
Integra Crew Chief of the Race: Lori Casey
Comp Cams Engine Builder of the Race: Pro Power Engines
Time of the Race: 35 minutes
---
Submitted By: Jeremy Shields
Back to News