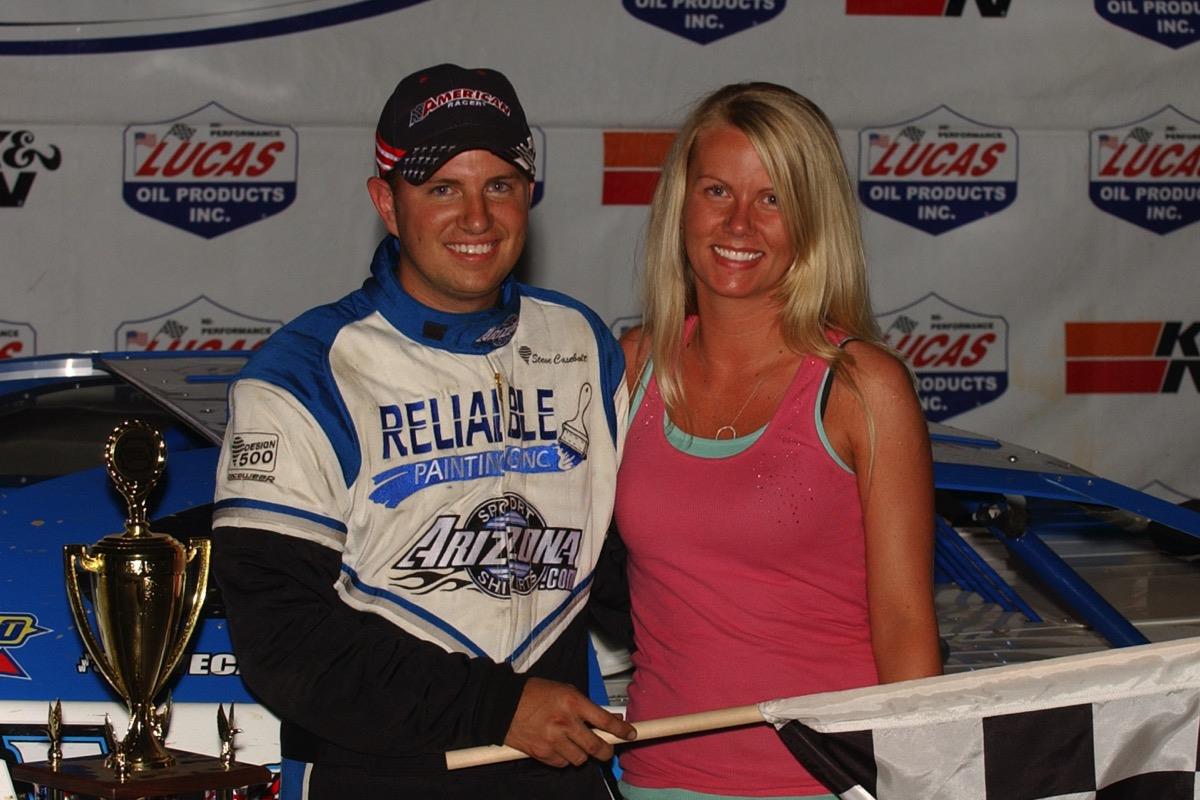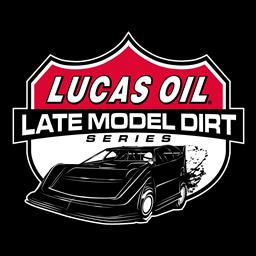 6/2/2007
Lucas Oil Late Model Dirt Series
---
Steve Casebolt Cashes In For Biggest Career Win in Ralph Latham Memorial
UNION, KY (June 2, 2007)-In a race for the ages Steve Casebolt of Richmond, IN came from his eighth starting spot taking the lead from Mike Marlar on lap 35 and then roared away from the field to score the biggest win of his racing career on Saturday Night at the Florence (KY) Speedway winning the 21st Annual "Ralph Latham Memorial" race for the Lucas Oil Late Model Dirt Series. The victory was worth $10,000 to the 28 year old racer and his car owner, Dale Beitler. Marlar who led for 29 laps during the race was second followed by Don O'Neal, 15th starting Jimmy Mars and LifeLong Locks Fast Qualifier, Scott Bloomquist.
Marlar would jump to the lead from his outside front row starting spot as the 50 lap main event got underway. O'Neal who started on the pole would fall in line in second with current Florence points leader, Audie McWilliams, six time Florence track champion, Steve Landrum and Bloomquist the top five with one lapped scored.
O'Neal then would stick his car on the inside of the track as Marlar was running the middle of the well prepared track. O'Neal pulled alongside Marlar and was challenging him for the lead of the race by the second time around the half mile oval. O'Neal would then race past Marlar and grabbed the point on the third lap. Those two then would go side by side again for three laps with Marlar taking his car to a length lead over O'Neal by the eighth lap.
Marlar then started to pull way slightly from O'Neal with a heated battle going on for third between McWilliams, Bloomquist and Landrum. Bloomquist had moved to the top side of the racing surface and went by Landrum back on lap six and then he and McWilliams staged a side by side tussle for four consecutive laps until Bloomquist was able to get in front of McWilliams on lap 14.
A car slicing through the field was 16th starting Jimmy Owens. Using the same line as Bloomquist Owens' top side exploits quickly had him moving up a position lap after lap. Owens was up to fifth by lap 16, and then two circuits later he had the fourth spot sub planting McWilliams from that position.
Owens then closed on Bloomquist and by the halfway marked appeared to have the fastest car on the track. At the same time 18th place starter Scott James was moving to the front as he was up to seventh at the halfway point.
The first caution of the race came out on lap 27 when Steve Shaver slowed on the race track. This would wipe out a ten car length lead that Marlar had built up over O'Neal, but it also cleared traffic that Marlar had closed up on.
On the Delawaredouble file restart Marlar would keep his lead with an epic battle for second going on between O'Neal and Bloomquist. The restart was a huge break for Steve Casebolt, who had started eighth and hung around that spot the entire race up to this point. But he picked up the pace and roared into fourth after the restart with Owens being relegated to fifth.
With 30 laps scored it was Marlar showing the way followed by O'Neal, Bloomquist, Casebolt and Owens. James had closed right on Owens and was making a bid to take the fifth spot from Owens until his tire went flat forcing him to slow bringing out the third and final caution of the race on lap 31.
On the final restart it would be the turning point of the race. The top two would remain the same with Marlar leading and O'Neal running in second. Casebolt again was the benefactor of a restart as he bolted by first Bloomquist and then O'Neal as he was scored in second on the 32nd lap. Marlar would then start to receive his first serious challenge for the lead in quite some time as Casebolt was not going to be denied. Casebolt worked his way up to Marlar and then on lap 35 he nosed him out at the start-finish line to lead that lap.
Behind Casebolt and Marlar there was some more three wide racing for third with O'Neal, Bloomquist and Owens each giving the other plenty of racing room on the track. Casebolt with ten laps to go was sprinting away from Marlar and opened up a healthy eight car length lead. With no caution flags to slow him Casebolt would get by a couple of lapped cars and take his advantage to ten car lengths with less than five laps to go.
Over the last laps it was all Casebolt as he would cruise on the record the biggest win of his racing career. Prior to his triumph on Saturday Night Casebolt's biggest career win was a $7,000 to win Lucas Oil Late Model Dirt Series event at Elkins (WV) Speedway. This occurred on July 23, 2005. Casebolt's second career Lucas Oil Late Model Dirt Series win enabled him to become the 11th different winner in the first 13 events in 2007.
In victory lane Casebolt was elated as he did the SPEED Channel post race interview and then addressed the fans. "I had a lot of fun out there, we really enjoy coming here to race, I've got to thank my car owner, Dale Beitler for giving me a chance to drive his car, and Robbie Allen my crew chief did a heck of a job." Casebolt drew a loud applause from the large contingent of fans who stayed for the post race interview when he said "I hope the fans saw a good show here tonight." No doubt the fans did as Casebolt went on to tell about his strategy during the race. "We really didn't have much of a strategy to start with, we were just hanging on there at the beginning and I guess I really didn't realize we had as good of a car as we did. On the restarts the American Racers fired real well I think that was the key to our success and I went by Bloomquist on the restart and I kind of knew we had a shot at Marlar and we finally were able to catch up to him and pass him."
Casebolt's winning Reliable Painting/Sunoco Race Fuels/Arizona Sport Shirts/T.C. Race Cars/Allstar Performance/American Racer Tires sponsored Cornett Racing Engines Powered/Rocket GTO vaulted him into second place in the championship point's standings.
Mike Marlar of Winfield , TN second place finish came aboard the Stephens Motorsports/S&B Cattle Company/Estes Race Engines/C.J. Rayburn GTO with third place finisher Don O'Neal of Martinsville , INpiloting the Jerry Jones Racing/Jones Core/Jay Dickens Racing Engines/C.J. Rayburn Monte Carlo. Jimmy Mars of Menomonie , WI earned the Edelbrock Hard Charger of the Race in his Deppe Enterprises/Pro Power Engines/MasterSbilt from Mars Monet Carlo with Scott Bloomquist of Mooresburg , TNin his Miller Brothers Coal/Vic Hill Racing Engines/Bloomquist Race Cars Chevrolet rounding out the top five.
The rest of the top ten finishers were Jimmy Owens, Bart Hartman, Wendell Wallace, Rod Conley and Ray Cook.
In preliminary action Scott Bloomquist was the LifeLong Locks Fast Qualifier with a lap of 15.948 seconds. The Hawk Brake and Quarter Master sponsored heat races went to Steve Landrum, Don O'Neal, Mike Marlar and Audie McWilliams. The Mason Racin' Rebel Shock Dyno and Penske Shocks B-Mains were taken by Earl Pearson, Jr. and Scott James.
The next Lucas Oil Late Model Dirt Series Events will take place on June 14, 15 and 16 at Duck River (TN) Speedway , North Georgia (GA) Speedwayand Talladega (AL) Short Track. For more information you can log on to www.lucasdirt.com.
Race Summary
Lucas Oil Late Model Dirt Series
Florence Speedway-Union, KY
Saturday, June 2, 2007
LifeLong Locks Fast Qualifier: Scott Bloomquist 15.948 seconds
Hawk Brake First Heat: (10 Laps-Top 4 Advance): Steve Landrum, Scott Bloomquist, Josh McGuire, Ray Cook, Brad Neat, Steve Shaver, Justin Rattliff, Donnie Moran, Wayne Chinn, Timmy Yeager, Rick Corbin, Bryan Barber, Billy Vaughan
Hawk Brake Second Heat: (10 Laps-Top 4 Advance): Don O'Neal, Jesse James Lay, Matt Miller, Wendell Wallace, Earl Pearson, Jr., Mike Jewell, Dan Schlieper, Josh Williams, Eric Jacobsen, Robby Hensley, Jeff Alsip, Mike Amell, David Spille
Quarter Master Third Heat: (10 Laps-Top 4 Advance): Mike Marlar, Damon Eller, Bart Hartman, Jimmy Mars, Dale McDowell, Jerry Rice, Freddy Smith, Jason Keltner, John Rhoades, Larry Pickelheimer, Jr., Rick Combs, Joey Tackett, Gary Engle
Quarter Master Fourth Heat: (10 Laps-Top 4 Advance): Audie McWilliams, Steve Casebolt, Rod Conley, Jimmy Owens, Scott James, Victor Lee, Billy Drake, Terry English, John Mason, Duane Chamberlain, Garrett Durrett, Devin Sebree, Michael England
Mason Racin' Rebel Shock Dyno First B-Main: (12 Laps-Top 3 Advance): Earl Pearson, Jr., Brad Neat, Steve Shaver, Justin Rattliff, Mike Jewell, Josh Williams, Eric Jacobsen, Wayne Chinn, Dan Schlieper, Rick Corbin, Donnie Moran, Bryan Barber, Timmy Yeager, David Spille, Jeff Alsip, Mike Amell, Robby Hensley, Billy Vaughan
Penske Shocks Second B-Main: (12 Laps-Top 3 Advance): Scott James, Dale McDowell, Freddy Smith, Jason Keltner, Billy Drake, Terry English, Garrett Durrett, Duane Chamberlain, Victor Lee, John Mason, Joey Tackett, Rick Combs, Gary Engle, Larry Pickelheimer, Jr., Devin Sebree, Jerry Rice, John Rhoades
Lucas Oil Late Model Dirt Series 21st Annual "Ralph Latham Memorial" Feature Finish: (50 Laps): Steve Casebolt, Mike Marlar, Don O'Neal, Jimmy Mars, Scott Bloomquist, Jimmy Owens, Bart Hartman, Wendell Wallace, Rod Conley, Ray Cook, Audie McWilliams, Scott James, Josh McGuire, Brad Neat, Earl Pearson, Jr., Robby Hensley, Damon Eller, Steve Landrum, Freddy Smith, Dan Schlieper, Terry English, Steve Shaver, Dale McDowell, Jesse James Lay, Matt Miller
Race Statistics:
Entries: 52
Caution Flags: 3
Lap Leaders: Mike Marlar 1-2, Don O'Neal 3-7, Marlar 8-34, Steve Casebolt 35-50
Edelbrock Hard Charger of the Race: Jimmy Mars (Started 15th and Finished 4th, Advanced 11 Positions)
Allstar Performer of the Race: Scott James
K&N Filters Clean Pass Award: Steve Casebolt
COMP Cams Rookie of the Race: Brad Neat
Lucas Oil Late Model Dirt Series Provisionals: Terry English and Dan Schlieper
---
Submitted By: Jeremy Shields
Back to News