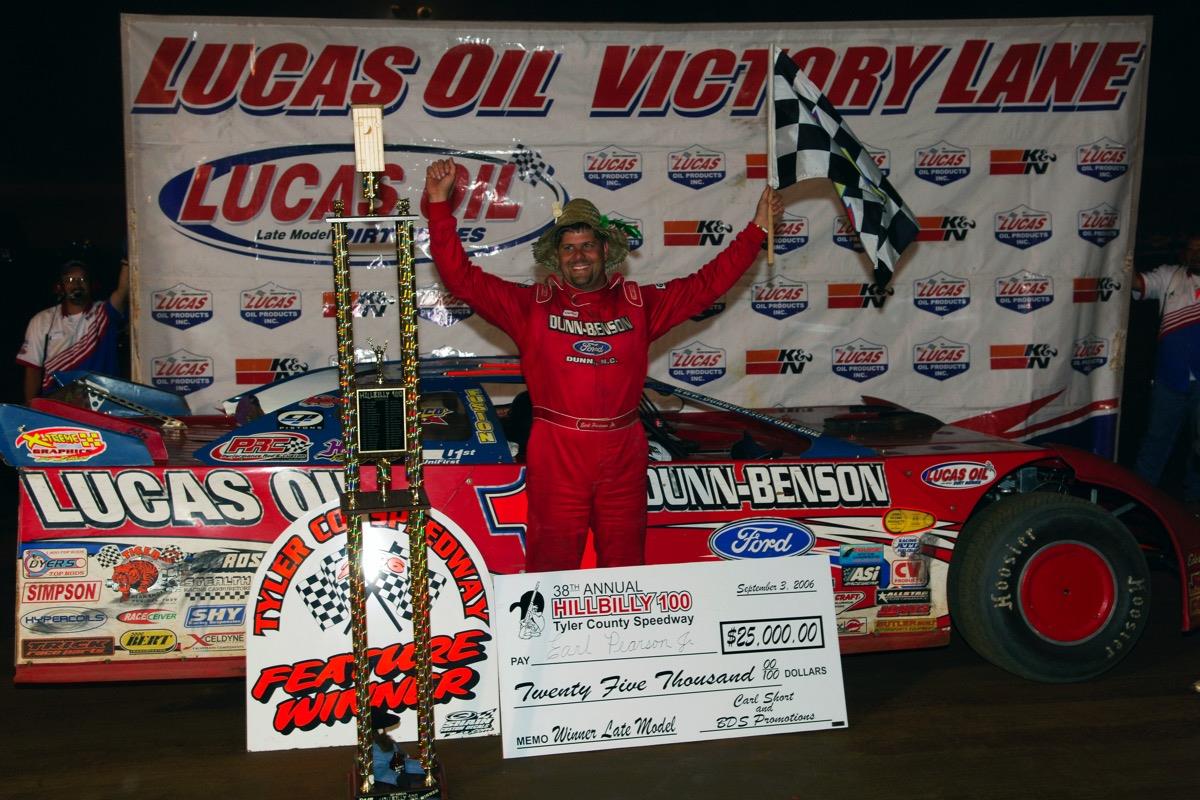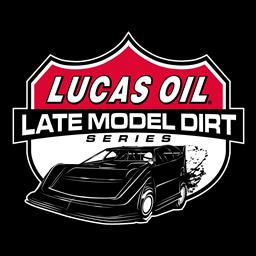 9/2/2006
Lucas Oil Late Model Dirt Series
---
Pearson Pads Lucas Oil Late Model Dirt Series Points Lead With Biggest Career Win in 38th Annual "Hillbilly 100"
MIDDLEBOURNE, WV (September 2, 2006)- "The Hurricane" Earl Pearson, Jr. of Jacksonville, FL took the biggest win of his racing career on Sunday Night as he captured the 38th Annual "Hillbilly 100" at the Tyler County Speedway. Pearson earned $25,000 for his win in the prestigious event and in doing so extended his Lucas Oil Late Model Dirt Series Championship points lead to 240 points over Don O'Neal.
Pearson took the lead for good on lap 84 from Mike Benedum and then went on for his first ever victory in the nation's oldest dirt late model event. The 34 year old Pearson in the Carlton and Kemp Lamm owned/Lucas Oil Products/Dunn-Benson Ford/K&N Engineering/Sunoco Race Fuels/Allstar Performance/Tiger Rear Ends/Larry Wallace Racing Engines/MasterSbilt Ford Taurus entered victory lane for the third time this season with the Lucas Oil Late Model Dirt Series. Steve Casebolt of Richmond, IN finished a solid second in the Dale Beitler Racing/Reliable Painting/Rocket GTO followed by Benedum of Salem, WV in the Lyle Benedum Motorsports/Benedum and Sons Inc/Rocket Grand Prix. Completing the top five were Rick Aukland of Zanesville, OH on his K&E Trucking/Malcuit Engines/C.J. Rayburn Dodge Charger and Davey Johnson of Latrobe, PA in the Brad Malcuit/Malcuit Engines/C.J. Rayburn Race Cars entry. A total of 57 cars were on hand for the BDS Promotions and Carl Short promoted event before a huge crowd.
The 100 lap event would have Rick Williams and three time Hillbilly 100 champion, Davey Johnson lead the 24 car starting field to the green flag with Johnson quickly sprinting to the point. Third place starting Don O'Neal would race his way to second on the opening lap with Williams, Steve Shaver and Kenny Johnson the top five with one lap in the books.
On the second lap Pearson, who started eighth vaulted from eighth to fourth with Shaver moving to third dropping Williams out of the top five. Another car on the move early on was Corey Conley, who started 10th and was up to fifth by the third circuit. Johnson was putting distance between himself and O'Neal early on and by the fifth time around he was already up to a ten car length lead. Shaver, the 1998 Hillbilly 100 winner went around O'Neal on lap seven to gain the second spot, but Johnson was already a straightaway ahead of him when he made the pass on O'Neal. Pearson then dropped O'Neal another spot to fourth after those two ran side by side for three laps.
Shaver meanwhile was picking up the pace as he had cut Johnson's lead to just five car lengths when the first caution of the race came out on lap 12 for Danny Pugh. On the restart Johnson would maintain the lead but Pearson dispatched Shaver for second a lap into the green flag run. With 15 laps scored it was Johnson, Pearson, Shaver, Steve Casebolt from seventh and Conley the top five contenders. A battle for second would get going again with Shaver pulling alongside of Pearson on lap 16 as the two veteran drivers went at it side by side for two more circuits. While the race for second was interesting Johnson was again trying to distance himself from the field.
With 20 laps scored it was Johnson and then the tight battle for second still going on between Pearson and Shaver with Casebolt and Conley racing side by side for fourth. Johnson started to enter some heavy traffic by lap 26 but all eyes were on local star Mike Benedum, who had to take a provisional to make the race. Benedum who lined up 23rd on the starting grid was rapidly driving through the stout field and was up to fourth by lap 25 and third a lap later. Benedum had passed Conley, Shaver and Casebolt and was now up to the leader Johnson and second place running Pearson challenging them for the lead.
On the 31st lap Pearson would go underneath of Johnson for lead heading into turn four with Benedum going to second as Johnson would spin and do a 360 on the race track losing several spots in the running order. The second caution of the race on lap 36 for a slowing Sonny Conley would momentarily put a halt to a great race up front. When the race restarted Pearson and Benedum put on a show for the fans on hand as the local contingent was cheering for Benedum to pass Pearson for the lead.
On lap 44 it finally happened as Benedum went to the point for the first time in the race six laps shy of the halfway mark. Benedum would then encounter some heavy traffic as Pearson and Casebolt, who was running third closed the gap. The third caution came out on lap 48 for a slowing Keith Barbara would bunch the field once more. The cars would run two laps until the halfway signal was given with Benedum out in front followed by Pearson, Casebolt, Conley and Johnson. Benedum would build a five car length lead over Pearson and Casebolt by lap 52.
With 40 laps to go Benedum looked to be in control of the race as Pearson and Casebolt were fighting it out for second place. More traffic by lap 63 would see Pearson and Casebolt again close the margin on Benedum. A car making his way to the front was the veteran Rick Aukland. Aukland who started 12th was up to fifth by lap 64 and took fourth from Johnson two laps later. With 30 laps now left in the race Benedum was still holding his own leading Pearson and Casebolt by three lengths.
By lap 75 it was now a four car dogfight with Benedum, Pearson, Casebolt and Aukland all on his tail. They would stayed bunched up until the fourth caution on lap 83 for a stopped Doug Horton would set up a potential 17 lap shootout to the end. The race would restart as both Pearson and Casebolt would take full advantage as Benedum slipped up high on the race track coming off of turn number two. The fifth caution for a stalled car on the backstretch would take place on lap 89.
On the restart Benedum would get the advantage over Casebolt and back into second place behind Pearson. The sixth and final caution would come out on lap 93 for Conley whose fine run ended when he went pit side. With seven laps to go in he race Pearson would then have to contend with both Casebolt and Benedum again as Casebolt got by Benedum for second a lap into the final restart of the race. Pearson would then pull away from Casebolt in the closing laps and go on to record his third series win of the year extending his points lead. Casebolt and Benedum would cross the line second and third with Aukland finishing fourth in front of Johnson.
Afterwards in victory lane Pearson thanked his car owners, crew and sponsors, but really put in a good word for Casebolt and Benedum. "The 25 car (Benedum) was the best car out there tonight, he was real good and probably should have won the race, he slipped up a little coming off of two that one time and I went by him." "We just hung in there and the car was real strong towards the end and that's when you want to be." "Steve (Casebolt) is the most improved driver I have seen this year with the series, he gets better every time out in his new ride and he's going to win in that car soon."
Completing the top ten in the exciting race was Scott Bloomquist, Scott James, Freddy Smith, Don O'Neal and Steve Shaver.
In preliminary action Mike Benedum was the Comp Cams Fast Timer Award Winner for the 57 entries on hand as he clocked a 12.61 second lap around the speedy quarter-mile oval. The PBM Performance Products Heats Races were won by Steve Shaver, Rick Williams, Don O'Neal and Davey Johnson. The Mason Racin' Rebel Shock Dyno First B-Main went to Donnie Moran and the Penske Shocks Second B-Main was won by Tim Dohm. The K&N Engineering "Clean Pass of the Race" went to Earl Pearson, Jr. for his pass on Davey Johnson on lap 29 giving him his first lead of the race. The K&N Engineering "Clean Pass of the Race" is awarded at each Lucas Oil Late Model Dirt Series event during the season and can take place during a heat, B-main or the main event.
The next Lucas Oil Late Model Dirt Series event is scheduled for Friday and Saturday, September 15 and 16 at the West Virginia Motor Speedway in Mineral Wells, WV. On Friday Night there will be Comp Cams Time Trials and on Saturday will be the PBM Performance Products Heat Races, Mason Racin' Rebel Shock Dyno and Penske Shocks B-Mains and the $20,000 to win and $1,000 to start "Racefest World Championship." For more information you can log on to www.wvspeedway.com and www.lucasdirt.com.
Race Summary Lucas Oil Late Model Dirt Series Sunday Night, September 3, 2006 Tyler County Speedway-Middlebourne, WV
Comp Cams Fast Qualifier: Mike Benedum 12.61
PBM Performance Products First Heat: (15 Laps-Top 4 Advance): Steve Shaver, Scott Bloomquist, Gerald Davis, Steve Weigle, Donnie Moran, Freddy Smith, Freddie Carpenter, Lance Elson, Rick Conley, Billy Brown, Dan Shrigley, Jason Brookover, Mike Benedum, Phil Jeffries, Tim Senic
PBM Performance Products Second Heat: (15 Laps-Top 4 Advance): Rick Williams, Kenny Johnson, Corey Conley, Sonny Conley, Greg Baumberger, Robbie Scott, Chuck Harper, Richard Frazier, Roy Roush, Joel Prosser, Danny Pugh, Rick Lucas, Michael England, Jeremy Blake
PBM Performance Products Third Heat: (15 Laps-Top 4 Advance): Don O'Neal, Steve Casebolt, Mark Banal, Butch McGill, Doug Horton, Doug Eaton, Paul Wilmoth, Chris Garnes, D.J. Pellen, Rodney Phillips, Gary Knollinger, Jim Quaigg, Brandon Russell
PBM Performance Products Fourth Heat: (15 Laps-Top 4 Advance): Davey Johnson, Earl Pearson, Jr., Rick Aukland, Keith Barbara, Tim Dohm, Scott Irvin, Scott James, Dan Morrison, Danny Mitchell, Buck Rine, Glynn Booth, Matt Flesher, Joe Loudin
Mason Racin' Rebel Shock Dyno First B-Main: (20 Laps-Top 2 Advance): Donnie Moran, Chuck Harper, Greg Baumberger, Robbie Scott, Freddy Smith, Richard Frazier, Rick Coinley, Mike Benedum, Joel Prosser, Rick Lucas, Billy Brown, Dan Shrigley, Jason Brookover, Roy Roush, Danny Pugh, Michael England, Lance Elson, Jeremy Blake
Penske Shocks Second B-Main: (20 Laps-Top 2 Advance): Tim Dohm, Doug Horton, Scott James, Chris Garnes, Joe Loudin, Rodney Phillips, Gary Knollinger, Dan Morrison, Matt Flesher, Jim Quaigg, D.J. Pellen, Brandon Russell, Doug Eaton, Scott Irvin, Buck Rine
38th Annual Hillbilly 100 Finish: Earl Pearson, Jr., Steve Casebolt, Mike Benedum, Rick Aukland, Davey Johnson, Scott Bloomquist, Scott James, Freddy Smith, Don O'Neal, Steve Shaver, Tim Dohm, Donnie Moran, Mark Banal, Gerald Davis, Corey Conley, Steve Weigle, Doug Horton, Danny Pugh, Rick Williams, Sonny Conley, Keith Barbara, Butch McGill, Chuck Harper, Kenny Johnson
Race Statistics Entries: 57 Caution Flags: 6 Red Flags: 0 Lap Leaders: Davey Johnson 1-28, Earl Pearson, Jr. 29-43, Mike Benedum 44-83, Pearson 84-100 Allstar Performance Performer of the Race: Mike Benedum (Started 23rd and finished 3rd, advanced 20 positions) K&N Engineering Clean Pass of the Race: Earl Pearson, Jr. Hawk Brake Tough Break Award: Corey Conley Quarter Master Move of the Race: Steve Casebolt On the Edge Graphics Fastest Non Qualifier: Michael England Weld Wheels Award: Doug Horton Lucas Oil Late Model Dirt Series Provisionals: Scott James and Freddy Smith Track Provisionals: Mike Benedum and Danny Pugh
---
Submitted By: Jeremy Shields
Back to News