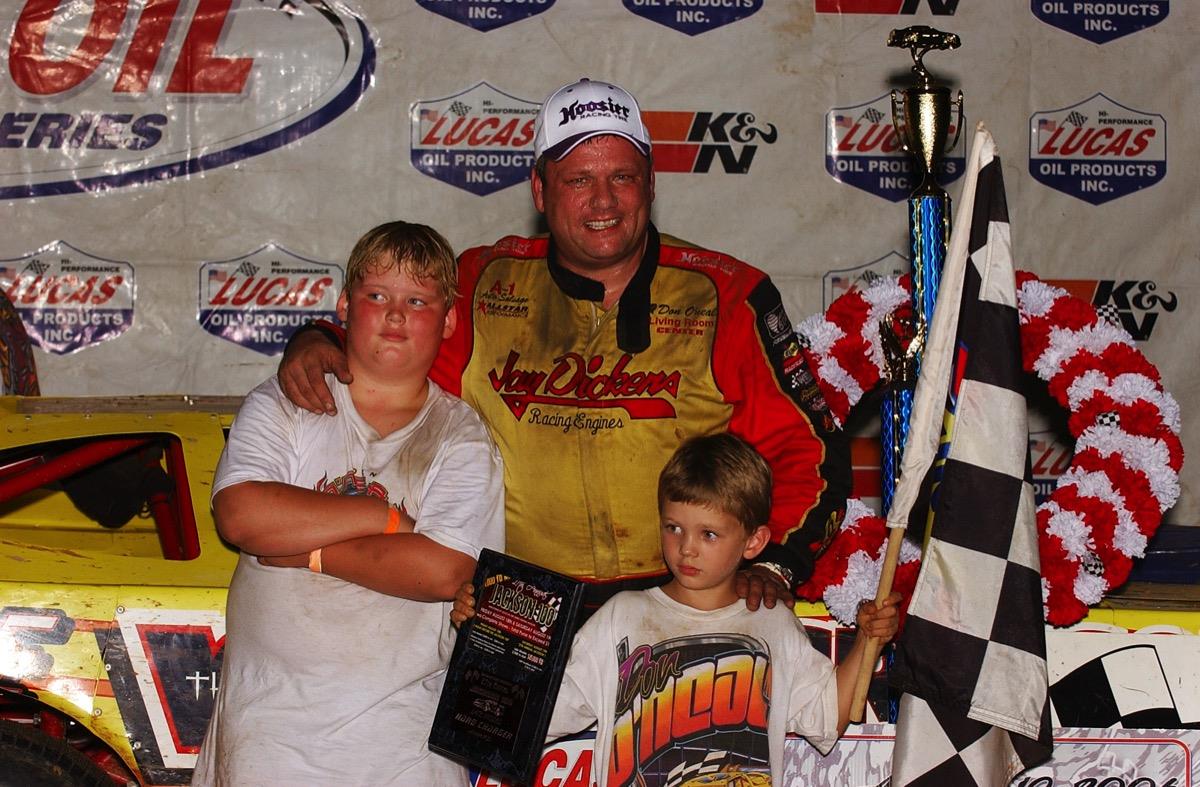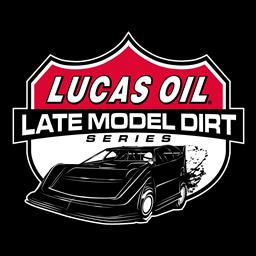 8/19/2006
Lucas Oil Late Model Dirt Series
---
Oh My! It's O'Neal from the Tail to Win the Lucas Oil Late Model Dirt Series Jackson 100 at Brownstown Speedway
BROWNSTOWN, IN (August 19, 2006)- An incredible and action packed 27th Annual Jackson 100 on Saturday Night at the Brownstown Speedway, Lucas Oil Late Model Dirt Series regular Don O'Neal from Martinsville, IN came from the tail to capture his third Jackson 100 and his first Lucas Oil Late Model Dirt Series event of 2006 no doubt earning the $15,000 first place money.
O'Neal who was leading the 27th Annual Jackson 100 on lap 29, brought out a yellow when he spun in turn one, he then restarted on the tail and eventually got back into the lead on lap 75 passing Greg Johnson and then proceeded to stave off Johnson and Brady Smith for his 43rd career win at Brownstown.
O'Neal drove the Randall Eller Motorsports/Independence Lumber/Foxfire Realty LLC/Allstar Performance/Jones Core/Hancock Core/Grayson Farm and Leasing/Budda Bert Transmission/Jay Dickens Racing Engines powered MasterSbilt Monte Carlo to the win becoming the 15th different winner in 26 Lucas Oil Late Model Dirt Series events this season. Brady Smith of Solon Springs, WI would outduel Greg Johnson to the finish line to take second in his AMSOIL/Pro Power Engines/MasterSbilt Monte Carlo with Johnson of Bedford, IN taking third in the John Hall Racing/J&H Construction/Intimidator Grand Prix. Completing the top five were Earl Pearson, Jr. of Jacksonville, FL in the Carlton and Kemp Lamm/Lucas Oil Products/MasterSbilt Ford Taurus and Billy Drake of Bloomington, IL in the Steve Drake/Steidinger Construction/MasterSbilt GTO. A standing room only crowd was on hand as 65 cars were in attendance at the Tim Keithley and Jerry Jones promoted facility. The event was sponsored by Bob Poynter Ford in Seymour, IN.
OH's Bart Hartman and KY's Dustin Neat would start from the front row in the 100 lapper with Hartman quickly grabbing the lead at the start with Dennis Erb, Jr. and Brady Smith in tow. The first caution of the race would come on lap two when Dustin Neat would get crossways coming off of turn number two collecting several cars. The cars of Neat, Justin Rattliff and Patrick Sheltra would take the brunt of the wreck as all three were eliminated from the event with just one lap completed.
On the restart Hartman would again rocket to the point with Smith now running second. Don O'Neal, who started sixth, would gain the second slot racing past Smith on lap four. With five laps in the books Hartman would see O'Neal on the inside as the two would race side by side for the lead with O'Neal forging ahead on lap seven. Hartman who was using the very top line of the well prepared quarter-mile oval would battle back nosing ahead down the straight-aways but O'Neal would lead at the start/finish line.
The second caution on lap nine for Steve Casebolt and Tim Tungate would slow the field momentarily. On the restart O'Neal would maintain the advantage over Hartman with Smith in the hunt as well. Greg Johnson, who started alongside O'Neal in row number three, would start to make some noise as he was up to fourth with Darrell Lanigan charging to fifth after starting 17th.
With 15 laps scored O'Neal was pulling away from Hartman with Smith still third and Lanigan up to fourth in the running order. Current Lucas Oil Late Model Dirt Series points leader, Earl Pearson, Jr. was up to fifth after battling with Johnson for a few circuits. O'Neal would see Hartman close the gap as the two would once again race side by side for the lead in front of the capacity crowd. Lanigan and Pearson would do the same for the fourth spot.
By the 22nd lap O'Neal would start to open up a five car length lead over Hartman. Johnson raced back in the thick of the battle passing Pearson for fifth on lap 23. O'Neal was beginning to catch lap traffic with a quarter of the race complete. He held a six car length lead over the rest of the field as Lanigan was threatening Smith for third. O'Neal would see his lead derailed on the almost fatal lap 29 as he spun in turn number one and was thus being charged for the third caution of the event.
With O'Neal now relegated to the tail Hartman would inherit the lead with Smith, Johnson, Lanigan and Pearson the top five in the lineup. Hartman who had been a contender for the lead would jump at the opportunity to head the field, but Smith and Johnson were going to make it three party dance for the lead. Johnson would get by Smith on lap 35 to take second and then he methodically worked his way to Hartman going underneath him for the lead on lap 42.
As the cars approached the halfway mark Johnson was showing the fast line around with Hartman, Lanigan and Smith in the hunt for the win. But all eyes were on O'Neal, who had to restart 22nd on the grid as he quickly got back into the top ten then made his way to the top five three laps shy of the halfway point. O'Neal was on the move passing Lanigan for third on lap 48 and remarkably he was up to second around Hartman at the 50 lap halfway mark of the event.
It looked like just a matter of time before ONeal would challenge Johnson for the lead, but Johnson was running a career race that O'Neal would still be three to four lengths behind him as the two entered lapped traffic. The fourth caution of the race came out for Freddy Smith on lap 57 and would allow O'Neal and Hartman to restart on Johnsons bumper. When the race went green Johnson would hold the lead with O'Neal and Hartman just as they did earlier in the race going door to door, this time for second.
On lap 68 a caution for Michael England would bunch the field once more. On the restart Johnson was still in front and with 30 laps remaining in the race he would hold a two car length lead over O'Neal and Hartman. A driver positioning himself in a spot to steal the win was Matt Miller. Miler who started 16th was up to fourth by lap 69.
As two more cautions would slow Johnson's momentum on lap 72 and 73 Miller would challenge on the restarts for the lead going to the outside of O'Neal to take second and then just as he was about to overhaul Johnson for the lead the right front of his nosepiece would dig into turn four forcing steering problems which caused him to slow on the front straight and bring out a caution. Miller would pit as his crew thought they had fixed the problem but Miller would not complete another lap after the green came back out as he went pit-side and was done for the night after a strong effort to get to the front.
With 74 laps complete it was Johnson with the lead looking ahead to possibly the biggest payday of his racing career, but O'Neal would have something to say about that and on the lap 75 restart O'Neal blistered by Johnson on the outside coming off of turn four to take over the lead in front of the very vocal capacity crowd. Johnson and Smith would then see O'Neal start to pull away with Pearson running in fourth followed by Lanigan. With ten circuits left it looked good for O'Neal as Johnson and Smith would race all over the track in an attempt to catch O'Neal. When the five to go signal was given Johnson and Smith would have a shot at O'Neal. Both had caught back up to him and were giving him all he wanted in the closing laps.
With two laps to go Johnson was right behind O'Neal with Smith on the outside quarter panel of O'Neal's car. Smith would get great runs off the turns almost pulling even with O'Neal as the trio took the white flag. Smith and Johnson would make one last ditch effort to take the win from O'Neal but both fell just short as O'Neal held his line to the finish line and the loud roar from the crowd. Smith would finish second by one car length just ahead of Johnson in an incredible finish to a well contested race. Pearson would hold off Billy Drake to finish fourth.
In victory lane O'Neal was joined by his mother, his wife Becky and sons Houston and Hudson and several well wishers. After his interview with SPEED Channel O'Neal was still excited over his comeback win. "I just said to myself keep your cool and I knew I had a good enough car to get back up there." said O'Neal after having to go the tail for his spin on lap 29. "I never stopped on the track, but I guess they threw the caution for me and sometimes that's the way it goes, but I knew there were a lot of laps left and I just took my time and everything fell our way after that." "I just want to thank my crew, especially Gary DeWitt, Sr. and his son and everyone else, they have worked their tails off on this car and it was super fast all weekend here."
Completing the top ten were Lanigan, Brad Neat, Scott James, Donnie Moran and John Gill.
In preliminary action Earl Pearson, Jr. took the Comp Cams Fast Time with a lap of 14.585 seconds among the 65 entrants. The six PBM Performance Products Heat Races were won by Brady Smith, Dustin Neat, Bart Hartman, Dennis Erb, Jr., Greg Johnson and Don O'Neal. The Mason Racin' Rebel Shock Dyno First B-Main was captured by Steve Casebolt and the Penske Shocks Second B-Main went to Billy Drake. The K&N Engineering "Clean Pass of the Race" would have several drivers contending for that honor, but Don O'Neal would take the award as he twice lead the Jackson 100 taking the lead for good passing Greg Johnson 25 laps from the finish. The K&N Engineering "Clean Pass of the Race" is awarded at each and every Lucas Oil Late Model Dirt Series event in 2006 and can occur during a heat race, consy or the main event.
Pre-race festivities for the 27th Annual Jackson 100 sanctioned for the first time by they Lucas Oil Late Model Dirt Series would include appearances by Indianapolis Colts cheerleaders, along with Jackson Co Indiana native Forrest Lucas and his wife Charlotte Lucas, owners of Lucas Oil Products. During on track pre-race driver introductions Forrest Lucas presented promoters Tim & Farah Keithley and Jerry & Bonnie Jones with tickets to an Indianapolis Colts football game for their efforts and dedication to the historic Brownstown Speedway in 2006.
The next Lucas Oil Late Model Dirt Series event will take place on Saturday Night, August 26 at the Bluegrass Speedway in Bardstown, KY. The 6th Annual "Bluegrass Classic" will pay $10,000 to win and $700 to start the main event. For more information you can visit www.bluegrass-speedway.com and www.lucasdirt.com.
Race Summary Lucas Oil Late Model Dirt Series Saturday Night, August 19, 2006 Brownstown Speedway-Brownstown, Indiana
Comp Cams Fast Qualifier: Earl Pearson, Jr. 14.585 seconds
PBM Performance Products First Heat: (10 Laps-Top 3 Advance): Brady Smith, Earl Pearson, Jr., Michael England, Kerry Hansen, Josh Richards, Mike Marlar, Jimmy Owens, Bryan Barber, Josh Williams, Randey Riggle, Scottie Jones
PBM Performance Products Second Heat: (10 Laps-Top 3 Advance): Dustin Neat, Justin Rattliff, Donnie Moran, Steve Casebolt, Doug Ault, Scott James, Jeremy Masters, Jason Jameson, Marty O'Neal, Tim Prince, Mark Bechelli
PBM Performance Products Third Heat: (10 Laps-Top 3 Advance): Bart Hartman, Steve Francis, John Gill, Jesse James Lay, John Mason, Brad Neat, Brad Erwin, Wayne Chinn, Matt Huddleston, Steve Hillard, Mike Jewell
PBM Performance Products Fourth Heat: (10 Laps-Top 3 Advance): Dennis Erb, Jr., Freddy Smith, Matt Miller, Tim Tungate, C.J. Rayburn, Chad Kinder, Jordan Bland, Frankie Coomer, Dan Sturgeon, Rickey Riggle, Blake Chinn
PBM Performance Products Fifth Heat: (10 Laps-Top 3 Advance): Greg Johnson, Chris Combs, Darrell Lanigan, Billy Drake, Bodine Massengill, Shannon Reed, Steven Godsey, Mark Barber, Ryan Eads, Greg Ault, Justin Blackwell
PBM Performance Products Sixth Heat: (10 Laps-Top 3 Advance): Don O'Neal, Patrick Sheltra, Steve Shaver, Kevin Weaver, Chad Smith, Brad Barrow, Jeep VanWormer, Gary Harden, Cody Mahoney, Steve Barnett
Mason Racin' Rebel Shock Dyno First B-Main: (12 Laps-Top 2 Advance): Steve Casebolt, Kerry Hansen, Jesse James Lay, Mike Marlar, Doug Ault, Wayne Chinn, Marty O'Neal, Tim Prince, Jimmy Owens, Brad Erwin, Josh Williams, Mark Bechelli, Jeremy Masters, Jason Jameson, Scottie Jones, Randey Riggle, Matt Huddleston, John Mason, Josh Richards, Scott James, Brad Neat, Bryan Barber
Penske Shocks Second B-Main: (12 Laps-Top 2 Advance): Billy Drake, Tim Tungate, Jeep VanWormer, Bodine Massengill, Chad Kinder, Steve Barnett, Shannon Reed, Steven Godsey, Justin Blackwell, Chad Smith, Frankie Coomer, Cody Mahoney, Rickey Riggle, C.J. Rayburn, Gary Harden, Ryan Eads, Jordan Bland, Greg Ault, Kevin Weaver, Dan Sturgeon, Brad Barrow, Mark Barber
27th Annual Jackson 100 Finish: Don O'Neal, Brady Smith, Greg Johnson, Earl Pearson, Jr., Billy Drake, Darrell Lanigan, Brad Neat, Scott James, Donnie Moran, John Gill, Freddy Smith, Steve Shaver, Tim Prince, John Mason, Matt Miller, Bart Hartman, Dennis Erb, Jr., Michael England, Chris Combs, Kerry Hansen, Steve Casebolt, Steve Francis, Tim Tungate, Dustin Neat, Justin Rattliff, Patrick Sheltra
Race Statistics: Entries: 65 Yellow Flags: 8 Red Flags: 1 Lap Leaders: Bart Hartman 1-6, Don O'Neal 7-28, Hartman 29-41, Greg Johnson 42-74, O'Neal 75-100 Allstar Performance Performer of the Race: Brad Neat (Started 25th and finished 7th-advanced 18 positions) K&N Engineering Clean Pass of the Race: Don O'Neal Hawk Brake Tough Break: Matt Miller Quarter Master Move of the Race: Greg Johnson Lucas Oil Late Model Dirt Series Rookie of the Race: Brady Smith Lucas Oil Late Model Dirt Series Provisionals: Scott James and John Mason Track Provisionals: Brad Neat (From Friday Night's Preliminary) and Tim Prince (Points) On the Edge Graphics Fastest Non-Qualifier: Jeep VanWormer Weld Wheels Award: Chris Combs
---
Submitted By: Jeremy Shields
Back to News