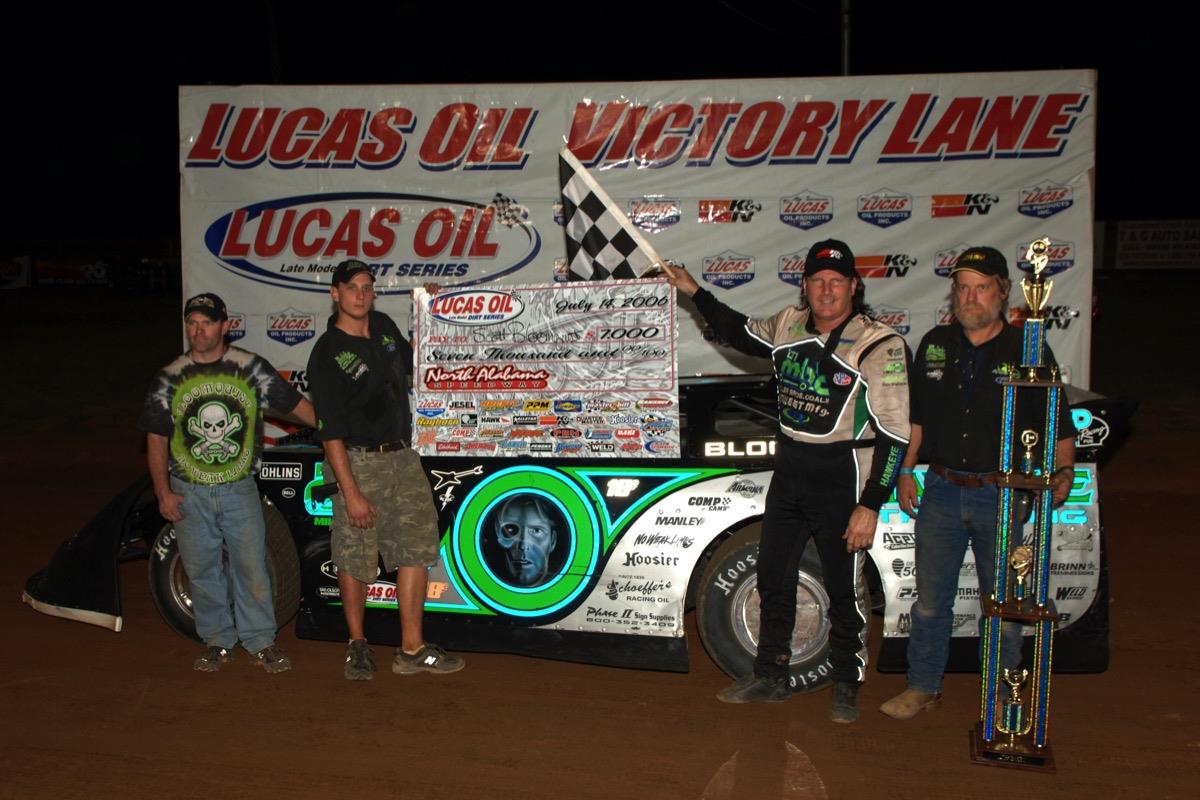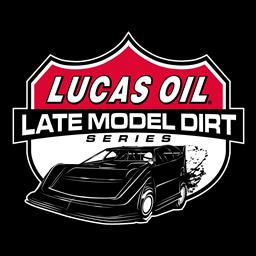 7/14/2006
Lucas Oil Late Model Dirt Series
---
Scott Bloomquist Wins Lucas Oil Late Model Dirt Series Heart of Dixie 40 at North Alabama
TUSCUMBIA, AL (July 14, 2006)- Taking the lead at the start of the "Heart of Dixie 40" on Friday Night at the North Alabama Speedway Scott Bloomquist of Mooresburg, TN led every lap in taking the $7,000 first place money as he scored his fifth Lucas Oil Late Model Dirt Series event of 2006.
Overall this year Bloomquist has won 11 main events in just 16 starts as he drove his Miller Brothers Coal/Hawkeye Trucking/Allstar Performance/Sweet Manufacturing/Ohlins/K-B Carburetors/VP Racing Fuels/Vic Hill Racing Engines/Bloomquist Race Cars Chevrolet to victory at North Alabama outlasting three caution flags in leading Don O'Neal by six car lengths to the checkers. O'Neal of Martinsville, In took the runner-up cash in the Randall Eller/Independence Lumber/MasterSbilt Monte Carlo with current series points leader, Earl Pearson, Jr. of Jacksonville, FL coming home third in the Carlton and Kemp Lamm/Lucas Oil Products/MasterSbilt Ford Taurus. Billy Moyer of Batesville, AR was fourth in the J&J Steel/Pro Power Engines/C.J. Rayburn Monte Carlo with Chris Wall of Holden, LA finishing fifth in the C&M Gator Farm/Wall2Wall Performance Engines/MasterSbilt Monte Carlo. A standing room, overflow crowd was on hand as 38 cars were in attendance at the Jeff Greer promoted facility.
Ronny Lee Hollingsworth and Bloomquist started from the front row of the main event as Bloomquist would grab the point down the back straight on the opening circuit going by Hollingsworth using the outside line. Byron Michael was running third with fifth starting Don O'Neal a close fourth with one lap scored. O'Neal would wait two laps before dropping Michael to fourth. Billy Moyer, who started ninth had moved to sixth by the fifth lap then went by two more cars a lap later to put his car in fourth.
Earl Pearson, Jr. was another car on the move as he was up to fifth challenging Moyer for fourth. With ten laps scored Hollingsworth was still mounting a challenge for the lead pressuring Bloomquist until O'Neal would catch the two frontrunners and pass Hollingsworth for second on lap eight. Bloomquist and O'Neal then would pull away from Hollingsworth as the leading duo would enter traffic by the 10th circuit.
O'Neal closed on Bloomquist rapidly as the two encountered some heavy traffic around the racy 3/8ths mile oval. The race for third was heating up as Moyer and Pearson went by Hollingsworth for third and fourth. O'Neal would get within a car length of Bloomquist before the first caution of the race fell on lap 21 for a three car accident in turn four. Then four laps later Tony Morris would bring out the second caution when he stopped in turn three.
With 30 laps in the books Bloomquist was holding a three to four car length advantage over O'Neal with Moyer, Pearson and Chris Wall up to fifth place. After 30 laps were complete the third caution was out for Garrett Durrett. This would set up a potential ten lap shootout between Bloomquist and O'Neal. On the final restart of the race Bloomquist would pull away and make it at least seven car lengths over O'Neal with five laps remaining. Meanwhile Moyer and Pearson were fighting it out for third place running side by side as Wall settled in fifth.
With just a few laps remaining Bloomquist was still in control of the race as O'Neal was unable to mount a challenge to him in the final laps as Bloomquist would win by six car lengths. Pearson and Moyer would take their battle to the last lap with Pearson just nipping Moyer at the finish line for third place. Wall in his first ever Lucas Oil Late Model Dirt Series event would take fifth.
In victory lane Bloomquist said "the longer my car ran the better it got." "The track was completely different tonight than the last time we were here." "It was a lot slicker and we had to go a lot a harder on tires this time, on the restarts we had to be careful, but it took us a lap or two to get our momentum going and the car was just terrific." Bloomquist's season earnings are now well over the $200,000 mark competing on a very limited schedule than in the past.
Completing the top ten were Steve Casebolt, Brad Neat, Jay Blair, Donnie Moran and Matt Miller.
In preliminary action Eddie Rickman was the Comp Cams Fast Timer for the 38 car field with a near track record breaking lap of 13.59 seconds. The track record is 13.56 held by Daniel Miller. The PBM Performance Product Heat Races were won by Byron Michael, Scott Bloomquist, Ronny Lee Hollingsworth and Garrett Durrett. The Mason Racin' Rebel Shock First B-Main went to Eddie Rickman and the Penske Shocks Second B-Main was taken by Donnie Moran. The K&N Engineering "Clean Pass of the Race" went to Garrett Durrett for his winning pass in the fourth heat race. Durrett passed Chris Wall on the final lap to take the win. The K&N Engineering "Clean Pass of the Race" is awarded at each Lucas Oil Late Model Dirt Series event and can take place during a heat, consy or feature event.
The Lucas Oil Late Model Dirt Series will be in action on Saturday Night, July 1 at the Columbus Speedway in Columbus, MS for the 8th Annual James Nickoles Memorial Race paying $10,000 to win. The cameras of SPEED Channel will be on hand to tape the event which will be shown on a date and time to be announced in the future.
Next weekend the series will race three nights in the Midwest with over $120,000 in prize money up for grabs on Friday Night, July 21 at the historic Knoxville Raceway in Knoxville, IA, Saturday Night, July 22 at the Lucas Oil Speedway in Wheatland, MO and Sunday Night July 23 a the Tri City Speedway in Pontoon Beach, IL. All three events will pay $10,000 to win and the cameras of SPEED Channel will be on hand to tape all the three races which will be shown on a date and time to be announced in the future.
Race Summary Lucas Oil Late Model Dirt Series Friday Night, July 14, 2006 North Alabama Speedway-Tuscumbia, AL
Comp Cams Fast Qualifier: Eddie Rickman 13.59 seconds
PBM Performance Products First Heat: (10 Laps-Top 4 Advance)" Byron Michael, Don O'Neal, Billy Moyer, Brad Neat, Robert Gant, Jeremy Taylor, Anthony Burroughs, Eddie Rickman, Jay Blair, Scott James
PBM Performance Products Second Heat: (10 Laps-Top 4 Advance): Scott Bloomquist, Earl Pearson, Jr., Tony Morris, Mat Miller, Jay Brinkley, Daniel Miller, Jon Miller, Tim Busha, Michael England, Nik Howell
PBM Performance Products Third Heat: (10 Laps-Top 4 Advance): Ronny Lee Hollingsworth, Steve Casebolt, Jamie Elam, Donovan Henry, Donnie Moran, Chris Ragan, Jessie Bailey, Mark Mears, Billy Flanagan
PBM Performance Products Fourth Heat: (10 Laps-Top 4 Advance): Garrett Durrett, Chris Wall, Dean Carpenter, Bub McCool, Kelly Hanvey, Rick Rickman, Jason Cliburn, Jerry Inmon, Freddy Smith
Mason Racin' Rebel Shock Dyno First B-Main: (12 Laps-Top 3 Advance): Eddie Rickman, Jay Blair, Scott James, Jay Brinkley, Jon Miller, Michael England, Daniel Miller, Robert Gant (DNS), Jeremy Taylor (DNS), Anthony Burroughs (DNS), Tim Busha (DNS), Nik Howell (DNS)
Penske Shocks Second B-Main (12 Laps-Top 3 Advance): Donnie Moran, Chris Ragan, Jerry Inmon, Mark Mears, Freddy Smith, Kelly Hanvey, Billy Flanagan, Jason Cliburn, Jessie Bailey, Rick Rickman
Heart of Dixie 40 Feature Finish: Scott Bloomquist, Don O'Neal, Earl Pearson, Jr., Billy Moyer, Chris Wall, Steve Casebolt, Brad Neat, Jay Blair, Donnie Moran, Matt Miller, Ronny Lee Hollingsworth, Bub McCool, Scott James, Jamie Elam, Jerry Inmon, Chris Ragan, Michael England, Dean Carpenter, Donovan Henry, Freddy Smith, Garrett Durrett, Eddie Rickman, Tony Morris, Byron Michael
Race Statistics Entries: 38 Yellow Flags: 3 Red Flags: 0 Lap Leaders: Scott Bloomquist 1-40 Allstar Performance Performer of the Race: Donnie Moran (started 18th and finished ninth, advanced nine positions) K&N Engineering Clean Pass of the Race: Garrett Durrett Hawk Brake Tough Break Award: Byron Michael Quarter Master Move of the Race: Billy Moyer On the Edge Graphics Fastest Non-Qualifier: Jason Cliburn Weld Wheels Award: Brad Neat Lucas Oil Late Model Dirt Series Rookie of the Race: Steve Casebolt Lucas Oil Late Model Dirt Series Provisionals: Freddy Smith and Michael England
---
Submitted By: Jeremy Shields
Back to News