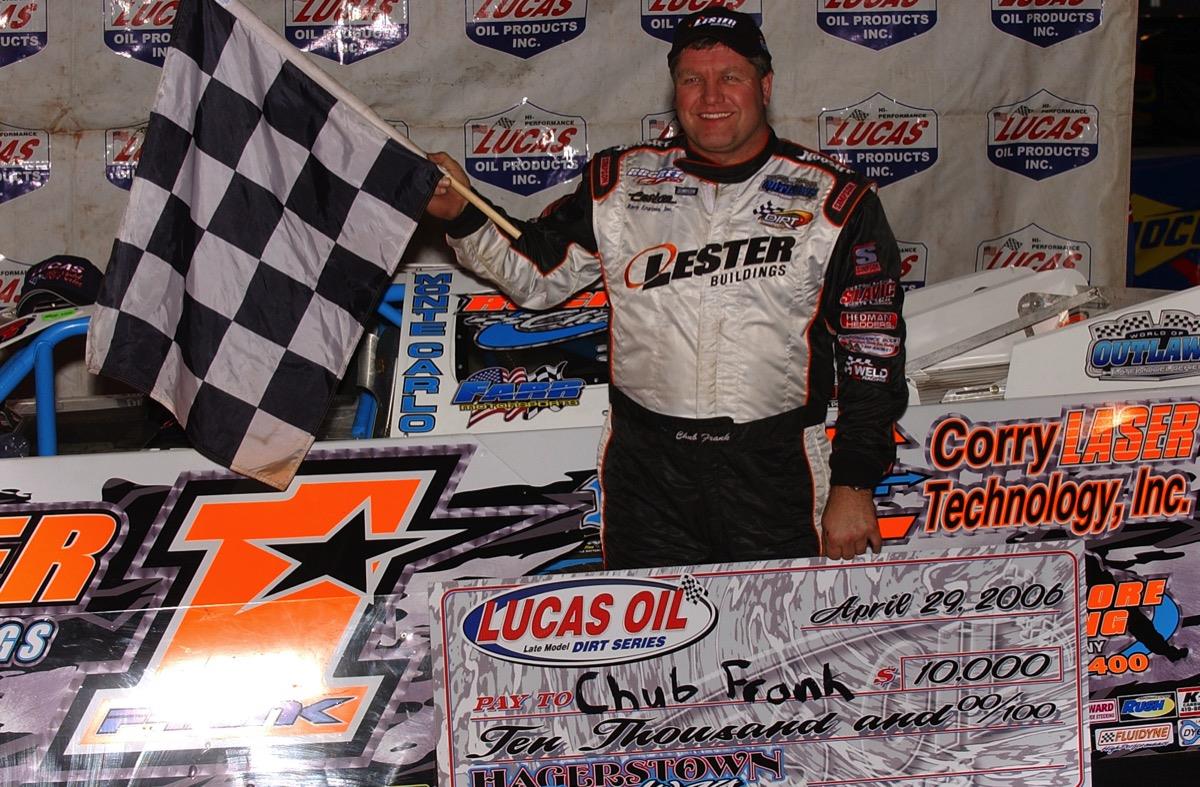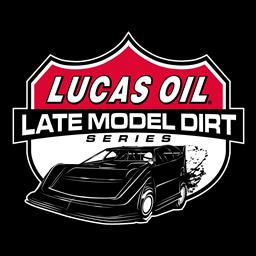 4/29/2006
Lucas Oil Late Model Dirt Series
---
Chub Frank Flies to Lucas Oil Late Model Dirt Series Win at Hagerstown Speedway
HAGERSTOWN, MD (April 29, 2006)- Chub Frank of Bear Lake, PA recorded his first career Lucas Oil Late Model Dirt Series win as he captured the 25th Annual Stanley Schetrompf Memorial on Saturday, April 29th at the Hagerstown Speedway.
Frank led all 50 laps in securing the $10,000 win becoming the ninth different winner in 11 races of the 2006 season. The 44 year old Pennsylvania racer driving the Lester Buildings/Corry Rubber Corporation/Nystrom's Auto Sales/Lake Shore Paving/Corry Laser Technology/Hoosier Tires/All Star Performance/Outlaw Disc Brakes/Flinner Signs and Decals/Custom Race Engine sponsored Rocket Chevrolet Monte Carlo would outpace runner-up Earl Pearson, Jr. of Jacksonville, FL in the Carlton and Kemp Lamm/Lucas Oil Products/MasterSbilt Ford Taurus for the victory. Rick Eckert of York, PA finished third in the Raye Vest owned/Raye Vest Excavating/Rocket Ford Fusion followed by Gary Stuhler of Greencastle, PA in the Glenn Nininger owned/Nininger's Tire and Auto Center/MasterSbilt GTO with Steve Casebolt of Richmond, IN coming home in fifth in the Casebolt Racing/Dargie Race Engines/Rocket Ford Taurus. A total of 50 cars were on hand for the Series' first ever visit to Frank Plessinger's Hagerstown Speedway.
Earl Pearson, Jr. and Chub Frank drew the front row out of the four heat race winners with Frank getting the jump over Pearson heading into turn one at the drop of the green flag. Rick Eckert would quickly move to third in front of Steve Casebolt and Steve Shaver. The race was going along smoothly until a caution on lap five for Damon Eller slowed the race's momentum. On the restart Mike Balzano, who had started tenth bolted up to fourth around both Shaver and Casebolt. Casebolt would have none of it getting back around Balzano two circuits later to recapture fourth.
By lap 12 Frank had set sail and was up to a six car length advantage over Pearson who was still running in second several lengths in front of Eckert. However by lap 16, Pearson had trimmed Frank's lead as he sprinted to just one car length behind making it a much closer margin. Pearson would begin to challenge Frank for the lead as Eckert and Casebolt were starting to close on the two frontrunners. With the race getting the crossed flags at the 25 lap halfway mark it was Frank, Pearson, Eckert, Casebolt and Balzano the top five cars.
One car advancing quietly to the front was all-time Hagerstown Speedway Late Model feature winner, Gary Stuhler, who had started in 11th. Stuhler was able to pass Balzano on lap 27 to take over the fifth slot. At this point of the race Frank had again gotten away from Pearson's sight stretching his lead to a three second advantage over Pearson as the two fought through traffic. With 36 laps in the books Frank had a clear race track as he had negotiated traffic in a timely and efficient manner. Meanwhile Pearson was starting to get attention from Eckert as he had closed on Pearson in the race for second place. Stuhler went around Casebolt to get the fourth slot dropping Casebolt to fifth.
With 15 laps to go Frank had built a sizable lead over the field and had lapped all the way up to the 12th position. But to show it is not over until it's over a third and final caution would wave for Jason Covert who slowed in turn number one with a flat tire on lap 46. The Delaware double file restart would see Frank in front by himself followed by the pairing of Pearson and Eckert with Stuhler and Casebolt side by side behind them on the restart. When the final restart of the race would get the go signal Frank would jump to a three car length lead over Pearson heading off of turn number two.
With two circuits to go Pearson would mount one final charge on "Chubzilla", but Frank was just too strong on this night as he would go on to record his first career Lucas Oil Late Model Dirt Series event. Pearson would finish second and take over the points lead by 25 points over Donnie Moran heading into an off weekend for the series. Eckert finished third followed by Stuhler and Casebolt. "I want to thank all my crew and everyone here, the track was great all night long, the car was a little tight early on and I saw Earl stick his nose in there a couple of times, but it handled real well in traffic and I am pleased to get this win." said the 2004 World 100 winner in victory lane afterwards.
"I also want to especially thank all of my great sponsors including Lester Buildings and everyone associated with them, we couldn't do this without a lot of help from them and everyone else on the car along with the product sponsors we have, they are all a tremendous help with our race team." Completing the top ten were 13th starting, Matt Miller, Donnie Moran, Darren Miller, Mike Balzano and Josh Richards.
In preliminary action Chub Frank was the Comp Cams Fast Timer for the 50 cars on hand wit a lap of 18.856 seconds around the half-mile oval. The PBM Performance Products Heat Races were won by Chub Frank, Rick Eckert, Steve Casebolt and Earl Pearson, Jr. The Mason Racin' Rebel Shock Dyno First B-Main went to Don O'Neal and the Penske Shocks Second B-Main was taken by Nathan Durboraw. The Lucas Oil Late Model Dirt Series will resume its 2006 racing schedule on Saturday Night, May 13th with a visit to the Tazewell Speedway in Tazewell, TN for a $10,000 to win main event.
Race Summary Lucas Oil Late Model Dirt Series Hagerstown Speedway-Hagerstown, MD Saturday Night, April 29, 2006
Comp Cams Fast Qualifier: Chub Frank 18.856 seconds
PBM Performance Products First Heat: (10 Laps-Top 4 advance): Chub Frank, Nick Dickson, Donnie Moran, Matt Miller, Don O'Neal, Jeremy Miller, Doug Horton, John Mason, J.T. Spence, Corey Conley, Devin Friese, Brian Booze, Terry Lescalleet
PBM Performance Products Second Heat: (10 Laps-Top 4 advance): Rick Eckert, Steve Shaver, Mike Balzano, Scott James, Freddy Smith, Brady Smith, Michael England, Allen Brannon, Al Shawver, Jr., Frankie Plessinger, D.J. Troutman, Steve Hillard, Bo Feathers
PBM Performance Products Third Heat: (10 Laps-Top 4 advance): Steve Casebolt, Ricky Elliott, Gary Stuhler, Darryl Hills, Jason Covert, Jonathan DeHaven, Tim Dohm, Sean Cosgrove, Roy Deese, Jr., Paul Crowl, Keith Barbara, Tim Murphy
PBM Performance Products Fourth Heat: (10 Laps-Top 4 advance): Earl Pearson, Jr., Josh Richards, Darren Miller, Nathan Durboraw, Damon Eller, Alan Sagi, Jim Bernheisel, Andy Anderson, Ronnie DeHaven, Jr., Ray Love, Jr., Jeep VanWormer
Mason Racin' Rebel Shock Dyno First B-Main: (12 Laps-Top 3 advance): Don O'Neal, Bo Feathers, Freddy Smith, Jeremy Miller, Brady Smith, Devin Friese, Allen Brannon, Michael England, J.T. Spence, Corey Conley, Brian Booze, John Mason, Frankie Plessinger, Al Shawver, Jr., Terry Lescalleet, Doug Horton, D.J. Troutman
Penske Shocks Second B-Main: (12 Laps-Top 3 advance): Nathan Durboraw, Jason Covert, Damon Eller, Jim Bernheisel, Jonathan DeHaven, Sean Cosgrove, Alan Sagi, Andy Anderson, Keith Barbara, Tim Dohm, Ray Love, Jr., Paul Crowl, Ronnie DeHaven, Jr.
25th Annual Stanley Schetrompf Memorial Feature: (50 Laps): Chub Frank, Earl Pearson, Jr., Rick Eckert, Gary Stuhler, Steve Casebolt, Matt Miller, Donnie Moran, Darren Miller, Mike Balzano, Josh Richards, Don ONeal, Steve Shaver, Bo Feathers, Freddy Smith, Tim Dohm, Damon Eller, Darryl Hills, Doug Horton, Jason Covert, Nick Dickson, Nathan Durboraw, Scott James, Davey Johnson, Ricky Elliott, Allen Brannon
Race Statistics Entries: 50 Caution Flags: 3 Red Flags: 0 Lap Leaders: Chub Frank 1-50 All Star Performance Performer of the Race: Matt Miller (started 13th and finished 6th) advanced seven positions K&N Engineering Clean Pass of the Race: Bo Feathers (from the tail of the consy to finish second) Hawk Brake Tough Brake Award: Nick Dickson Quarter Master Move of the Race: Gary Stuhler Weld Wheels Award: Don O'Neal Lucas Oil Late Model Dirt Series Rookie of the Race: Steve Casebolt Lucas Oil Late Model Dirt Series Provisionals: Doug Horton and Tim Dohm Track Provisional: Allen Brannon
---
Submitted By: Jeremy Shields
Back to News