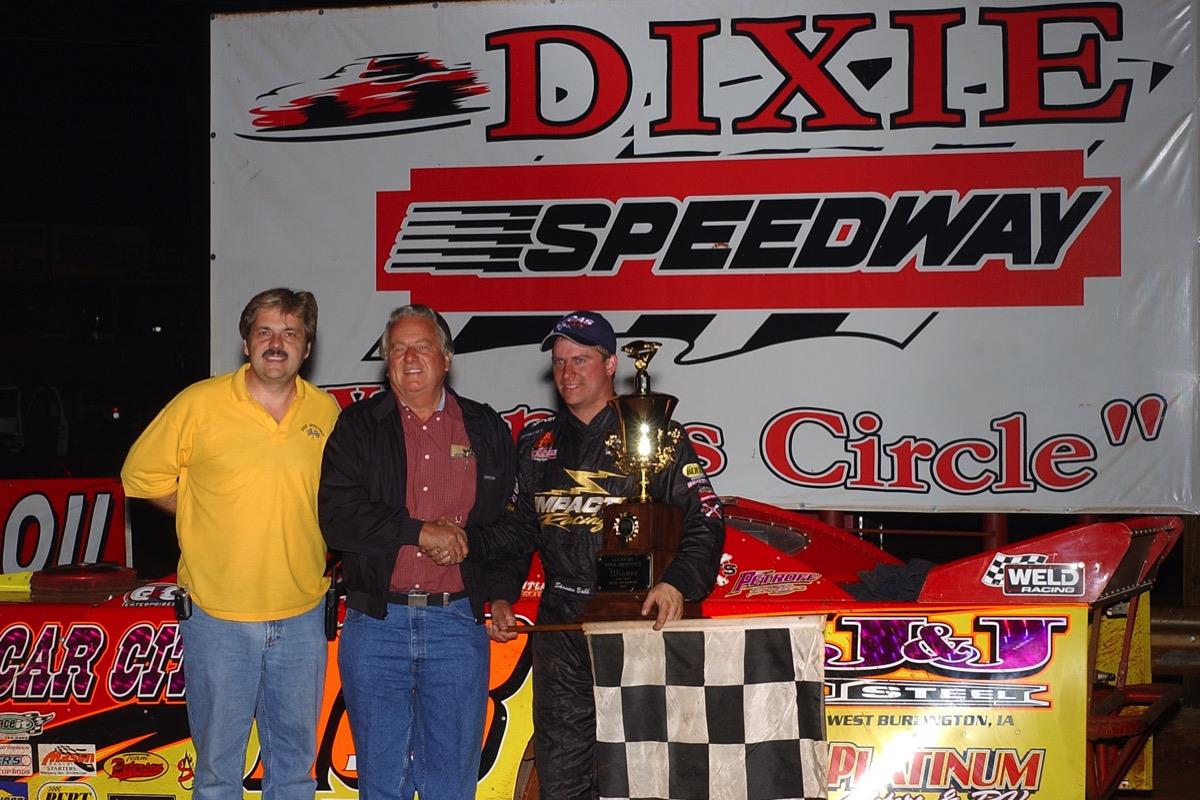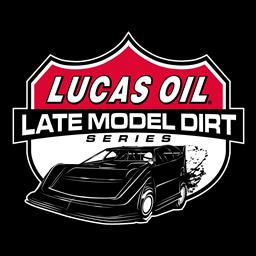 10/8/2005
Lucas Oil Late Model Dirt Series
---
Shannon Babb Banks $15,000 in Taking His Second Straight Lucas Oil Dixie Shootout Win
WOODSTOCK, GA (October 8, 2005)-Shannon Babb of Moweaqua, IL held off Earl Pearson, Jr. and Jake Knowles to win the 16th Annual Lucas Oil Dixie Shootout Presented by Coca-Cola on Saturday Night at the Dixie Speedway. For the 31 year old Babb, the 2004 NARA DirtCar Series Champion he earned $10,000 in purse money for winning plus an additional $5,000 bonus that was offered for being a former Dixie Shootout champion who could win the 50 lap main event. Friday Night's "Jimmy Mosteller Classic" was cancelled due to all day rains and will not be made up.
Babb was the third different leader of the highly competitive feature as he took the lead on the 11th lap and led the rest of the way. Babb was behind the wheel of the Arkansas Motors/Car City/J&J Steel/Watters Autoland/Performance Rod and Custom/Wicks Racing Products/Platinum Motors/G&C Engineering/All-Star Performance/Hoosier Tires/RaceTek Race Engines sponsored C.J. Rayburn Monte Carlo has he scored his 22nd win overall this year and became the 19th different driver to win a Lucas Oil Late Model Dirt Series race in 2005.
Earl Pearson, Jr. of Jacksonville, FL finished a close second in the Carlton and Kemp Lamm/Lucas Oil Products/MasterSbilt Ford Taurus and in doing so took over the series points lead from Don O'Neal with one race left. Pearson leads O'Neal by 55 points heading into the series finale at Kentucky Lake Motor Speedway on October 29th. 12th place starter and 20 year old Jake Knowles of Tyrone, GA was third in the Mike Stuart/M&S Concrete/Rocket Monte Carlo. Completing the top five was Ray Cook of Brasstown, NC in the Engines Inc/MasterSbilt Ford Taurus and Darren Miller of Chadwick, IL in the Out Pace/Pro Power Engines/Rocket Ford Taurus. A total of 69 cars were on hand for the yearly event.
The 50 Lap Lucas Oil Dixie Shootout saw Randy Weaver and Ray Cook start on the front row as both drivers were looking to score their first career Dixie Shootout victory. In fact the first three rows were made up of drivers seeking to etch their names for the first time on the Dixie Speedway win list for this popular event. On the initial start there would be a three car pileup in turn two which would force a complete restart. Once the race got going it was Cook looking like to man to beat as the veteran driver pull out in front with Weaver and Earl Pearson, Jr. who started third in close pursuit. Gary McPherson would bring out the caution on lap 3 slowing the action. Pearson by then had gotten around Weaver and was running in second. On the Delaware double file restart Cook would again show the way with Pearson all over him for the lead. Eighth place starter and defending Dixie Shootout champion, Shannon Babb would be a force to be reckoned with. Coming on strong through the field was Babb as he went by Weaver on lap six to take over third place. Pearson then would go to the front of the field passing Cook on lap eight to take over the point.
The race really started to heat up on lap 9 as Babb overhauled Cook using the top side to go to second. Babb then pulled alongside Pearson and the two would race side by side by two laps until Babb was finally able to forge ahead on lap 11. By lap 16 the running order was Babb, Pearson, Cook, Weaver and former Shootout winner, Wendell Wallace. Wallace however would see a good run go awry on lap 19 with a spin forcing him to the tail. On the restart the fastest car appeared to be young gun, Jake Knowles. Knowles, who started in 12th was making his debut in the Dixie Shootout and drove like a seasoned veteran. Knowles was up to fourth at this point and was all over Cook for third. Up front Babb and Pearson had pulled away from Cook and Knowles and started to enter lapped traffic again. At the halfway mark Babb was still in front with Pearson starting to pressure him again. Cook was receiving heavy pressure from Knowles for third and Darren Miller was now in fifth.
With half the race in books the last 25 laps would be a true shootout in the race for the lead. By lap 31 Babb and Pearson were racing in heavy traffic when 2005 Dixie Speedway Late Model Track Champion, Tim Day would bring out the third caution in turn four. The race would go green for two more laps until the fourth and final caution would come out for a stalled Wendell Wallace on lap 34. On what would be the final restart of the race Babb, Pearson, Cook, Knowles and Miler would set sail in the final 16 laps to decide who would be the 2005 Shootout winner. Knowles would fire the first shot passing Cook on lap 44 to take third. With six laps to go it looked like it would come down to Babb and Pearson, but the youngster, Knowles would have something to say about that. With more traffic in the last five circuits Pearson was able to close on Babb. Pearson took a couple of shots at passing Babb for the lead in the final few laps pulling alongside of Babb, but Babb would fight off all of Pearson's best efforts as he would go on to take his second consecutive Lucas Oil Dixie Shootout victory. Pearson finished second by one car length with Knowles right on the front runners at the end as he just simply ran out of laps in his bid to upset the field. Cook finished fourth followed by Miller.
In victory lane a relieved Babb spoke of his battle with Pearson. "That was a tough one to win here tonight, the competition was stout and I figured it was Earl on me hard a couple of times trying to pass me. The traffic was little tedious and it kind of held me up a bit, but the track was well prepared and you could race on it anywhere." "We went back to some notes we took here last year after winning and it paid off tonight, because the track was real similar last year and we set the car up to run the top side and it worked out great."
Completing the top ten were Frank Ingram, Billy Ogle, Jr., Freddy Smith, Randy Weaver and 24th place starter, Scott James.
Pearson came into the race 25 points behind Don O'Neal in the race for the 2005 Lucas Oil Late Model Dirt Series Championship. After setting fast time for the night Pearson had earned the 10 bonus points for that feat and the lead was now down to 15 points as the two started the feature. Pearson started third and O'Neal started in 19th. In the final rundown Pearson as mentioned, finished 2nd and O'Neal was 14th after running as high as seventh in the race. Heading to the final race of '05 at Kentucky Lake Motor Speedway in Calvert City, KY on October 29 Pearson now leads O'Neal by 55 points.
Race Summary
Lucas Oil Late Model Dirt Series
Dixie Speedway-Woodstock, GA
Saturday Night, October 8, 2005
Fast Qualifier: Earl Pearson, Jr. 14.723 seconds
Heat #1: Earl Pearson, Jr., Wendell Wallace, Marshall Green, Don O'Neal, Brandon Rose, Donnie Moran, Kenneth Westmoreland, Steve Warren, Jerry Bradley, Phil Coltrane
Heat #2: Darren Miller, Shannon Babb, Shane Tankersley, Tim Dohm, Rodney Martin, Jody Davis, Don Farmer, Ronnie Payne, Devin Sebree, Brady Smith, Steve Casebolt, Jr., Chuck Laney
Heat #3: Skip Arp, Freddy Smith, Wayne Echols, Mike Marlar, David Payne, Kent Hicks, Scotty Chatham, Bryan Sumner, Lamar Haygood, James Roulette
Heat #4: Randy Weaver, Billy Ogle, Jr., Gary McPherson, Ricky Williams, Jeff Smith, Laddie Fulcher, Vic Hill, Shane Fulcher, Tracy Pearson, Craig Scott
Heat #5: Tim Day, Frank Ingram, Jonathan Davenport, Joe Armistead, Jr., Jeff Cooke, Brett Wyatt, Sam Ruff, Tyson Herrell, Derrick Rainey, Bobby Turner
Heat #6: Ray Cook, Jake Knowles, Aaron Ridley, Dale McDowell, Mark Douglas, Rex Richey, mike Head, Matt Hubbard, Johnny Chastain, Scott James
First B-Main: Don O'Neal, Tim Dohm, Donnie Moran, Mike Marlar, Rodney Martin, David Payne, Brandon Rose, Kenneth Westmoreland, Kent Hicks, Don Farmer, Chuck Laney, Scotty Chatham, Devin Sebree, Jody Davis, Lamar Haygood, Ronnie Payne, Steve Casebolt, Jr.
Second B-Main: Ricky Williams, Dale McDowell, Joe Armistead, Jr., Rex Richey, Jeff Smith, Jeff Cooke, Vic Hill, Laddie Fulcher, Mike Head, Derrick Rainey, Brett Wyatt, Tyson Herrell, Shane Fulcher, Craig Scott, Tracy Pearson, Matt Hubbard, Sam Ruff, Johnny Chastain, Scott James, Mark Douglas
16th Annual Lucas Oil Dixie Shootout Feature Finish: Shannon Babb, Earl Pearson, Jr., Jake Knowles, Ray Cook, Darren Miller, Frank Ingram, Billy Ogle, Jr., Freddy Smith, Randy Weaver, Scott James, Jonathan Davenport, Skip Arp, Ricky Williams, Don O'Neal, Donnie Moran, Marshall Green, Shane Tankersley, Tim Day, Aaron Ridley, Tim Dohm, Gary McPherson, Wendell Wallace, Dale McDowell, Wayne Echols
Race Statistics:
Entries: 69
Cautions: 4
Red Flags: 0
Lap Leaders: Ray Cook 1-7, Earl Pearson, Jr. 8-10, Shannon Babb 11-50Weld Wheels Hard Charger of the Race: Scott James (started 24th and finished 10th) advanced 14 positions
Lucas Oil Late Model Dirt Series Rookie of the Race: Scott James
Lucas Oil Late Model Dirt Series Provisionals: Donnie Moran and Scott James
---
Submitted By: Jeremy Shields
Back to News