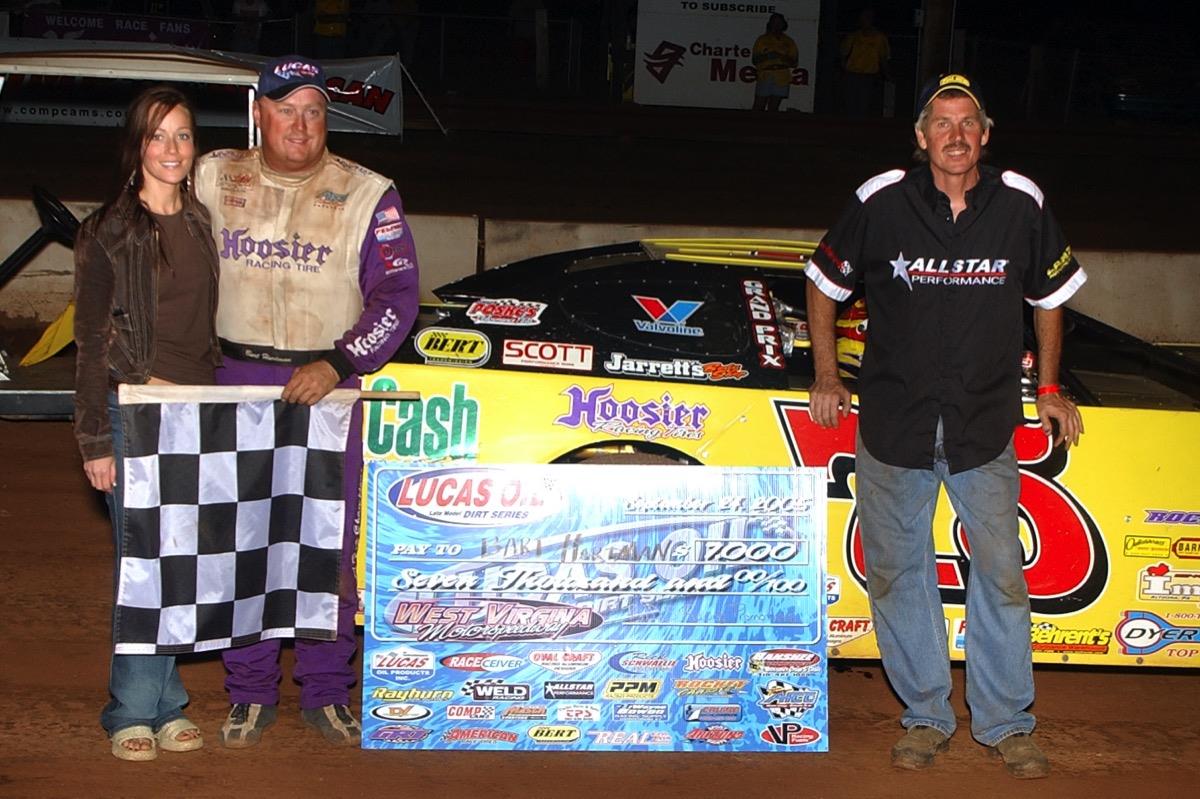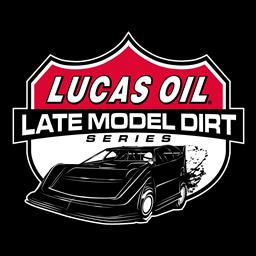 9/24/2005
Lucas Oil Late Model Dirt Series
---
Bart Hartman Takes First Career Lucas Oil Late Model Series Win at West Virginia Motor Speedway
Mineral Wells, WV (September 24, 2005)-Bart Hartman of Zanesville, OH became the 18th different winner of a Lucas Oil Late Model Dirt Series event in 2005 as he captured the $7,000 to win "Tribute 30" on Saturday Night at the West Virginia Motor Speedway. Hartman drove his Hartman Racing/Urgent Cash/Gress Oil/Imler's Poultry/Banshee Graphics/Hoosier Tires/Jarrett's Body Shop/All Star Performance/Cornett Racing Engines/Rocket Pontiac Grand Prix to victory lane after starting in the fourth position. Donnie Moran of Dresden, Oh finished second in his PBM Performance Products/SMS Race Engines/MasterSbilt Monte Carlo. Coming home in third was Rick Aukland of Zanesville, OH in the K&E Trucking/Malcuit Racing Engines/MasterSbilt Grand Prix. Fourth place was Steve Shaver of Vienna, WV the Bland Motorsports/Draime Racing Engines/Rocket Monte Carlo with Scott Bloomquist of Mooresburg, TN taking fifth in the Miller Brothers Coal/All Star Performance/Bloomquist Race Cars entry. A total of 62 cars were on hand for the first of two nights of racing at the 5/8ths mile speedplant.
Donnie Moran and Rick Aukland started on the front row of the 30 lap main event with Aukland grabbing the point on the opening lap. Aukland's lead was short lived as Bart Hartman would come from his fourth starting spot to take the over the lead on lap 2. Moran who slipped to third on the first lap came back to second by Aukland on lap three. With five laps in the books Hartman was showing the way with Moran, Aukland, Steve Shaver and Matt Miller in the top five. The first caution of the race came out on lap five when Steve Lucas lost a wheel coming down the back stretch. On the restart Moran would take a stab at the lead diving to the inside in turn two trying to pass Hartman for the lead, but Hartman would pull away from Moran and start to stretch is lead out.
Hartman started to enter lapped traffic by lap 13 with Moran still holding second spot ahead of Aukland, Shaver and Miller who were tightly bunched up. Hartman would handle lapped traffic well enough keeping Moran at bay and maintaining his lead at the halfway mark of the race. A couple of more cautions would bunch the field up with Hartman still maintaining the lead. Moran would try on every restart slide job Hartman in turn two, but Hartman just too strong as he held off every challenge put forth by Moran. With five laps to go the final caution flag would come giving Moran one last shot at Hartman, but it was not to be as Hartman again pulled away in the final five circuits to score his first career Lucas Oil Late Model Dirt Series win becoming the 18thdifferent winner in 29 events in 2005. Moran would record his eighth second place finish of the season on the series tour with Aukland having a consistent race taking third at the pay window. Steve Shaver would finish fourth with Scott Bloomquist getting by Matt Miller in the final laps to finish fifth.
An elated Hartman said in victory circle that it was a team effort. "The car was excellent tonight, my crew chief, Jerry Farmer had his Rocket Chassis set up to perfection, it was rough in three and four, but the car held up real well and we are happy to win this Lucas Oil Late Model race, because they are a tough group of drivers to outrun."
Completing the top ten were Matt Miller, Eddie Carrier, Jr., Darren Miller, Aaron Scott and Tim Dohm.
Race Summary
Lucas Oil Late Model Series
West Virginia Motor Speedway-Mineral Wells, WV
Saturday Night, September 24, 2005
Fast Qualifier: Donnie Moran 22.00 seconds
Heat #1: Donnie Moran, Eddie Carrier, Jr., Jimmy Owens, Brad Malcuit, Mark Banal, Chuckie May, Randle Chupp, Roy Roush, Audie Swartz, Scott Lyon, Jason Edge
Heat #2: Rick Aukland, Don O'Neal, Scott James, Steve Casebolt, Jr., Jared Hawkins, Paul Davis, Keith Berner, Robbie Scott, Sonny Conley, Greg Buckland
Heat #3: Matt Miller, Chuck Harper, Davey Johnson, Earl Pearson, Jr., Ralph Withem, Patrick Sheltra, Chad Hina, Steve Wilmoth, Ed Shuman, Brad Eitniear
Heat #4: Steve Shaver, Scott Bloomquist, Jackie Boggs, Matt Urban, Larry Moran, John Brown, Gary Knollinger, Keith Barbara, Paul Wilmoth
Heat #5: Steve Lucas, Tim Dohm, Corey Conley, Freddy Smith, Brian Eaton, Freddie Carpenter, Tony Lombardi, Ben Adkins, D.J. Miller, Jeff Gress
Heat #6: Bart Hartman, Darren Miller, Aaron Scott, Eric Myers, Chris Garnes, Frank Wilson, Jr., Larry Smith, Joel Prosser, Greggie Oliver, Rodney Combs
First B-Main: Earl Pearson, Jr., Steve Casebolt, Jr., Mark Banal, Brad Malcuit, Chuckie May, Chad Hina, Keith Berner, Randle Chupp, Ralph Withem, Brad Eitinear, Greg Buckland, Ed Shuman, Jared Hawkins, Paul Davis, Roy Roush, Steve Wilmoth, Audie Swartz, Sonny Conley, Scott Lyon, Jason Edge
Second B-Main: Freddy Smith, John Brown, Rodney Combs, Gary Knollinger, Tony Lombardi, Frank Wilson, Jr., Joel Prosser, Freddie Carpenter, Ben Adkins, Larry Smith, Chris Garnes, Jeff Gress, Eric Myers, Brian Eaton, Greggie Oliver, Matt Urban, Larry Moran, D.J. Miller
"Tribute 30" Main Event: Bart Hartman, Donnie Moran, Rick Aukland, Steve Shaver, Scott Bloomquist, Matt Miller, Eddie Carrier, Jr., Darren Miller, Aaron Scott, Tim Dohm, Earl Pearson, Jr., Chuck Harper, Don O'Neal, Freddy Smith, John Brown, Jimmy Owens, Scott James, Jackie Boggs, Corey Conley, Davey Johnson, Eric Myers, Jeff Gress, Steve Casebolt, Jr., Steve Lucas
Race Statistics:
Entries: 62
Cautions: 4
Red Flags: 0
Lap Leaders: Rick Aukland 1, Bart Hartman 2-30Weld Wheels Hard Charger of the Race: Aaron Scott (started 18th and finished 9th) advanced 9 positions
Lucas Oil Late Model Dirt Series Rookie of the Race: Tim Dohm
Lucas Oil Late Model Dirt Series Provisionals: Jeff Gress and Eric Myers
---
Submitted By: Jeremy Shields
Back to News