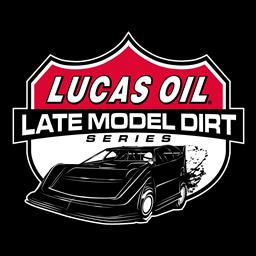 7/28/2005
Lucas Oil Late Model Dirt Series
---
Matt Miller Outduels Moran in Lucas Oil Late Model Dirt Series Event at West Liberty
WEST LIBERTY, IA (July 28, 2005)-Matt Miller of Waterville, OH led all 50 laps while outdueling Donnie Moran to win the Lucas Oil Late Model Dirt Series event on Thursday Night at the West Liberty Raceway in West Liberty, Iowa. The 34 year old 2005 $100,000 Dream Winner rolled to the lead at the start of the 50 lap main event on his way to the $10,000 payday for his second Lucas Oil Late Model Dirt Series win of '05. Miller drove the Scott Smith crew chiefed, Dirt Shop, Inc/McCullough Industries/Performance Rod and Custom/Doug Herbert Performance Circle Track Parts/Lo-Temp Brazing/Banshee Graphics/Hoosier Tires/Whaley and Son Collision/McDonald Refrigeration/Russell Baker Racing Engines/Rocket Pontiac Grand Prix #7 to victory circle over Donnie Moran of Dresden, OH in the PBM Performance Products/SMS Race Engines/MasterSbilt Monte Carlo. Third place went to Andy Eckrich of Iowa City, IA in his first career start with the series as he was driving the Precision Performance/GroveAutomotive/Barry Wright Grand Prix with fourth place going to Brian Birkhofer of Muscatine, IA in the Daufeldt Transport/Pro Power Engines/MasterSbilt Monte Carlo with Earl Pearson, Jr. of Jacksonville, FL in the Lucas Oil/Larry Wallace Racing Engines/MasterSbilt Ford Taurus.
Andy Eckrich and Matt Miller would make the front row with 50 laps of racing in front of them it would be very important as to who would get the lead in this race at the start with the stout field on hand. Miller would be the man to do that as he outpowered the younger Eckrich on the start and blasted into the lead heading into turn number one. Eckrich would fall in behind Miller for second with Donnie Moran, Brian Birkhofer and Steve Boley making up the top five after one lap was scored. The race would go green until a three car accident in turn two slowed the action. Once the race resumed Miller was still holding the point and building his lead to six and seven car lengths lap after lap over Eckrich.
Eckrich was receiving heavy pressure from Moran at this point and on lap 10 Moran would scoot by Eckrich to take over second place. Moran would now have Miller in his sights, but it would take a tremendous effort now to track down Miller has he had built a sizable lead. A caution on lap 16 for a slowed Steve Casebolt Jr would close the field up behind Miller. The race would then see five more laps of green flag racing with Moran all over Miller for the lead, but Denny Eckrich blew a tire on lap 21 necessitating another caution flag period. Scott James would stop with a flat on lap 24 for another caution as tire wear was becoming a factor among some of the top ten drivers.
With the halfway mark given it was still Miller showing the way with Moran in second and a good battle for third between Andy Eckrich and Birkhofer was also taking place. On the restarts Miller would open up a five car length lead over Moran and it would take Moran several laps to catch back up to Miller. With 15 laps to go Moran was right on Miller's rear bumper and would close significantly in the corners as Miller would pull away down the straightaways. A caution for debris on lap 39 would slow the field one more time and set up an 11 lap shootout to the finish line. Miller would again restart with force and get away from Moran as Andy Eckrich was fighting off all challenges from Birkhofer.
With five laps remaining Moran was again right on Miller, but it was going to take a mistake by Miller for Moran to pass him. Miller would hold his line lap after lap in the closing segment of the race as he would power to win over Moran. Andy Eckrich the current point's leader at West Liberty Raceway would do a nice job all race long in securing the third spot at the pay window.
Birkhofer would wind up fourth with Earl Pearson, Jr. coming on strong from his 12th starting spot to pass two cars in the waning laps to finish fifth. "It is real good win for the team," said Miller in victory lane afterwards. "I knew I had to get the jump on the 56 car heading into turn one, because I felt like once we had the lead it would be hard for anyone to pass us out here tonight," said the former Eldora Speedway track champion. "I knew Donnie would be tough, he always is in the thick of things and I knew he was going to give me a strong effort to try and pass me, but I knew if I held my line it would be tough for him to beat me and on the restarts the car was exceptional and I want to give credit to Scott Smith and everybody with team for giving me such a great race car tonight and thanks to the fans for coming out tonight was well."
Completing the top ten were Gary Webb, Don O'Neal, Darren Miller, Chad Simpson and Chris Simpson.
In preliminary events for the Lucas Oil Late Model Dirt Series Don O'Neal was the top qualifier in the Time Trials with a lap of 20.545 seconds among the 30 entrants on hand.
The Heat Race Winners were Matt Miller, Donnie Moran and Andy Eckrich. The B-Main was taken by Chad Holladay.
Race Summary
Lucas Oil Late Model Dirt Series
Thursday Night, July 28, 2005
West Liberty Raceway-West Liberty, Iowa
Fast Qualifier: Don O'Neal 20.545 seconds
Heat #1: Matt Miller, Darren Miller, Steve Boley, Don O'Neal, Thomas Christenson, Rob Moss, Chad Holladay, Rick Aukland, Chad Simpson, Boone McLaughlin
Heat #2: Donnie Moran, Brian Birkhofer, Brady Smith, Scott James, Tommy Elston, Chris Simpson, Tim Dohm, Chuck Mayerhofer, Whitney McQueary, Todd Davis
Heat #3: Andy Eckrich, Gary Webb, Denny Eckrich, Earl Pearson, Jr., Dave Eckrich, Steve Casebolt, Jr., Freddy Smith, Jay Johnson, Johnny Johnson
B-Main: Chad Holloday, Tim Dohm, Chuck Mayerhofer, Chad Simpson, Rick Aukland, Johnny Johnson, Whitney McQueary, Boone McLaughlin, Freddy Smith, Todd Davis
Lucas Oil Late Model Dirt Series A-Main: (50 Laps): Matt Miller, Donnie Moran, Andy Eckrich, Brian Birkhofer, Earl Pearson, Jr., Gary Webb, Don O'Neal, Darren Miller, Chad Simpson, Chris Simpson, Brady Smith, Tim Dohm, Chad Holloday, Freddy Smith, Steve Casebolt, Jr., Steve Boley, Dave Eckrich, Chuck Mayerhofer, Scott James, Denny Eckrich, Todd Davis, Rick Aukland, Rob Moss, Thomas Christenson, Tommy Elston
Race Statistics:
Entries: 30
Cautions: 5
Red Flags: 0
Lap Leaders: Matt Miller 1-50
Lucas Oil Late Model Dirt Series Rookie of the Race: Brady Smith
Weld Wheels Hard Charger of the Race: Chad Simpson (started 22nd and finished in 9th) advanced 15 positions
Lucas Oil Late Model Dirt Series Provisionals: Freddy Smith and Rick Aukland
Track Provisionals: Todd Davis
---
Submitted By: Jeremy Shields
Back to News