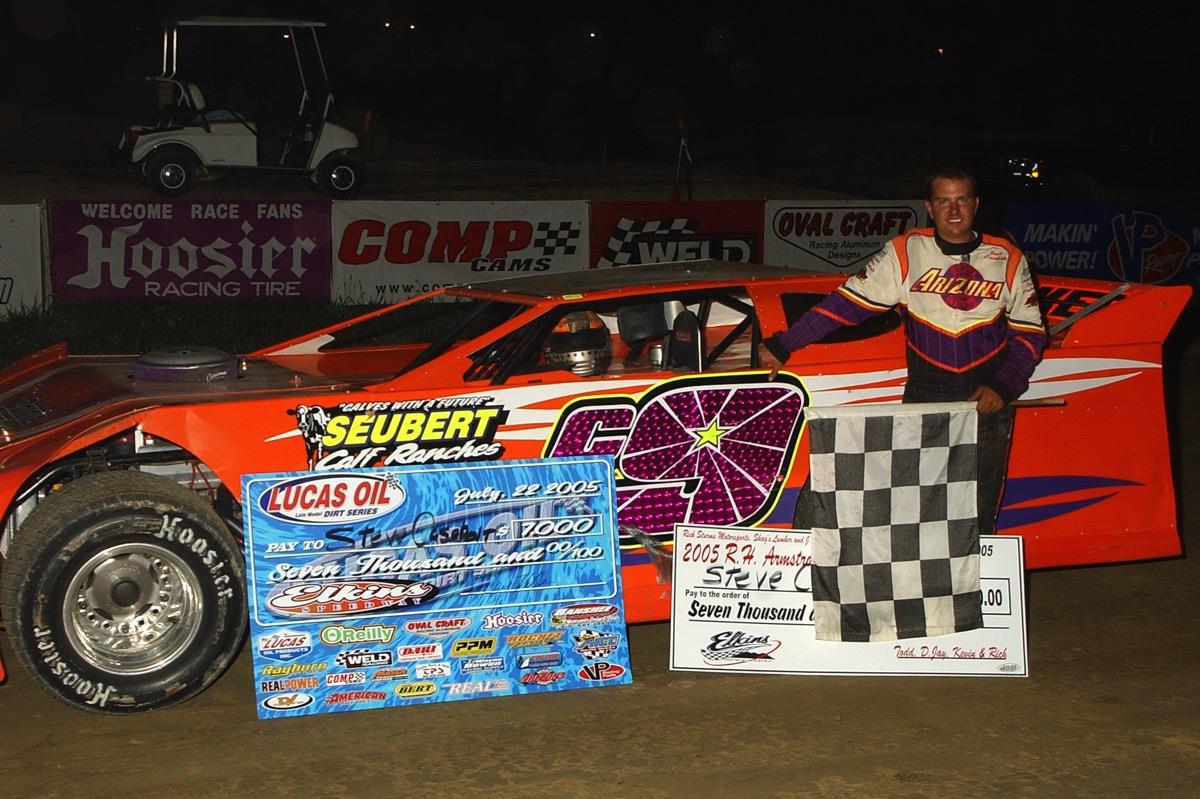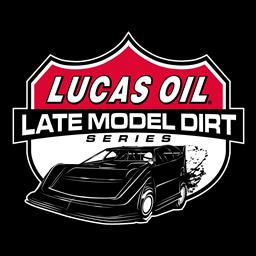 7/22/2005
Lucas Oil Late Model Dirt Series
---
Steve Casebolt, Jr. Cashes In With R.H. Armstrong Memorial Win at Elkins Speedway
ELKINS, WV (July 22, 2005)-Steve Casebolt, Jr. scored the biggest win of his racing career by winning the R.H. Armstrong Memorial for the Lucas Oil Late Model Dirt Series at Elkins Speedway on Friday night. The win was also Casebolt, Jr. first ever win with the Lucas Oil Late Model Dirt Series. Casebolt, Jr. drove his Seubert Calf Ranches/Arizona Sport Shirts #c9 Rocket Chassis, Dargie Race Engines powered mount to victory.
Casebolt took the lead at the drop of the green flag and would have Mike Benedum breathing down his neck, with Booper Bare pressuring Benedum from his third spot. This trio would quietly sneak away from the pack, while Donnie Moran and Rob Blair would battle for fourth. Benedum would really turn the wick up on Casebolt, Jr. around the lap 15 mark and would pull along side of the leader exiting turn two on lap 17, but Casebolt, Jr. would use slower traffic to keep Benedum at bay. Bare would finally get by Benedum for second around the midpoint of the 50 Lucas Oil A-Main, while Moran would get by Benedum for third.
The only caution flag of the race waved on lap 33 when Tim Senic rolled to a stop just over the banking in turn two. The Delaware double file restart would see Casebolt, Jr. continue his pace at the point, while Moran would move to second past Bare. Fourteenth starter Matt Miller would begin to flex his muscles at this point and make his way into the top five and begin to battle with Blair for the fourth position.
The final ten laps would Casebolt, Jr. drive away from the field and work slower traffic to his advantage and drive on the biggest win of his career. Donnie Moran would take runner-up honors in his PBM Performance Products/Eddie's Sunoco #99 MasterSbilt Race Car, SMS Race Engines entry. Bare would drive home in third place in the Cecil B. Arthur General Contractors/ Poske Performance Parts #00 Rocket Chassis, Malcuit Race Engines powered entry. Miller would drive by Blair on the final lap to take fourth in Dirt Shop, Inc. McCullough Industries/Performance Rod and Custom #7 Rocket Chassis, Russell Baker Race Engines mount, while Rob Blair would round out the top five in his Specialty Products/Bossards's Used Auto Parts #won11 Rocket Chassis, Draime Race Engines entry. Completing the top ten were Benedum, Steve Shaver, Paul Wilmoth, 22nd starting Earl Pearson, Jr., and Steve Wilmoth.
Thirty eight entries representing six states were signed in, with Denny Chamberlain earning the fast time with a 15.520 second lap. The heat race wins went to Benedum, Bare, Casebolt, Jr., and Moran. The 1st B-Main was scored by Freddy Smith, with the 2nd B-Main was taken by Scott Rhodes. Don O'Neal and Earl Pearson, Jr. were Lucas Oil Late Model Series provisionals, with track provisionals going to Shawn Poling and Tim Dohm.
Race Summary Lucas Oil Late Model Dirt Series Friday July 23, 2005 Elkins Speedway-Elkins, West Virginia
Fast Time- Denny Chamberlain 15.520
Heat #1- Mike Benedum, Steve Wilmoth, Chamberlain, Tim Senic
Heat #2- Booper Bare, Rob Blair, Scott James, Matt Miller
Heat #3- Steve Casebolt, Jr., Steve Shaver, Mike Balzano, Chuck Harper
Heat #4- Donnie Moran, Jared Hawkins, Paul Wilmoth, Gary Dalton
B-Main #1- Scott Rhodes, Rick Aukland, Robbie Scott, Billy Holbert, Tim Hitt
B-Main #2- Freddy Smith, Bobby Hill, D.J. Cline, Butch McGill, Don O'Neal
Lucas Oil A-Main- Casebolt, Jr., Moran, Bare, Miller, Blair, Benedum, Shaver, Paul Wilmoth, Pearson, Jr., Steve Wilmoth, Balzano, James, Aukland, Hawkins, O'Neal, Smith, Harper, Dohm, Dalton, Chamberlain, Senic, Rhodes, Poling, Hill
Race Statistics Entries- 38 Lap Leaders-1 (Casebolt, Jr. 1-50) Cautions-1 (Lap 33) Red Flags-None Weld Racing Hard Charger- Pearson, Jr. (22nd to 9th; advances 13 positions) Lucas Oil Late Model Dirt Series Rookie of the Year- Scott James Lucas Oil Late Model Series Provisionals- O'Neal, Earl Pearson, Jr. Track Provisionals- Shawn Poling, Tim Dohm
---
Submitted By: Jeremy Shields
Back to News