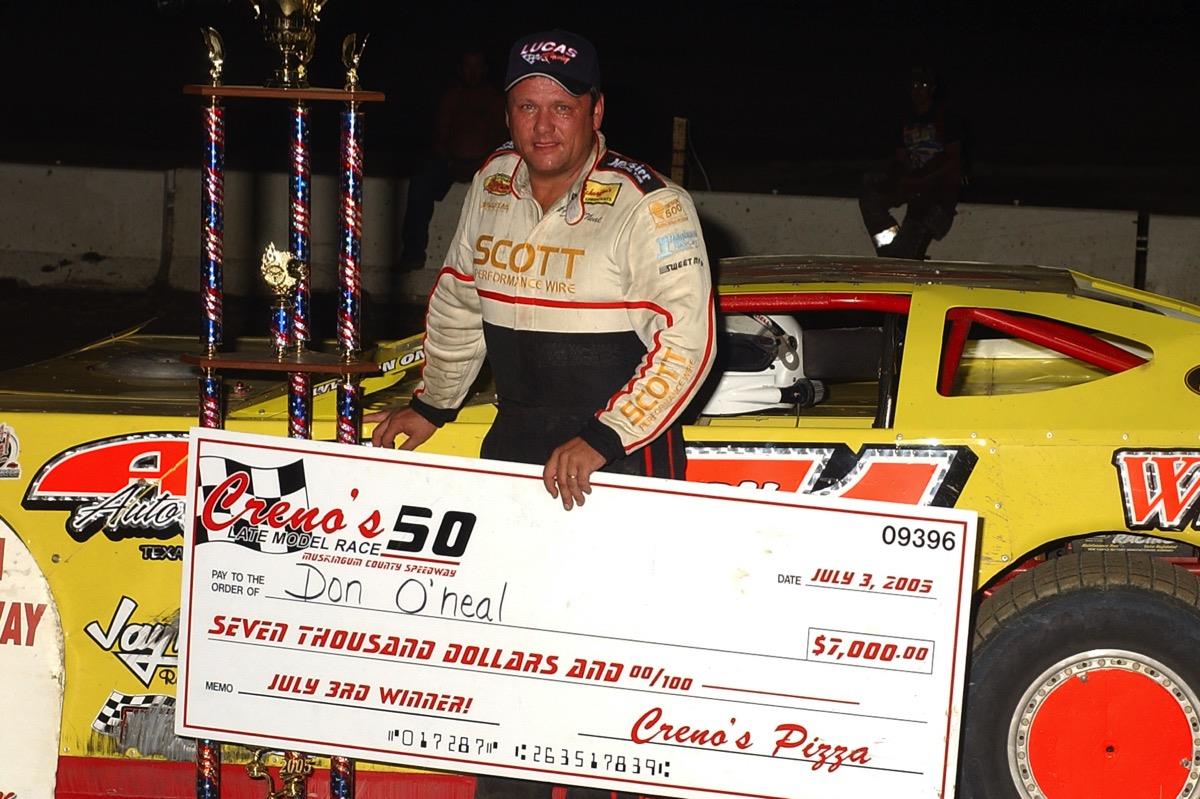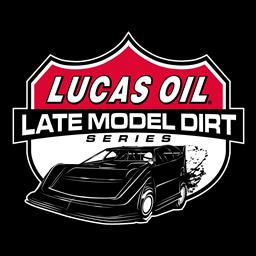 7/3/2005
Lucas Oil Late Model Dirt Series
---
Don O'Neal Stays Hot With His 6th Lucas Oil Late Model Dirt Series Win of '05 at Muskingum County Speedway
ZANESVILLE, OH (July 3, 2005)-As the calendar turns to July for the Lucas Oil Late Model Dirt Series the hottest driver on the series tour thus far this season Don O'Neal of Martinsville, IN picked up his sixth win as the 40 year old racer paid his first ever visit to the Muskingum County Speedway in Zanesville, OH on Sunday Night, July 3 and came away with a hard fought $7,000 win in taking the "Creno's Pizza 50" The standing room only crowd was on its feet in the final laps of the race as O'Neal fought off repeated challenges from Donnie Moran who finished in second by one car length. O'Neal would take his Well Pict Berries/O'Neal Wood Products/A-1 Auto Salvage/Living Room Centers/Hoosier Racing Tires/All Star Performance/Ken Schrader Racing/Jay Dickens Racing Engines powered MasterSbilt Monte Carlo to victory lane. Moran of Dresden, Oh crossed the line in second behind the wheel of his PBM Performance Products/SMS Race Engines/MasterSbilt Monte Carlo as third place was taken by Earl Pearson, Jr. of Jacksonville, FL in the Carlton and Kemp Lamm/Lucas Oil/Larry Wallace Racing Engines/Rocket Ford Taurus. Completing the top five were Tim Dohm of Cross Lanes, WV in the Dohm's Cycle Sales/Custom Race Engines/Rocket Monte Carlo and Chad Hina of Zanesville, OH in the TLC Adult Car Facility/Platinum Race Engines/MasterSbilt Monte Carlo. A total of 42 cars were on hand for the series' first ever visit to the Ronnie Moran promoted facility.
Earl Pearson, Jr. and Don O'Neal would make up the front row to start the 50 lap main event. A yellow flag before the first lap was scored negated a good start for O'Neal who had jumped out into the lead. With a complete restart in order O'Neal would again power to the point taking sole possession of first place with a lap in ahead of Pearson and Tim Dohm. A caution for Mark Banal and Larry Moran coming off of turn number four would slow the action after three circuits had been scored. When the race went green again Chuck Maloney started to make some noise passing Dohm for third as Scott James moved into fifth place. Up front O'Neal and Pearson were starting to distance themselves from the rest of the field as Maloney was running in third and behind him a side by side battle for fourth was going on between Dohm and James. Steve Shaver would slow on back stretch on lap 10 bringing out another caution. A car heading to the front was Rick Aukland. Aukland had marched up to the sixth spot after starting in 13th but his night would soon end thereafter as he pulled into the infield and out of the race on lap 11.
Donnie Moran who had slipped back some spots on the start was starting to get things going as he would challenge James and Dohm for positions. Moran would go to fourth place on lap 20 and then two circuits later he got by Maloney for third place. With the halfway mark approaching O'Neal and Pearson would start to close down on the rear of the field. Moran then would take advantage of this and cut down the lead that O'Neal and Pearson had built up under green flag racing. Just as O'Neal, Pearson and Moran were about to enter lapped traffic a caution for a slowed Bob Moskey on lap 29 would clear the path in front of O'Neal. On the double file restart Moran would take full advantage of Pearson choosing the inside line as Moran would go to second on lap 31. With 33 laps in the books it was O'Neal still showing the way with Moran in second, Pearson running third with Dohm in fourth and John Mason, who took a provisional now up to fifth after starting in 24th.
With 15 laps to go O'Neal and Moran were about to set up a showdown to decide who would take the win. Moran would close in on O'Neal as the two would race side by side coming off of turn two seemingly every lap. O'Neal would always hold the advantage at the start-finish line. Moran would try different lines reeling in O'Neal and trying to figure out a way to pass him. With 10 to go Moran was all over O'Neal for the lead with Pearson lurking in third. The countdown to the finish began with five to go Moran would slide job his car into the lead heading into turn four, but Moran drifted out just enough to the top side of the race track and that would allow O'Neal to five down below Moran and regain the lead which he would never relinquish again. Moran would valiantly try again to go by O'Neal in the final two laps and as the crowd rose to its feet O'Neal would beat Moran to the finish line by just one car length to claim the win. Pearson finished a close third with Dohm having a strong run in taking fourth ahead of ninth place starter Chad Hina who came on at the end to finish fifth.
In victory circle where O'Neal has been quite frequently this year commented on his first ever appearance the track. "It was bigger than I thought it was going to be, it is real racy and hope the crowd enjoyed the race, that was tough trying to hold off Donnie, because he has so many laps here, but we just held on and I just can't say enough about my crew and this MasterSbilt car, we really have something going on here that is working."
Completing the top ten in the finishing order were Brady Smith, John Mason, Scott James, Freddy Smith and Chuck Maloney.
In preliminary action Donnie Moran was the Fast Qualifier with a lap of 16.388 seconds. The Heat Races were won by Tim Dohm, Jason Flory, Earl Pearson, Jr. and Don O'Neal. The First B-Main went to Kyle Scheer and the Second B-Main was won by Cortney Clewell.
The next Lucas Oil Late Model Dirt Series event will be on Saturday Night, July 9 at Jim Nier's K-C Raceway in Chillicothe, OH paying $7,000 to win.
Race Summary Lucas Oil Late Model Dirt Series Saturday Night, July 3, 2005 Muskingum County Speedway-Zanesville, OH
Fast Qualifier: Donnie Moran 16.388 seconds
Heat #1: Tim Dohm, Donnie Moran, Chad Hina, Rick Aukland, Eric Myers, Mark Banal, Matt Miller, Larry Moran, Keith Berner, Wayne Maffett, Jr., Scott Shelhorn
Heat #2: Jason Flory, Scott James, Freddy Smith, Ty Myers, Kyle Scheer, Jeff Gress, Larry Smith, Lance Elson, Bart Hartman, Brandon Russell, Brad Malcuit
Heat #3: Earl Pearson, Jr., Steve Shaver, Brady Smith, Charlie Duncan, Cortney Clewell, Don Farmer, Norman Aronholt, Shane McLoughlin, Jay Watson, Brian Barrett
Heat #4: Don O'Neal, Chuck Maloney, Doug Dodd, Aaron Scott, John Mason, Matt Lux, Larry BOnd, Paul Devoll, Bob Moskey, Carlton Freeman
First B-Main: Kyle Scheer, Eric Myers, Mark Banal, Matt MIller, Bart Hartman, Brad Malcuit, Wayne Maffett, Jr., Larry Moran, Jeff Gress, Scott Shelhorn, Larry Smith, Lance Elson, Brandon Russell, Keith Berner
Second B-Main: Cortney Clewell, Larry Bond, Bob Moskey, Don Farmer, Jay Watson, John Mason, Paul Devoll, Shane McLughlin, Matt Lux, Brian Barrett, Norman Aronholt
"Creno's Pizza 50" A-Main Event: (50 Laps): Don O'Neal, Donnie Moran, Earl Pearson, Jr., Tim Dohm, Chad Hina, Brady Smith, John Mason, Scott James, Freddy Smith, Chuck Maloney, Eric Myers, Cortney Clewell, Mark Banal, Aaron Scott, Kyle Scheer, Matt Miller, Doug Dodd, Norman Aronholt, Bob Moskey, Larry Bond, Rick Aukland, Jason Flory, Charlie Duncan, Steve Shaver, Larry Moran, Ty Myers
Race Statistics: Entries: 42 Cautions: 5 Red Flags: 0 Lap Leaders: Don O'Neal 1-50 Weld Wheels Hard Charger of the Race: John Mason (Started 24th and finished 7th-advanced 17 positions) Lucas Oil Late Model Dirt Series Rookie of the Race: Tim Dohm Lucas Oil Late Model Dirt Series Provisionals: Matt Miller and John Mason Track Provisionals: Larry Moran and Norman Aronholt
---
Submitted By: Jeremy Shields
Back to News