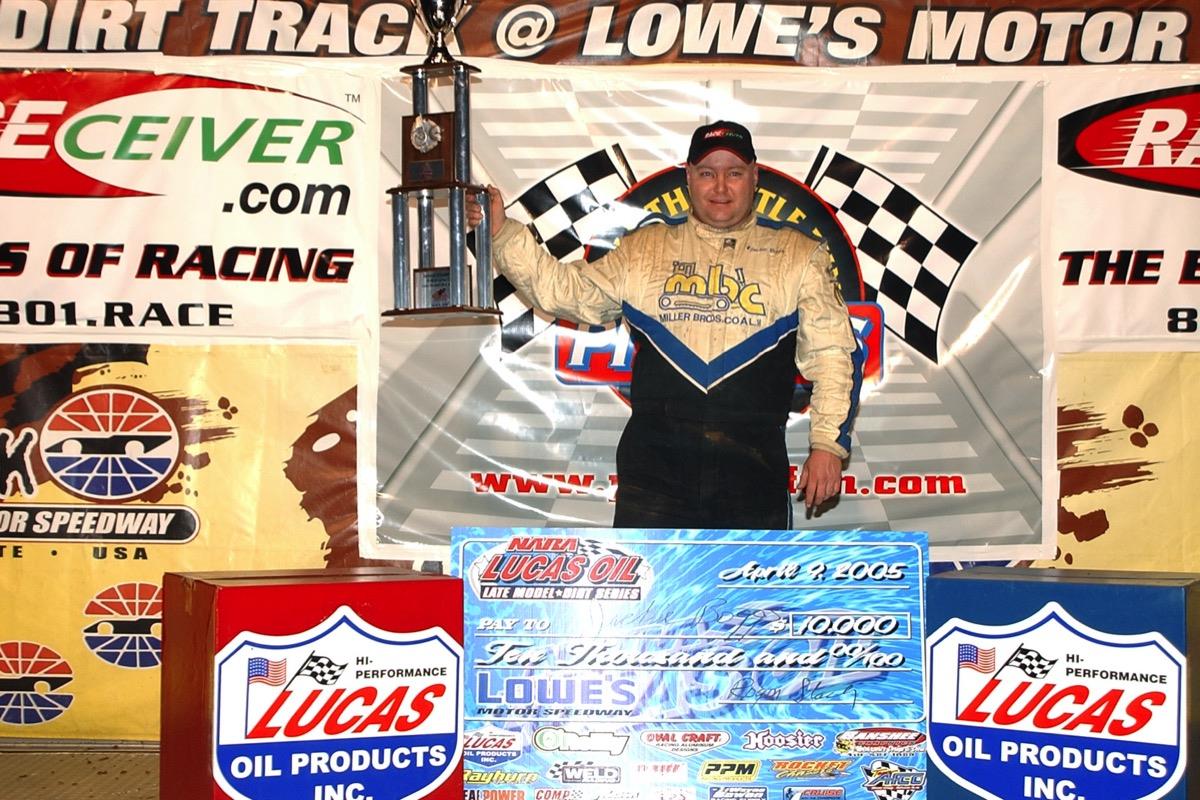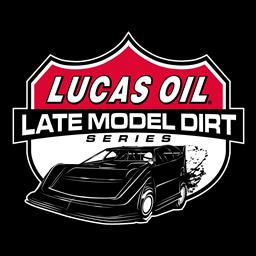 4/9/2005
Lucas Oil Late Model Dirt Series
---
Jackie Boggs Takes First Career Lucas Oil Late Model Dirt Series Win at Lowe's
CONCORD, NC (April 9, 2005)- In a race that saw 6 different leaders and 12 lead changes among those drivers, Jackie Boggs of Grayson, KY came from the 10th starting position and emerged victorious taking the lead with eight laps to go as he went on to win the Pit Pass Cabarrus Super Nationals for the Lucas Oil Late Model Dirt Series on Saturday Night, April 9 at The Dirt Track @ Lowe's Motor Speedway. The 35 year old second generation racer earned his first career Lucas Oil Late Model Dirt Series win and his first ever win at Lowe's as he became the sixth different winner in seven races in 2005 for the emerging series. Boggs drove the Steve Cascio owned, McDonald's of Flemingsburg, KY, Maysville, KY and Georgetown, KY, Miller Brothers Coal, Perry County Tire, Graphic Impressions, Hoosier Racing Tires, Hawkeye Trucking, Tri State Oxygen, Ronald A. Mitchell Inc., Combs Custom Cycles, Clay Tire Sales, Mac Metal Sales, Cropper Racing Engines sponsored Swartz Chassis Monte Carlo to the $10,000 win. 19th starting Donnie Moran of Dresden, OH was second in the PBM Performance Products/SMS Engines/MasterSbilt Monte Carlo. Third was 18th place starter Chris Madden of Gaffney, SC driving the HMI Motorsports/Hamrick's of Gaffney/Bloomquist Race Cars #44 with fourth place going to Shane Tankersley of Morganton, GA running the Hicks Specialty Welding/Gaerte Engines/C.J. Rayburn Monte Carlo and completing the top five was Matt Miller of Waterville, OH in the Dirt Shop, Inc/McCullough Industries/Rocket Grand Prix. A total of 43 cars were on hand for the series' first ever visit to the facility just outside of Charlotte, NC.
The 40 lap main event would go green with polesitter Freddy Smith grabbing the initial lead of the lead. The North Carolina native was looking for his first win at Lowe's as he would lead the first three circuits of the race. Scott James would zoom from his fourth starting slot to challenge Smith for the lead on the very first lap with Jeff Cooke holding down third followed by Steve Lucas. An accident of the front stretch would bring out the first caution of the race on lap four when the coil failed on Don O'Neal's car causing him to slow and then rear ended by Michael England ending both drivers night. On the restart James would gain the advantage on Smith passing him for the point on lap four, Lucas then got in going screaming from fourth to second on the same lap and then overhauling James for the lead on the fifth circuit. Lucas and James would then start to pull away from the field until the next caution flew on lap seven. On that restart James would bolt past Lucas and retake the lead with positions being contested throughout the field at this point of the race. Matt Miller would make his presence known by the eighth lap coming to second from sixth, but a flat tire under a caution would force him to pit for a tire change. Miller would make it back out before the race went green again. The exciting battle for the lead would go hammer down again with James, Lucas, Cooke, Jackie Boggs and Earl Pearson, Jr. who was up from 20th to the top five.
James would continue to lead the race until Lucas would race him to take over the lead on lap 15 dropping James to second with Pearson now up to third. A lap later James would see a wheel break taking him to the pits for repairs. Pearson then on the on the restart went around Lucas to take over the lead with Lucas, Boggs, Miller and Chris Madden your top five at the halfway mark of the race. Madden would go by both Boggs and Miller on lap 21 to move into third place. Up front Pearson appeared to be in complete control of the race now with Lucas holding down second place, but Lucas would suffer a flat tire on the 24th lap forcing him to stop bringing out a caution flag. Madden then would pick up the challenge of racing for the lead with Pearson. Madden stayed with Pearson for three laps until another caution for Chuck Southard's smoking car slowed the action. On the restart Miller would gain an advantage passing Madden for second and the whipping around Pearson for the lead a lap later. But Pearson would fight back retaking the point with ten laps remaining in the race.
In the final ten laps it would get really wild with Pearson, Miller, Boggs, Madden and Shane Tankersley all in the hunt for the win in front of the camera's of ESPN2 who was taping the race for a later broadcast. With 32 laps in the books and coming off of a caution flag Miller and Pearson would restart side by side and race hard into turn number one with Pearson getting caught on the outside and slamming into the turn one concrete wall ending his night after such a strong effort. Miller would then lose his lead on the final restart after Pearson's car was removed from the track as Boggs would gain the top spot roaring by Miller as Miller would slip in turn two not only did Boggs go by him but Madden, Donnie Moran and Tankersley would push Miller back to fifth place. Boggs would then be buoyed by his move and he would go on to take an exciting win holding off Madden down the stretch for his first ever Lucas Oil Late Model Dirt Series and Lowe's victory.
"After last year's misfortune here, it's great to come back here and win this one," said Boggs in victory circle. Boggs was speaking of last year when he ended up in the catch fence outside the track and suffered a foot injury following an accident. "I turned the wick up there at the end and it really came together for us, Earl Pearson, Jr. had the fastest car out there, but we just kept plugging away holding our own until we needed to go for the lead."
Completing the top ten drivers were Mike Duvall, Dennis Franklin, Billy Hicks, Steve Lucas and Earl Pearson, Jr.
In preliminary events for the 43 cars on hand Petey Ivey, Freddy Smith, Scott James and Jeff Cooke won the Heat Races. The First B-Main went to Ricky Weeks and the second B-Main winner was Chris Madden.
The next Lucas Oil Late Model Dirt Series event will take place this Saturday Night, April 16 at the legendary Brownstown Speedway in Brownstown, IN. The 22nd Annual "Hoosier Dirt Classic" will be on tap with a purse of $7,000 to win and $500 to start on the line. For more information please go towww.brownstownspeedway.com.
Race Summary Lucas Oil Late Model Dirt Series Saturday Night, April 9, 2005 The Dirt Track @ Lowe's Motor Speedway-Concord, NC
First Heat Race: Petey Ivey, Mike Duvall, Don O'Neal, Steve Shaver, Chuck Harper, Donnie Moran, John Gill, Raymond Brown III, Bruce Hall, Devin Friese, Brandon Gordon
Second Heat Race: Freddy Smith, Matt Miller, Jackie Boggs, Shane Tankersley, Doug Sanders, Ricky Weeks, Ricky Elliott, John Mallett, Dennis Franklin, Dan Breuer, Evan Harrell
Third Heat Race: Scott James, Randle Chupp, Tim Dohm, Billy Hicks, Patrick Sheltra, Chris Madden, Stacy Holmes, Brandon O'Neil, Jeff Smith, Noel Tucker, Damon Eller
Forth Heat Race: Jeff Cooke, Steve Lucas, Michael England, Chuck Southard, Larry Blankenship, Eddie Carrier, Jr., Earl Pearson, Jr., Ray Cook, Terry English, Jimmy Owens
First B-Main: Ricky Weeks, Donnie Moran, Dennis Franklin, Doug Sanders, Ricky Elliott, Devin Friese, Evan Harrell, Bruce Hall, John Gill, John Mallett, Brandon Gordon, Raymond Brown
Second B-Main Results: Chris Madden, Earl Pearson, Jr., Patrick Sheltra, Eddie Carrier, Jr., Ray Cook, Jeff Smith, Stacy Holmes, Brandon O'Neil, Damon Eller, Larry Blankenship, Jimmy Owens
Pit Pass Cabarrus Super Nationals Main Event: (40 Laps): Jackie Boggs, Donnie Moran, Chris Madden, Shane Tankersley, Matt Miller, Mike Duvall, Dennis Franklin, Billy Hicks, Steve Lucas, Earl Pearson, Jr., Tim Dohm, Ricky Weeks, Scott James, Chuck Southard, Randle Chupp, Jeff Cooke, Steve Shaver, Terry English, Patrick Sheltra, Freddy Smith, Don O'Neal, Michael England, Eddie Carrier, Jr., Petey Ivey
Race Statistics: Entries: 43 Cautions: 10 Red Flags: 1 Lap Leaders: Freddy Smith 1-3, Scott James 4, Steve Lucas 5-7, James 8-14, Lucas 15-16, Earl Pearson, Jr. 17-28, Matt Miller 27, Pearson 30-32, Jackie Boggs 33-40 Lucas Oil Rookie of the Race: Scott James Weld Racing Wheels Hard Charger of the Race: Donnie Moran (advanced 17 positions) started 19th and finished 2nd Provisionals: Terry English and Eddie Carrier, Jr.
---
Submitted By: Jeremy Shields
Back to News