Lucas Oil Late Model Dirt Series 2023 Schedule

Watch MAVTV anytime on your favorite device!

Michael Asberry
Crossville, TN
Started go-kart racing at his back yard track, Crossville Go-kart Inc. Killed it. Then decided to move up to Open Wheels at twelve years old after his dad, Charles Asberry, got himself one. Ever since then he has dominated tracks all over the east side of the country. He eventually turned to Super Late Models and raced in the Lucas Oil series for a couple years before taking an 8 year break from racing. Sometime in 2020 Michael started driving for Billy Jones, and ran the 56 car for the Halo Motorsports team. From 2020 to midway through 2022 Michael drove the Orange number 56 and dominated. From the local tracks to Bristol Motor Speedway Michael showed that he hadn't lost any skill or knowledge for the sport in his long break. Michael picked up a huge win in 2022 at Bristol Motor Speedway, he said it himself, "Just to say you won at Bristol is a big deal". He had placed third the year before at the Bristol Dirt Nationals, but that didn't cut it, he had to bring home the win. After a fallout with the 56 crew Michael purchased his own car and numbered it 360 which was on one of his other open wheels and the super late model that he had raced for Ronnie Delk in the Lucas Oil Series just before his break and made a new race team, Sweet T racing, named after his best friend Travis Sinard. Now while he's not working Michael and his crew spend time prepping the new #360 Open Wheel for future races. So from trading paint with Bloomquist to smoking Strickler at Bristol, Michael has done it all.
Written By: Trevor Sinard
Won the 2022 Bristol Dirt Nationals.
Won First Place in Ump points in Tennessee
Got third in Ump points in Georgia
Parker and Pierce Asberry, Jay and Clarence Ott, Trevor Sinard, and always with us is Lefty and Travis
Profile claimed by Trevor Sinard

Sign Up for Our Newsletter
Sign up to get news and updates in your inbox.
Sign Up
Championship Points
Championship Points
Official Merchandise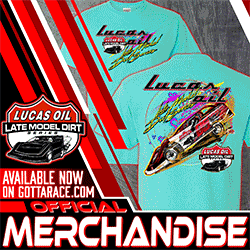 Shop Now